Austin couple recycles house: brings new life to old materials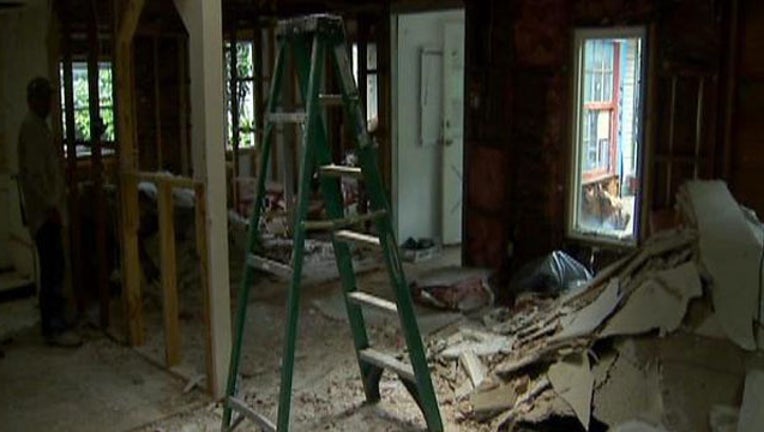 article
You can recycle cans, bottles, and cardboard, how about recycling a house? One Austin couple is doing just that and donating pieces of their home.
When Luis and Elida Bonet bought their home on Eilers Avenue, they had major redevelopment plans. After a builder came in and told them the home was in poor condition, they found an environmentally friendly alternative to just, tearing it down.
"I started googling and I found ReUse and I found that it started in California and I found a contact in Houston, and they just started in Austin," said Elida Bonet, homeowner.
Instead of the typical demolition, where materials go to a landfill, the Bonets are having the house deconstructed, or carefully dismantled so materials can be saved and reused by someone who needs it. Old cabinets, unpainted dry wall, lumber, wood flooring, all can be reused.
"After learning about this, this entity, how they use people and how they do what they do and how they work with Habitat for Humanity, I see there are many opportunities for people to leverage that," said Luis Bonet, homeowner.
This is "The ReUse People of America's" first deconstruction project in Austin and organizers say regular demolition is just not healthy for the environment.
"Organic materials like the wood products, they just go in a landfill and start decaying and they create methane gas," said Kathy Robinson, Area Manager for ReUse People of America.
The Bonets are getting a hefty tax deduction for doing the project, but they say, they did it with intentions on being more kind to the environment.
"We were amazed about how many things basically get converted into something else that somebody gets to use," said Luis Bonet.
"In Austin, we're seeing a lot of people who are demolishing old houses, but if they are able to realize that yes it may be a little more expensive than demolishing, but it's really going to a good cause," said Elida Bonet.
With Austin's initiative to be waste-free by 2040, the couple hopes they can prove, that you can go green, with just about anything.
"It's really exciting just to know that you're not just demolishing and it's going to go somewhere," said Elida Bonet.
Habitat for Humanity has already come by to take a look at what they would be interested in taking and selling or using to build homes. The process should be finished within the next couple of weeks.