Austin Police Association and Austin Cops for Charities help Central Texas Food Bank and local restaurants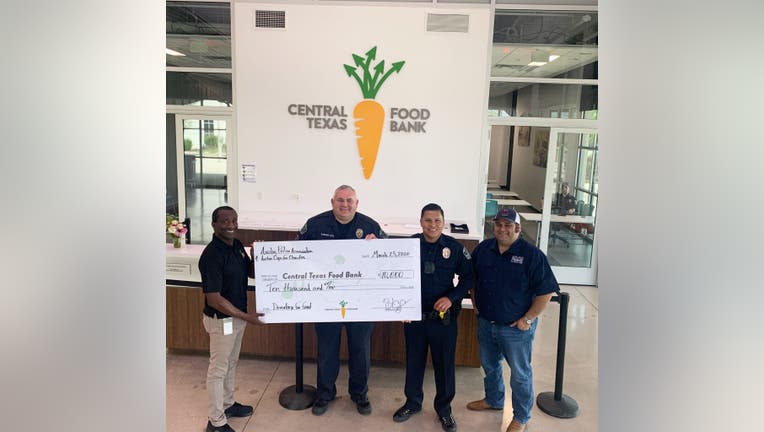 article
AUSTIN, Texas - The boards of the Austin Police Association and Austin Cops for Charities have both voted to donate $5,000 to the Central Texas Food Bank for a total donation of $10,000.
APA President Ken Casaday says in a news release that both boards also voted to support local restaurants by having them provide hot meals for officers.
RELATED: Austin ISD looks to feed students during extended Spring Break
Casaday says the goal is to "make sure we take care of our officers, support local restaurants and support our community."
You can get more information about helping local restaurants and helping feed first responders by going here.
CLICK HERE FOR THE LATEST INFO ON THE CORONAVIRUS OUTBREAK
The Central Texas Food Bank is one of the many nonprofits and organizations that are providing a lot more help during this time and in turn are needing a little extra help so that they can continue to give.
Recently local water company Rambler also made a big donation to the food bank when it donated 700 cases of water.
RELATED: 700 cases of Rambling Sparkling Water donated to Central Texas Food Bank
Donations like Ramber's helps the Central Texas Food Bank fill unmet needs in Central Texas and allowed the organization to bring 52 million meals to Central Texans in need last year thought its network of distribution partners and mobile food pantries.
For more details on Rambler Sparkling Water you can go here and click here to details on how you can help the Central Texas Food Bank.
FOX 7 Austin is working to keep you up to date with coronavirus, with both local and national developments. Every weekday we're live at 12 p.m. with a special show reporting the latest news, prevention tips and treatment information.
You can watch live in your FOX 7 Austin app or on the FOX 7 Austin Facebook page.
You can also get the latest COVID-19 news from around the country at coronavirusnow.com.