Austin police, Texas DPS partner up to improve response times and increase safety
AUSTIN, Texas - City of Austin leaders announced a plan they expect will improve safety, decrease traffic fatalities, improve police response time and reduce crime in Austin, thanks to a new partnership.
The Texas Department of Public Safety (DPS) will provide state troopers and Special Agents who will focus on violent crime and traffic issues, but will also provide backup for other emergency situations and increased presence throughout the community.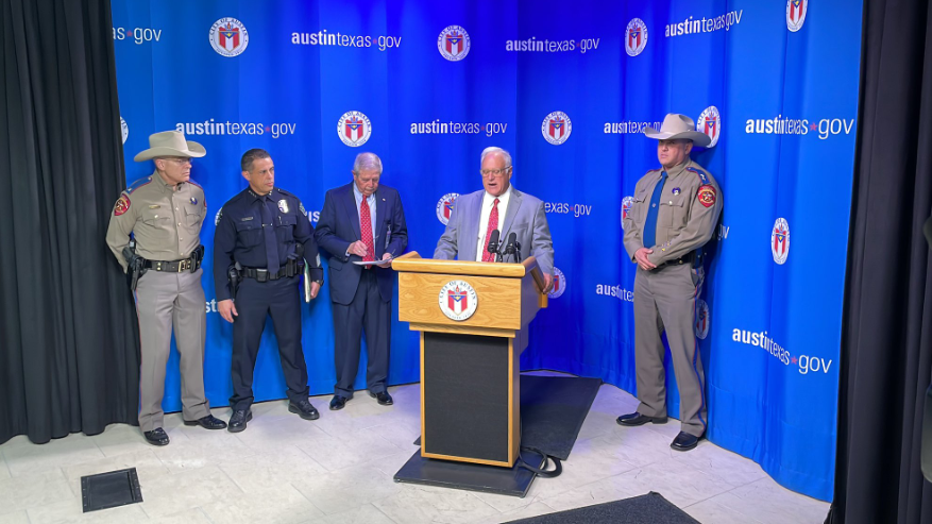 Interim Austin City Manager Jesús Garza, Austin Mayor Kirk Watson, Austin Police Chief Joseph Chacon and Texas Department of Public Safety (DPS) Director Steven McCraw each spoke on the issue.
"During my run for mayor, I promised we would make city government work better in providing basic services," Mayor Kirk Watson said. "This is an example of that. It's a common-sense, practical response to a serious need and arose out of a positive working relationship between the Capital City and the Capitol of Texas. I want to thank the Gov. Greg Abbott, Lt. Gov. Dan Patrick, and DPS Director Steven McCraw for being willing to step in and work with us to ensure the safety of our shared constituents." 
DPS troopers, who have statewide jurisdiction, have also provided additional support in cities like Dallas and San Antonio to reduce crime rates. 
The Austin Police Department (APD) is currently facing "unprecedented" staffing challenges. Interim City Manager Jesús Garza and Austin Police Chief Joseph Chacon have implemented innovative recruitment and retention strategies, but while the efforts to build back and build up the police force are underway, the DPS will provide additional resources to support APD's safety efforts.
Chacon pointed out that traffic fatalities and gun crime are on the rise in Austin. Positioning additional DPS troopers to patrol Austin's streets and highways and respond to violent crime and traffic incidents will make a positive impact on safety and the increased presence of officers in the community – both DPS and APD – will provide a strong deterrent to criminal activity.