Austin Public Health reports largest increase in number of COVID-19 cases
AUSTIN, Texas - Austin Public Health says Monday they saw its largest increase in the number of COVID-19 cases at 118. The number jumped to 161 on Tuesday.
APH says they had a decrease beforehand, but they're currently working on doing more testing. ​
During Austin City Council's briefing via Zoom, they showed a slideshow of coronavirus cases spanning from March to right now. Interim Health Authority Dr. Mark Escott gave a 15-minute presentation on Tuesday to discuss changes in numbers, related to the global pandemic.​
He said, "since the middle of May we've seen a steady increase in the 7-day moving average, the yellow line going from over 40 cases a day to over 60 cases a day​."
​Dr. Escott says in Travis County since Monday they saw its largest increase in the number of cases at 118.​ On the Saturday and Sunday before that, he says there was a decrease.​
DOWNLOAD THE FOX 7 AUSTIN NEWS APP FOR YOUR MOBILE DEVICE
​Dr. Escott says there was also a steady increase in cases since May 22, the Friday of Memorial Day weekend.​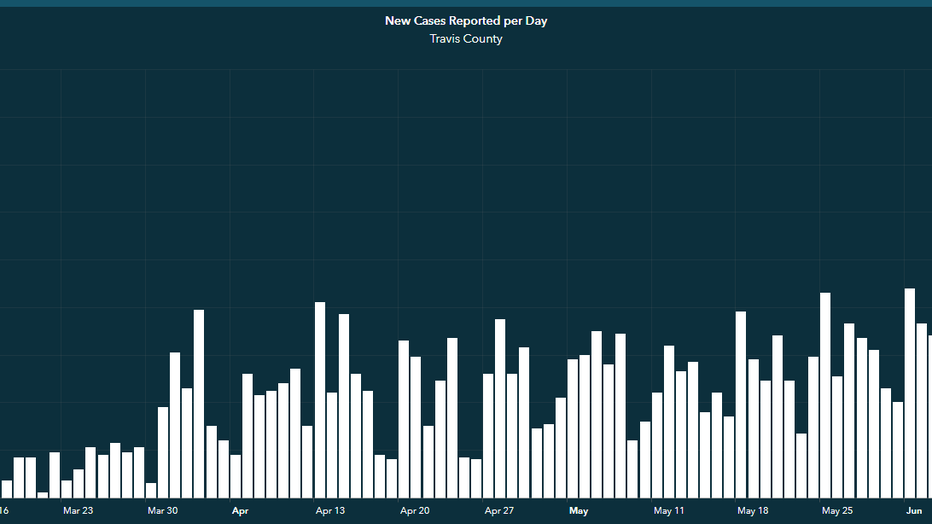 ​Multiple businesses have been affected by COVID-19 and haven't opened up since the pandemic began, while some have opened as Texas's reopening phases began last month.​
​Austin-Bergstrom International Airport says due to the ongoing COVID-19 pandemic, passenger traffic decreased in April 2020 by 96.6% compared to this time last year.​
SIGN UP FOR FOX 7 AUSTIN EMAIL ALERTS
​Dr. Escott said, "we saw a spike last week with 18 new admissions in one day but has since come down​." He says their research shows 50 percent of people are spending five days or less in the hospital, but some are staying much longer, extending the past two months.​
​Another issue he pointed out was the amount of uninsured COVID-19 patients. ​"14-15% of our county is uninsured and it indicates not only that hospitalizations are affecting our communities of color but it's also affecting those in poverty. They're substantially overrepresented in the hospital.​"
​CLICK HERE FOR THE LATEST INFO ON THE CORONAVIRUS OUTBREAK
FOX 7 Austin is working to keep you up to date with coronavirus, with both local and national developments. You can also get the latest COVID-19 news from around the country at coronavirusnow.com.