Austin, Travis County to be under Flash Flood Watch all Wednesday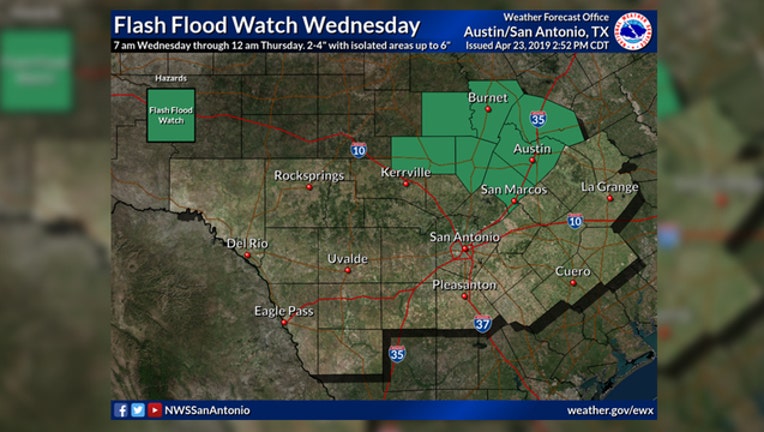 AUSTIN, Texas - The National Weather Service of Austin/San Antonio has issued a Flash Flood Watch for south central Texas, including Austin and Travis County, ahead of Wednesday's expected storms.
The watch names seven counties as of 2:38 p.m. in the watch: Blanco, Burnet, Gillespie, Hays, Llano, Travis and Williamson, and includes the cities of Llano, Burnet, Georgetown, Fredericksburg, Blanco, San Marcos and Austin.
The watch is in effect from 7 a.m. April 24 to midnight April 25.
According to the watch, rainfall amounts of two to four inches with isolated higher amounts of four to six inches are possible.
The NWS says that cumulative heavy rainfall totals will not only present an immediate localized flash flood threat for poor drainage areas, but also increase flows and water levels of some larger creeks and streams.
The NWS advises people to monitor local forecasts and be prepared to take action should flash flood warnings be issued for their area.
The NWS has also issued flash flood watches for north and west central Texas counties.