Austinites happy all city-owned pools are open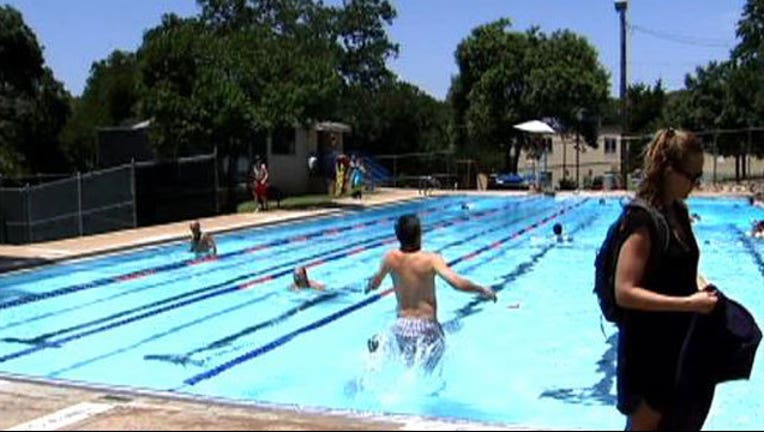 article
It was a close call for some Austin area pools this summer, but in the end, all of the city-owned pools opened for business.
This spring the Parks and Recreation Department considered closing Metz and Mabel Davis pools for the entire summer. It was a decision they said they reached because those two pools leaked 7 million gallons of water, but the community feedback convinced them to change their plan.
"Thanks to community support and outcry we actually were able to secure additional funding to open those pools this summer," said Wayne Simmons, aquatic recreation program coordinator for Parks and Recreation.
"It's really hot in Austin in the summer and it's really important that all families have the opportunity to be outside and also have a cool place to wind down," said Leora Rockowitz, who uses the Big Stacy pool during the hotter months.
Metz and Dottie Jordan did open a week later than usual after the Memorial Day floods in Austin posed another challenge for maintenance crews, but for the last three weeks all 36 pools in Austin have been fully operational.
People at Big Stacy Park said they might not have ventured to the local pool if the price wasn't right.
"I would say I pretty much have stopped going to the paying pools. I don't go to Barton Springs or Deep Eddy often anymore because this is such a gem and I'd rather come here," said Rockowitz.
"You will lose people if you start charging and some people have just gotten used to it being free and wouldn't like to see it change," said Laine Higgins who visited Big Stacy pool for the first time on Saturday.
The Parks and Recreation Department has looked into whether increased revenue from pool-goers could help fund amenities and equipment in the past.
"There have been a lot of different discussions on options to try and be as sustainable as possible for all of our park facilities, as well as all of our amenities at the Parks and Recreation Department, but thanks to community support, they really said they don't want all the pools to be charging and we're happy to provide that," Simmons said.
There are six municipal pools in Austin that do charge daily admission. Entry fees at those city municipal pools range from $0-4 depending on age.