Authorities shut down Jade Spa, arrest 6 on prostitution charges
DALLAS - In its first major bust since being reinstated last year, the Dallas Police Department's Vice Unit shut down a suspected human trafficking operation.
The investigation into Jade Spa or Hawaii Spa began in February after police got reports of illegal activity.
Dallas police executed a search warrant at the Dallas location Wednesday as officers from other agencies searched eight other associated addresses in Dallas, Carrollton, Grapevine, Arlington, Southlake and Irving.
Six victims were rescued.
The investigation revealed the spa was connected to a popular Chinese restaurant more than 20 miles away, in Southlake.
This was a massive operation done by a vice unit that was disbanded in 2017 and then reinstated with nearly two dozen new detectives a year later.
Dallas police used state and federal resources and worked with several local law enforcement agencies to conduct this operation.
The location was hidden in plain sight along Market Center Boulevard, near I-35 in Dallas.
"It doesn't, it doesn't stand out," Dallas PD Major Max Geron said.
Dallas police say six females were being held captive and sold for sex at Jade Spa, or Hawaii Spa.
"It's not something that gets noticed very often. They tend to keep quiet. Keep to themselves. Their customers weren't complaining about the operation and they work very hard to keep things under the radar," Geron added.
The recently reinstated Dallas Police Department Vice Unit and Narcotics Section has worked since February to uncover the operation after complaints were made about prostitution and human trafficking happening at the spa.
Investigators identified the suspected operators, owners, and investors, which led them all over the Metroplex. To Carrollton, Grapevine, Arlington, Irving and finally, Southlake, at a popular new restaurant, Dragon House.
The restaurant's owner was one of the six people arrested.
They arrested 62-year-old Chung Shendelman, 51-year-old Yong Bei-Wang-Murphy, 61-year-old Yong Suk Brown, 64-year-old Unlu Gurpinar, 41-year-old Sangchan Byun and 48-year-old Jae Jasmin Lee.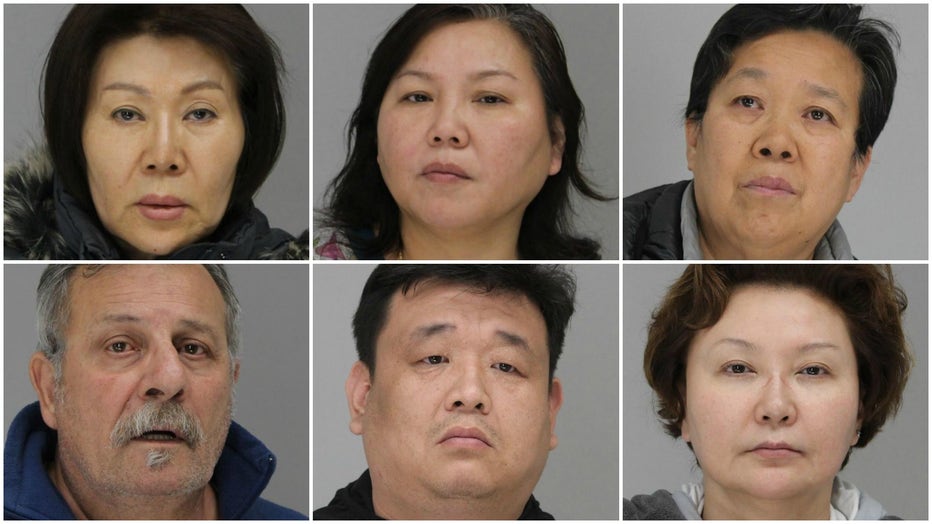 Top left to right: Chung Shendelman, Yong Bei-Wang-Murphy, Yong Suk BrownBottom left to right: Unlu Gurpinar, Sangchan Byun, Jae Jasmin Lee
Without going into specifics, Major Geron explained that money from the spa was tied to accounts at the restaurant.
"You could say they were co-mingling many of the funds between those two businesses," he said.
The news startled people trying to go Dragon House for dinner Thursday, who were instead greeted by a note on the door.
"[We] never suspected anything," one couple said.
When search warrants were executed Wednesday, and arrests were made, police seized $370,000, five vehicles, a pistol, a rifle, and a shotgun.
It's a major case for the vice unit, especially since just a year ago, there were many concerns about what a new unit could handle.
"I think it's going to be very difficult for a young unit that doesn't have any experience in this type of investigation to get their feet underneath them and moving quickly," Dallas Police Association President Mike Mata said in November 2018.
Major Geron said he had his doubts then, but not now, adding that what matters most in this case are the victims.
"The individuals that are involved in the slavery aspect of this are truly just that, they are slaves," he said. "You're going to have to have sex with people almost 24 hours a day to earn that off, and if you don't, or if you take a day off, then we're going to add to your debt."
Those victims are getting support through an organization called Mosaic Family Services.
All six people arrested are charged with aggravated promotion of prostitution and engaging in organized criminal activity.
There are also three suspects still at-large.
Jade Spa's certificate of occupancy has been revoked by the city of Dallas and there is a temporary restraining order in place to prevent it from reopening.