Bears linebacker says he saved man's life in Austin's airport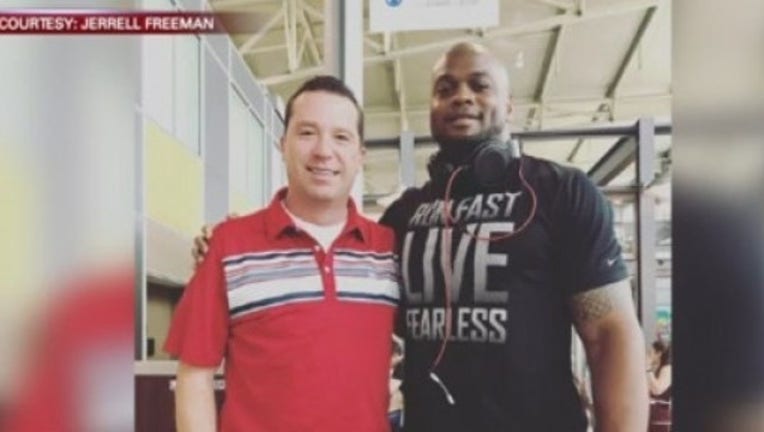 article
AUSTIN,Texas - Chicago Bears linebacker Jerrell Freeman normally makes headlines for the moves he makes on the field.
But, it was the moves he made at Austin Bergstrom International Airport on Sunday that he's being recognized for. He said he saved a choking man's life by performing the Heimlich maneuver.
"He was throwing up as I was doing it. I put him down and asked him if he was okay. He could talk then but he was like, 'No, there's still something in there.' I grabbed him again and gave him two more thrusts and it came. He threw up some more and I guess it came out that time. He was looking at me like, 'Oh my God, you just saved my life,'" said Jerrell Freeman, linebacker, Chicago Bears.
The Waco native was headed to Chicago for training camp with the Bears. His flight was delayed so he decided to grab some Salt Lick BBQ near his terminal and sit down to eat. All of a sudden he said another man who was eating got up frantically.
"Everybody was looking around like, 'What's going on here?' Of course he couldn't say anything but, he started motioning that he was choking," said Freeman.
Initially, a woman tried to help but Freeman could see she was having trouble. That's when he said he stepped in and performed the Heimlich maneuver.
"I was scared he might die so I was just continuously pulling up on him. I was doing the Heimlich very aggressively I guess you could say. He had to grab my arm and physically push it down and be like, 'Man it's gone, it's out.' I was probably going to break a couple of ribs," said Freeman.
Freeman said the man was very grateful, even wanting to take a photo together to remember that day. It was one that had a happy ending.
"Once he came back from the bathroom, he came and finished that brisket. He was not letting that go to waste," said Freeman.
FOX 7 was able to Face Time with Freeman in Chicago, where he's getting ready to start training camp with the Bears. But, he said it was the training he got from his mom that helped him handle the situation Sunday, along with timing.
"I've never performed it on anybody but my mom's a nurse, so of course I've heard and seen how to do it when I was little. It was pretty crazy because really, I was supposed to leave the day before but I ended up not leaving. Then my flight ended up getting delayed. So that was the only real reason that I was sitting there. I guess God wanted me to be there at that time," said Freeman.