Box of giraffe poop seized at MSP Airport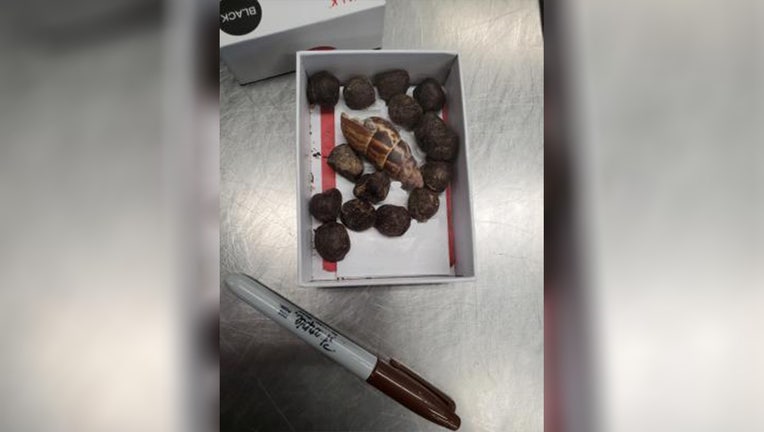 article
MINNEAPOLIS (FOX 9) - A woman was stopped at the Minneapolis-St. Paul International Airport (MSP) for attempting to bring giraffe poop into the country to make a necklace. 
The U.S. Customs and Border Protection (CBP) said in a press release on Thursday that a woman flying from Kenya to MSP on Sept. 29 was stopped in customs after declaring to have giraffe poop. 
Border agents searched the woman's belongings and found a small box with over a dozen pieces of giraffe poop and a shell. The woman said she planned to make a necklace from the droppings she got while abroad and had previously used moose feces at her house in Iowa. 
"There is a real danger with bringing fecal matter into the U.S.," said LaFonda D. Sutton-Burke, CBP Director, Field Operations-Chicago Field Office, in a statement. "If this person had entered the U.S. and had not declared these items, there is high possibility a person could have contracted a disease from this jewelry and developed serious health issues."
CBP said animal feces from Kenya can be affected by African Swine Fever, Classical Swine Fever, Newcastle disease, Foot and Mouth disease, and Swine Vesicular Disease. Agriculture specialists seized the poop and destroyed it, per the United States Department of Agriculture (USDA) destruction protocol.