Central Texas universities, colleges donate PPE gear to help with COVID-19 response
AUSTIN, Texas - Austin-area universities and colleges are pitching in to help hospitals and first responders by donating unused personal protective equipment normally reserved for lab classes that have been canceled or moved online due to the COVID-19 outbreak.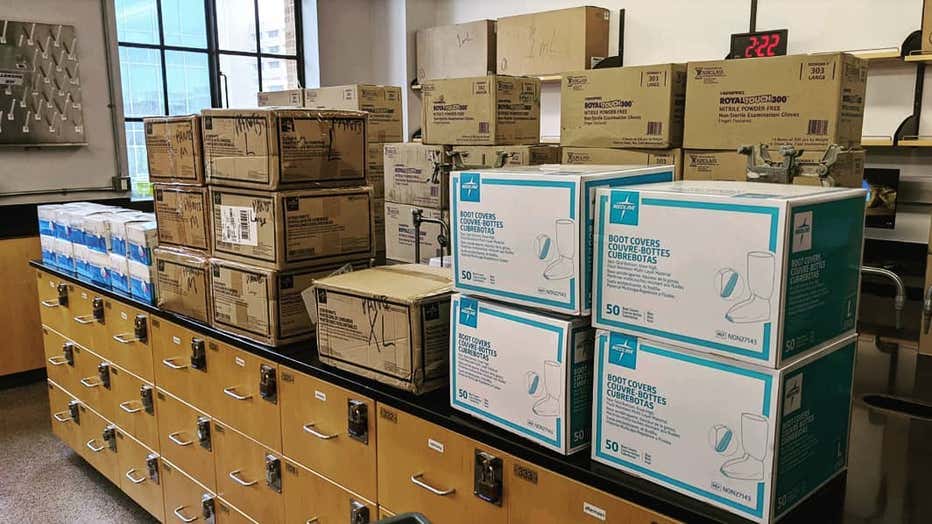 Photo courtesy Dr. Kate Biberdorf.
Since in-person classes have all been postponed, the Department of Chemistry at the University of Texas at Austin decided it was best to give its PPE gear to those that need it most at this time.
RELATED: UT Austin moving classes online for remainder of spring semester
One of the department's professors, Dr. Kate Biberdorf, posted on her social media about the donation.
RELATED: CoronavirusNOW.com, FOX launches national hub for COVID-19 news and updates
The department has donated 23 cases of gloves, 24 boxes of face masks, seven cases of scrub pants and four cases of booties to local hospitals. It wasn't clear which hospitals were receiving the donations.
Austin Community College is also donating PPE gear and is working to assemble kits to support regional healthcare workers and first responders. ACC President and CEO Dr. Richard Rhodes said in a press release that ACC has hundreds of gloves, masks, shoe covers, hair covers and gowns in storage rooms that won't be used as most classes will be transitioning to online for the remainder of the semester.
Faculty began collecting supplies on March 23, says ACC and the college's Pharmacy Technology program alone has gathered approximately 2000-plus pairs of gloves, eight cases of shoe covers, four cases of hair covers, 500 gowns and hundreds of masks. ACC's science programs estimate they have approximately 65,000 gloves to donate and inventory counts among other areas of the college are underway, says ACC.
Departments at Texas State University also donated PPE to several places in Central Texas.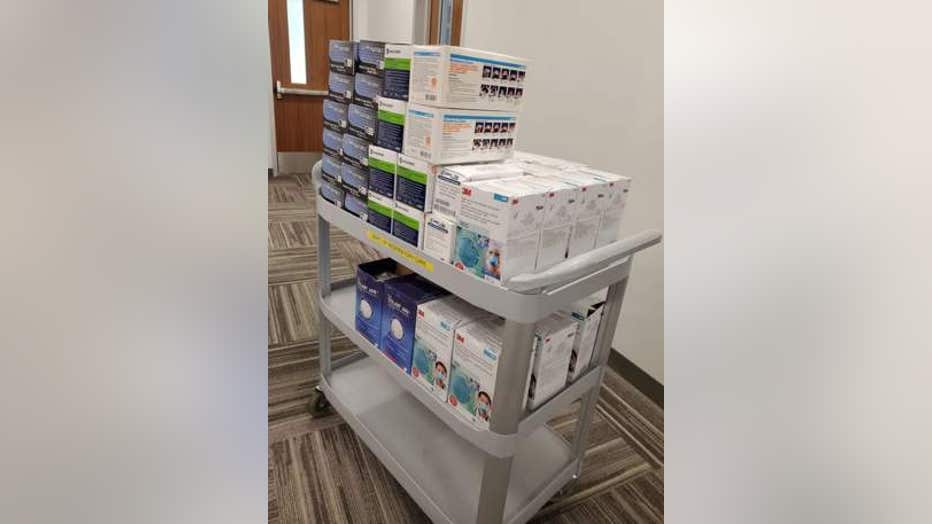 The Department of Physical Therapy on Texas State's Round Rock campus has donated 150 surgical masks to Austin State Hospital, 150 surgical masks to St. David's Georgetown Hospital and four boxes of exam gloves to Dell Seton Medical Center and Hope Thrift.
Dr. Karen Gibbs, a professor in the Department of Physical Therapy, says in a news release, "We're all family, and at a time like this, we wanted to give whatever supplies we had that could be of benefit."
Texas State's Clinical Laboratory Science Program (CLS) joined the Department of Physics to donate PPE to Austin-based Clinical Pathology Laboratories which has been testing for COVID-19 since March 10. CLS donated face shields, three cases of gloves and three cases of disposable lab coats. The Department of Physics contributed 5,600 Nitrile gloves, 100 lab coats, 3,000 face masks and 500 N95 face masks.
Other community partners that received donations from Texas State departments include Ascension Seton Williamson Medical Center, which received 12 boxes of gloves and 910 boxes of N95 masks from the Respiratory Care Department, and Central Texas Medical Center, which received gloves and disposable lab coats from Clinical Laboratory Science and gloves from the Biology Department. 
Hospitals across the country are facing a shortage of PPE gear as they're inundated with patients due to the coronavirus COVID-19.
RELATED: Trump signs order prohibiting medical supply hoarding, says FEMA distributing millions of masks
CLICK HERE FOR THE LATEST INFO ON THE CORONAVIRUS OUTBREAK
---
FOX 7 Austin is working to keep you up to date with coronavirus, with both local and national developments. Every weekday we're live at 12 p.m. with a special show reporting the latest news, prevention tips and treatment information.
You can watch live in your FOX 7 Austin app or on the FOX 7 Austin Facebook page.
You can also get the latest COVID-19 news from around the country at coronavirusnow.com.