Ceremony honors fallen Peace Officers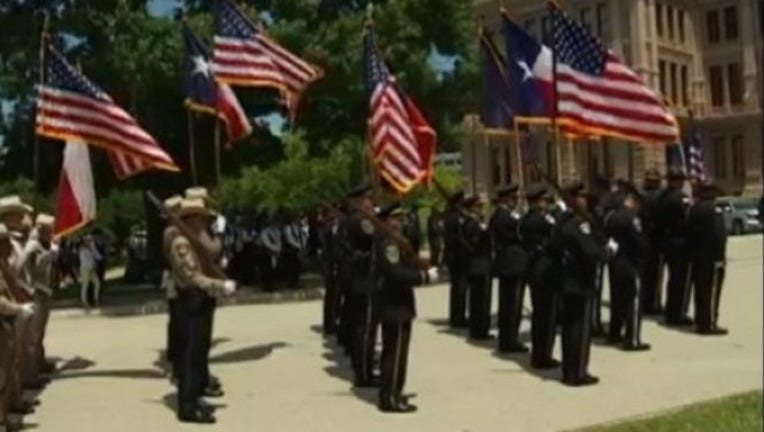 article
AUSTIN, Texas - The ceremony began Monday with a parade through downtown Austin up Congress Avenue.
For many, this is not the first time to take part in the Annual Peace Officers' Memorial. With each step the familiar walk becomes much more personal. That according to DPS Pipes & Drum Corps Sgt. Terry Dean Barnhill.
"Spirits were good in the morning, and then it makes it a reality when you take those steps into the Capitol, and you know where you are there, and it's all very serious from then on," said Sgt. Barnhill.
Honor guards with law enforcement agencies from across Texas formed up along the south steps of the state capitol. They were greeted by governor Greg Abbott. He said the gathering is a reminder, that there is no such thing as a routine day for those who wear a badge.
"We must recognize those law enforcement officers do more than just protect our communities, they are also members of our communities, they are our neighbors, they are our friends, they are fathers and mothers, sons and daughters, they wear the badge for each and every one of us because they care so much for the people and the community they serve," said Governor Greg Abbott.
Governor Abbott embraced the families of 18 Texas law enforcement officers killed in 2017. Each family was presented a medal of valor. The family of San Marcos police officer Kenneth Copeland received one. He was killed in December while trying to serve an arrest warrant.
Along with the 18, 48 other names were added to this memorial wall, some of the names date back to the 1800's. Names that were almost lost, but now will not be forgotten. 
"Records, obviously are not as well kept from 100 years ago as they are today," said Memorial committee spokesperson Gretchen Grigsby.
Before the older names were added to the wall, historical researchers helped the group verify each case. 
"But we really want to make sure all Texas Peace Officers, whether yesterday or 100 years ago are recognized because their service means a lot of the Great State of Texas," said Grigsby.
There are now 2,070 names on the memorial. Its located on the northeast corner of the capitol complex. The ceremony Monday concluded with traditional salutes. Tributes to those lost and to their families. As well as to those who continue to serve.