Chance Bible study encounter leads to discovery of 'Texas Find,' massive trove of baseball cards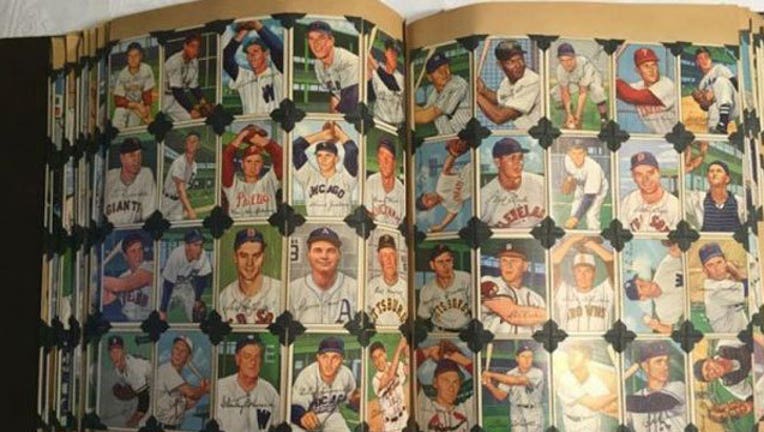 article
A chance encounter at a Bible study session last month led to the discovery of a divine collection of baseball cards that stunned memorabilia experts have dubbed "The Texas Find."
One of the largest private baseball card collections ever assembled surfaced as a result of a chance conversation between members of a Texas Bible study group. The trove includes virtually every card printed from the 1940s through the last decade, including prized Hall of Famers like Mickey Mantle, Willie Mays and Hank Aaron.
"It's crazy, not like anything I've seen before," Al Crisafulli, owner of Love of the Game Auctions, which is now selling the collection, told FoxNews.com. "It is easily one of the largest collections in terms of sheer volume. I've never seen anything like it before."
The collection of Topps and Bowman cards represents the lifelong passion of the unnamed collector- a San Antonio man who passed away in 2007. After his death, the collection languished unseen in hundreds of albums in his home until his widow happened to mention it to a woman in her Bible study group whose husband is an expert on the subject and acquaintance of Crisafulli.
"She mentioned how her husband had passed away and that she had his card collection that she wanted to move out of the house," Crisafulli said. "My friend went to take a look and could believe how many cards there were. There was a room just filled with binder after binder."
In the world of baseball memorabilia, it is unheard of that a collection of this size could have been unknown for so long. Collectors typically exhibit their cards at shows or swap valuable cards with those who share their passion.
Crisafulli, who has made two trips from New Jersey to the Lone Star State to catalogue and grade the vast collection, said it includes complete sets for seven decades, rare minor league cards and even hockey cards. His client is selling the cards individually and in small lots, and Crisafulli has not yet placed a total value on the collection.
A "very good plus" condition card of Mickey Mantle from the Yankee legend's rookie year in 1952 could be worth as much as $25,000 alone once bidding closes, he said.
Read more on FOX NEWS.