College students from across the country are in Austin to push the limits of solar technology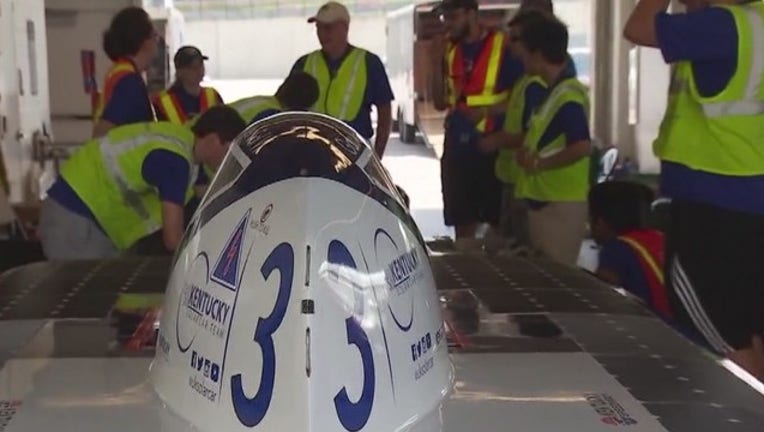 article
AUSTIN, Texas - Race teams from universities across North America are in Austin to help push the limits of solar technology. 
For the University of Florida crew, every second off the track counts. They're one of the 20 college teams from across the globe competing in the 'Formula Sun Grand Prix'.
"Build it yourself putting in crazy hours than finally being able to drive it is an amazing feeling," said a student who attends the University of Florida. 
Every year, the event takes place at the Circuit of the Americas racetrack. Normally, you would see gasoline-fueled cars speed around the track. However, Saturday it was all about solar power. "It's not somethings that's on a small scale solar power can be used on this large cars and go for hours and hours," Semait Nuguse, voluteer with the event. 
 With each vehicle, teams are able to push the envelope of what is possible with solar energy. "Our team is mostly made up of mechanical engineers. Then (electrical) than computer science majors,"  said Nuguse. The 3 day endurance race features solar powered cars.
That's right---one hundred percent of their energy---from the start of race has to come from the sun.  "The performance of these cars is really just greatly increased over the years. A lot of these cars can go 4 mph on a sunny day and don't have to worry about their battery draining too badly,"  said Nuguse.
Most of the solar cars at formula sun average between 20 to 55 miles per hour. 
The style of competition tests the limits of solar cars in handling curves, braking, and acceleration.  "They get to see that solar power isn't as unattainable as it might have seemed. And that it actually makes cars go fast and it's not at a crawling pace,"  said Nuguse.
In theory everything should work fine but sometimes that's not the case. "We did really good on the first day we had some issues yesterday that we spent most of the day fixing," said a student with the University of Kentucky. 
The winner is determined by the total number of laps completed over the three days of racing. 
"Really excited. Looking forward to a really good day of racing."