Costco's 5-pound peanut butter chocolate pie goes viral, shoppers scramble to find the bakery item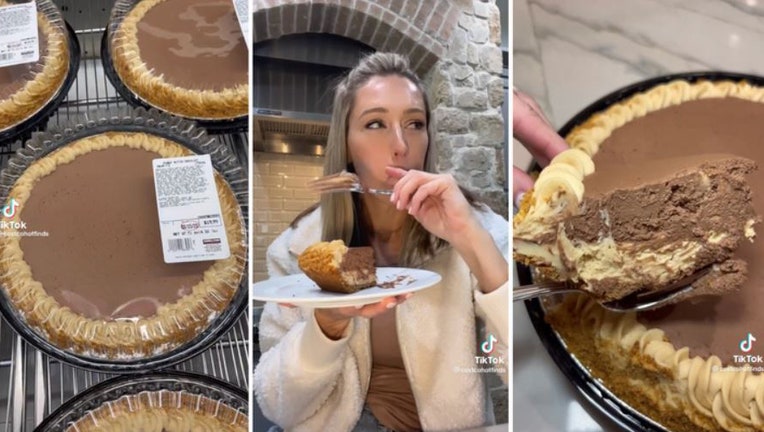 article
Grocery shoppers have taken a special interest in a near-five-pound peanut butter chocolate pie that's being sold by Costco Wholesale for $19.99.
Laura Lamb, a self-described "Costco obsessed mom" who runs the social media fan page Costco Hot Finds, shared a TikTok video that highlights the seemingly new bakery item on Monday, March 13.
"The Costco bakery just brought out a peanut butter chocolate cream pie for the first time ever and I am screaming," Lamb said at the start of her video. "Peanut butter pie is my all-time favorite."
PEANUT BUTTER CUP MONKEY BREAD RECIPE GOES VIRAL: 'FAMILY FAVORITE'
Costco's peanut butter chocolate pie, which has been assigned the item number 1728395 on in-store signage, weighs between 4.5 and 4.75 pounds.
"It is huge. It has a buttery graham cracker crumble crust," Lamb said in her video. "The center is the perfect peanut butter-chocolate mousse combo. This one is dangerously delicious."
The video has been viewed more than 3.8 million times on TikTok and Lamb's post has generated over 149,200 likes and 1,990 comments.
Lamb, who's the creator and owner of Costco Hot Finds, told FOX Business she found the peanut butter chocolate pie at a Costco Wholesale location in Dallas, Texas.
She bought the pie from her local Costco and brought it home to her husband and 11-year-old son.
"My son hasn't stopped talking about the pie since I gave him a slice on Sunday. He calls it the peanut butter cup pie," Lamb wrote in an email. "I shared the 4.5-pound pie with my friends who also still haven't stopped raving about it."
NO-BAKE CREAMY PEANUT BUTTER PIE 
Costco Wholesale declined to respond to FOX Business's request for comment.
Lamb's peanut butter chocolate cream pie TikTok video has been shared on social media platforms, such as Facebook, Twitter and Instagram, and Costco members appear to be excited about the baked good.
"Who's going to Costco soon," a Facebook user wrote on Wednesday, March 15. "Peanut butter chocolate pie, sounds delish!"
"I need the peanut butter pie from Costco," a Twitter user wrote on Tuesday, March 14.
WHAT TO KNOW ABOUT COSTCO, THE WAREHOUSE RETAILER 
"NEW Costco Bakery item! Peanut Butter Chocolate Pie. Seriously, it's so good," the Costco Connoisseur, a Costco fan page on Instagram, wrote on Sunday, March 12.
Many shoppers have expressed disappointment in not being able to track down the peanut butter chocolate pie at their local Costco Wholesale club. 
Others have taken to social media to ask their local Costco Wholesale clubs if they'll be carrying the pie anytime soon.
A number of recent social media posts have noted that some Costco Wholesale locations had completely sold out of peanut butter chocolate pies on Pi Day, an annual celebration of the mathematical constant Pi, which is observed each year on March 14, because its approximate value is 3.14.
This year, Pi Day fell on a Tuesday.
Costco Hot Finds and other social media fan pages are not affiliated with Costco Wholesale.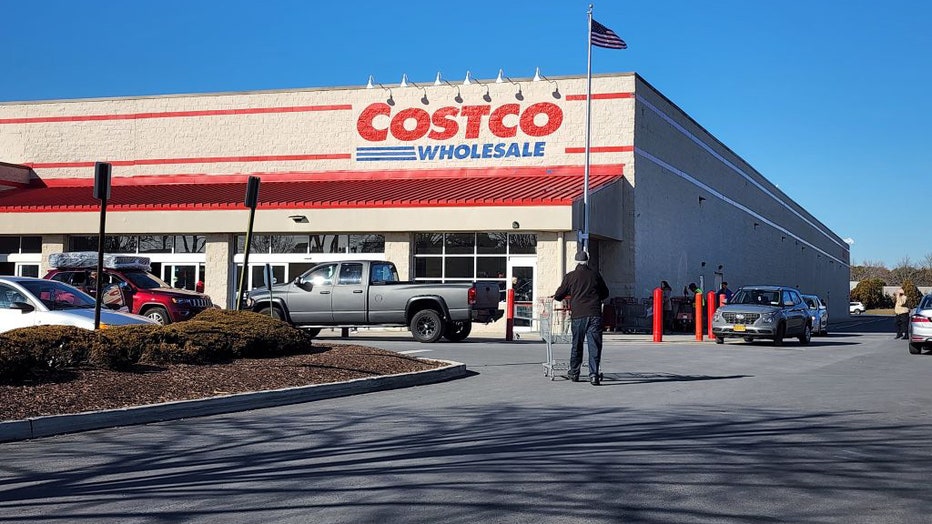 Photo of a Costco store in Holbrook, New York, as pictured on February 2, 2023. (Photo by James Carbone/Newsdau RM via Getty Images)
The fan pages typically document new product releases and share shopping guides with fellow Costco Wholesale club members.
Club members pay a fee to get exclusive access to bulk merchandise at low price points.