Crimewatch: APD officers getting first aid kits for serious wounds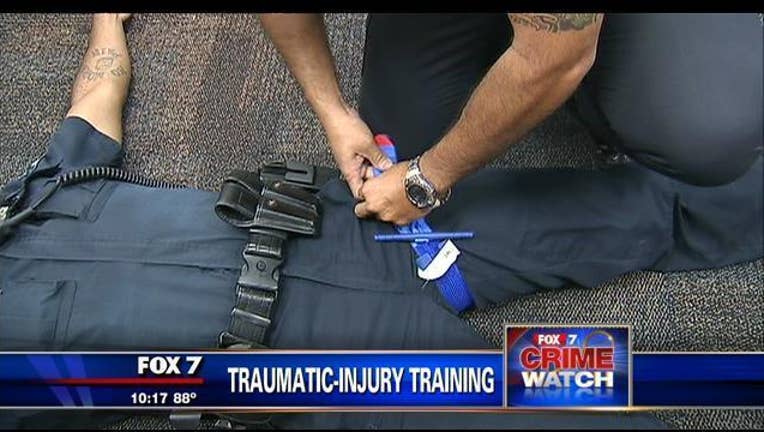 article
AUSTIN, Texas - Police often get to emergencies first. They are trained in CPR and basic first-aid, but not when it comes to major wounds, like that of a shooting or stabbing victim. Very soon all of APD's 900 patrol officers will have the know-how and the equipment to treat the seriously injured until EMS arrives.
APD dash camera video shows the frantic moments of December 23rd, 2010, when Officer Frank Wilson was stabbed in the neck.
Other officers pull up and immediately tell Wilson to lie down as they apply pressure to his wound. Their actions would save his life.
"That's why it's important for officers to know, to be confident going into a dangerous situation and if they do get hurt they will be confident enough that they'll have somebody there to help them," said Officer Enrique Colorado.
Officer Enrique Colorado is in the process of training all 900 of APD's patrol officers to effectively care for traumatic injuries.
He knows how crucial it is for officers to have these skills. In 2004, he needed help after being hit by an IED while stationed in Iraq.
"The injuries that I sustained and others sustained, that motivated me to learn this stuff more so that my soldiers at the time we could take care of each other. And so I brought that motivation here to the department," said Colorado.
Colorado is teaching officers how to use a tourniquet on themselves and on others, as well as how to patch and apply pressure to wounds on various parts of the body.
Officers practice using equipment from an individual first aid kit. It includes gloves, trauma sheers, combat gauze treated with a special mineral that promotes clotting, dressing and chest seals. Officers will keep the kits in their patrol cars. They will also be given a tourniquet, which they will wear on their duty belts.
But before they hit the streets they are run through scenarios. In the particular one we saw, an APD officer is down and the gunman is still firing.
One officer helps the victim while the other officer fends off gunfire. It could happen and if it does, these officers will know exactly what to do.
"It's definitely going to be helpful. I've been out on the streets for over ten years and I've had two situations that really stand out to where I could've used a tourniquet," said Officer Chris McFarland.
"They're gonna be able to help a lot of people out there on the street," said Colorado.
Soon the department hopes to purchase larger tourniquets for the areas in the groin and abdomen that you saw the officers packaging with gauze in the story.
Supervisors would carry those in their patrol cars and would use them if caught in a type of incident where EMS would not be able to come in.