Cyclone Mocha makes landfall in Myanmar as groups gear up for nationwide, large-scale emergency response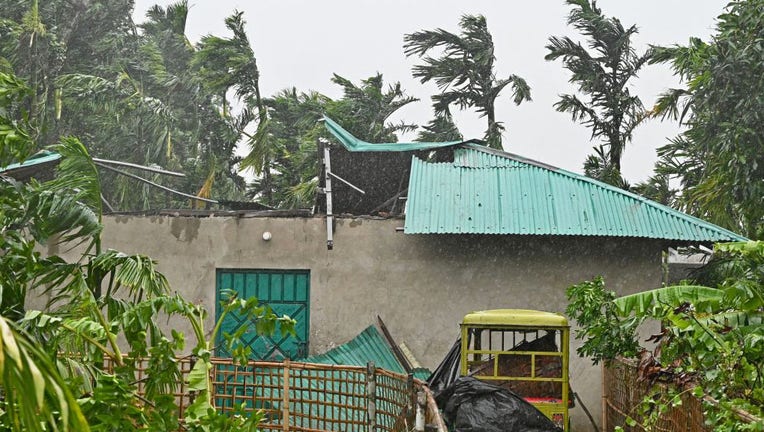 article
Powerful Cyclone Mocha made landfall Sunday afternoon, local time, near Sittwe, Myanmar, ripping the roofs off buildings and killing at least three people, with officials expecting extensive damage and losses as the storm continues to spin inland.
More than 100,000 people in Myanmar's Rakhine state sought shelter in monasteries, schools and religious sites ahead of Cyclone Mocha, which had maximum sustained winds of 155 mph, equivalent to a Category 4 hurricane, in the hours leading up to landfall Sunday, according to the U.S. Joint Typhoon Warning Center.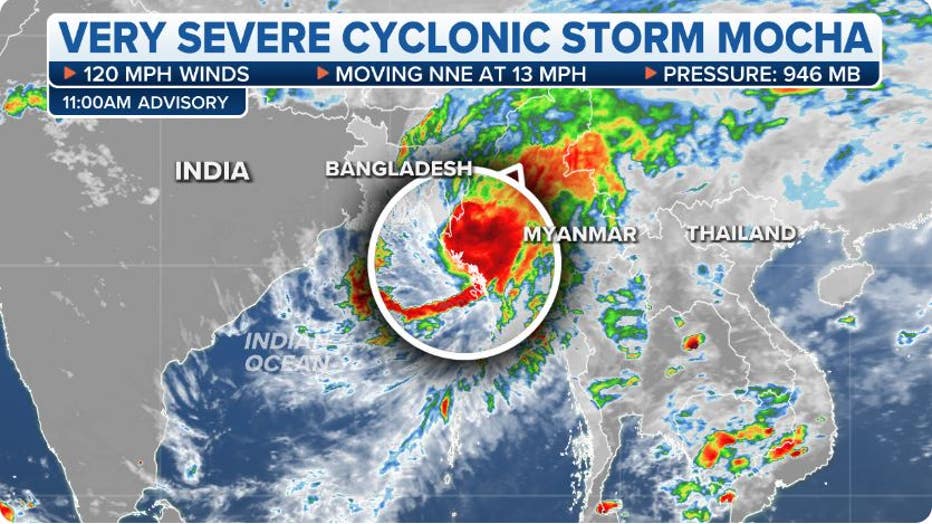 The current status of Cyclone Mocha.(FOX Weather)
According to an update from the United Nations Office for the Coordination of Humanitarian Affairs (OCHA), others were urged to move to higher ground as fears of extensive flooding grew.
OCHA said humanitarian organizations had been gearing up for a nationwide, large-scale emergency response.
5 DIFFERENT NAMES FOR HURRICANES AROUND THE WORLD
"Mocha has made landfall," U.N. Development Program representative Titon Mitra said in a tweet. "2m (million) people at risk. Damage and losses are expected to be extensive. We are ready to respond and will need unhindered access to all affected communities."
According to the Associated Press (AP), Myanmar's military information office said Cyclone Mocha damaged numerous homes and buildings and brought down electrical transformers and cell phone towers.
The AP added that multiple deaths were attributed to Cyclone Mocha in Myanmar, including a couple that was killed after getting buried by a landslide that hit their home and a man who was killed when a tree fell on him.
EXPANDED TROPICAL CYCLONE OUTLOOKS, NEW NAMES IN STORE FOR THE 2023 HURRICANE SEASON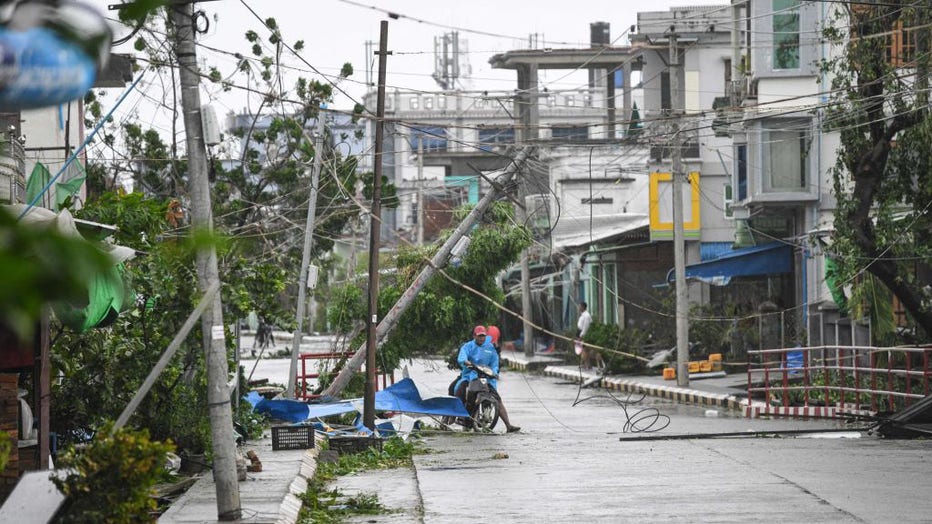 Local residents ride their motorbike amid a damaged street after Cyclone Mocha's crashed ashore, in Kyauktaw in Myanmar's Rakhine state on May 14, 2023. (Photo by Sai Aung Main/AFP via Getty Images)
The Bangladesh Meteorological Department issued the highest alert level for coastal regions ahead of Cyclone Mocha's landfall, and computer forecast models showed at least a half-foot of rainfall in many communities over the next several days.
The expected rainfall does not take into account the storm surge, which forecasters with Myanmar's Department of Meteorology and Hydrology feared could reach 14 to 18 feet above normal tide levels.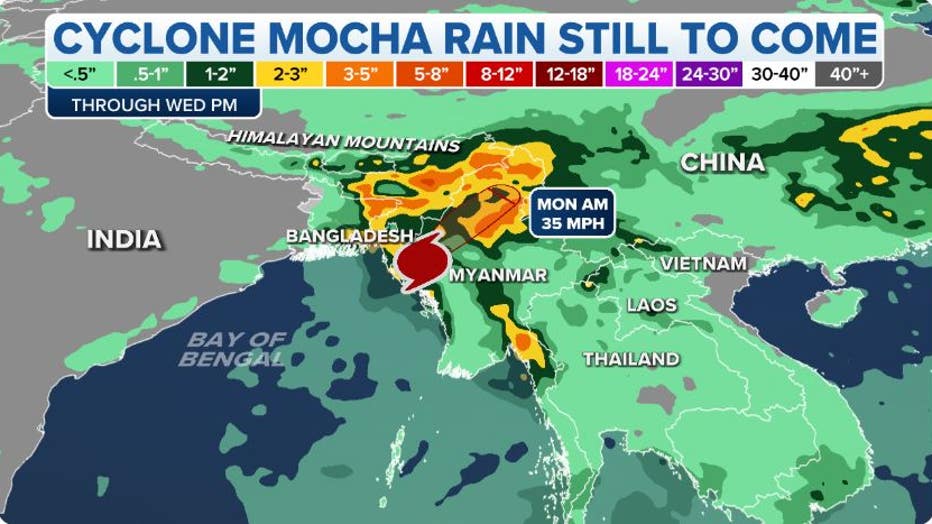 The rainfall forecast along the path of Cyclone Mocha.(FOX Weather)
A storm surge is produced when winds from a tropical cyclone pile up water. The more powerful the winds are, the higher the storm surge is likely to be. A Category 1 hurricane typically produces a storm surge of 4 to 5 feet above normal tide levels, while a Category 5 storm can lead to a surge of at least 18 feet.
WATER FROM HURRICANES, TROPICAL STORMS KILLS MORE IN U.S. THAN WIND
The World Bank Group lists Myanmar and Bangladesh as being highly susceptible to weather disasters because of the terrain and poverty rates.
Cyclones are not rare along the Bay of Bengal, and both countries have been subject to some of the deadliest weather disasters on Earth.
In 1970, a tropical cyclone impacted several South Asia countries, including Bangladesh. More than 300,000 were killed, according to the World Meteorological Organization. In 2008, Tropical Cyclone Nargis killed more than 138,000 as flooding and a significant storm surge destroyed low-lying communities.
TROPICAL CYCLONE FREDDY KILLS MORE THAN 270 MAKING IT ONE OF AFRICA'S DEADLIEST STORMS
Unlike the Eastern Pacific and Atlantic basins, the North Indian Ocean cyclone season has no designated start or end date. Tropical cyclones are known to form year-round but are most common from May through November.
The Eastern Pacific's hurricane season begins May 15, and the tropical weather season in the Atlantic Basin, which consists of the Caribbean Sea, the Gulf of Mexico and the Atlantic Ocean, starts June 1.