2 arrests made in Dallas concert shooting that left 1 dead, 16 injured
DALLAS - Dallas police have made two arrests in the shooting at an outdoor festival last month that left one person dead and 16 injured, including one person with a gunshot wound to the head.
Astonial Calhoun, 25, and Devojie Givens, 26 were taken into custody with assistance from the North Texas Fugitive Task Force and ATF Violent Crimes Task Force.
They are charged with felony deadly conduct.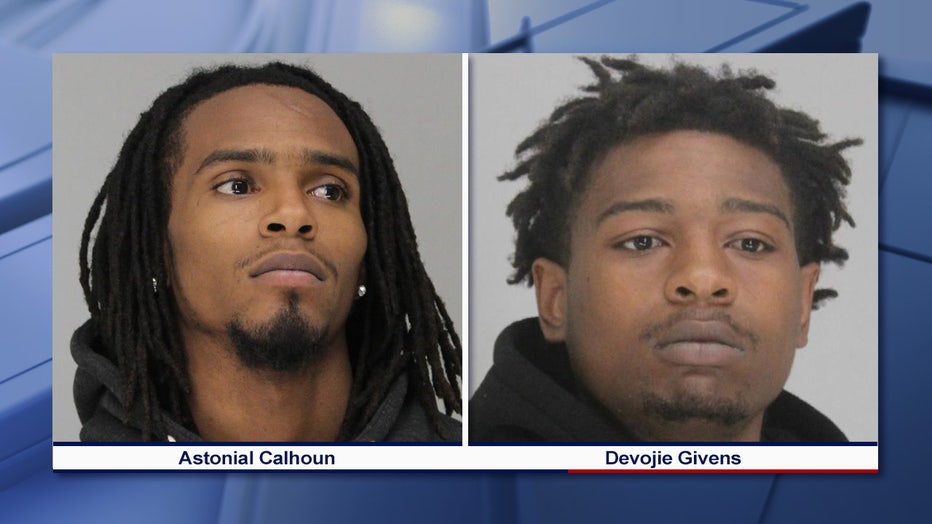 RELATED: No permit issued ahead of Dallas concert shooting that left 1 dead, 16 injured
They are accused of firing handguns during an outdoor party and festival that drew thousands of people on April 2.
There is relief at word of arrests, but for the family of Kealon Gilmore, who was killed that night, there is still unabated anguish.
Shalonda Gilmore recalled learning that her son, Kealon, had been shot and killed after getting a call from his younger brother, Kendall. 
"That call plays over and over in my head," she said.
Kealon was only at the event because younger brother Kendall wanted to go.
"But it was a lot of shooting. My brother got hit in the head, that was basically it," Kendall said.
The Gilmore family talked about the arrest of two men and the shooting that took Kealon's life. 
"It took a little bit of the burden off of me because I still don't have my son," Shalonda said.
RELATED: Lawsuit filed over Dallas concert shooting that left 1 dead, 16 injured
A lawsuit has been filed for the shooting. An attorney said those involved in putting the concert on did not take proper safety measures for an event with so many people.
Through attorney Daryl K. Washington, the Gilmores in part blame Dallas police for allowing officers to work a non-permitted event as a part-time job.
Those officers then left with thousands of people still on the grounds.
"And they leave these people basically to be out on their own," Washington said. 
Dallas Police Chief Eddie Garcia changed department rules for off-duty jobs after the shooting, requiring supervisor approval, and only for events with proper permits.
RELATED: 1 dead, several others injured in overnight shooting at Dallas field party concert
Lorenzo and Monecia Anderson's daughter, Jazmine, was attending her first Trail Ride Festival.
"And I know it's still a long process, but the first part of it is over, and I'm glad. I'm trying to get home right now," Lorenzo said.
She survived a gunshot wound to the head. She's now out of the hospital and in rehab.
"She's doing unbelievably well. She's responding to all of her therapy," Monecia said. "It's really just, she's a walking miracle. I mean, if I could put it into any other words, God has really performed a miracle for us."
The highlight of the festival was a concert event with thousands packed near the main stage.
Police said Calhoun and Givens both pulled guns and fired into the crowd following a fight.
Patrick Wilson is the former Ellis County district attorney, now in private practice in Waxahachie.
"It indicates that the investigation is ongoing and I think they found a charge that they were comfortable with," he said. "Once they identified these shooters, they wanted to get them off the street as soon as possible for public safety."
Wilson thinks higher and more serious charges will come once ballistic testing is done.
"You have two shooters and two victims, one of whom died, and so the odds that these guys are going to get away with a third degree felony are slim to none, in my opinion," he added.
For Shalonda Gilmore, there is uneasing pain.
"Not only am I hurt because of my son, but I'm hurt because my other son had to witness it. I have one that's gone and I have one that's having problems now," she said.
The Gilmore's said everyone who played a role that night, from the promoter, to the people who pulled guns, and everyone in between, should be held accountable for the loss of their son and physical injuries to 16 other people.
Police are still asking anyone who was at the event to upload their pictures and videos to a special website just for this case. Click here to submit evidence.