Dallas County reports 100 new COVID-19 cases for 2nd straight day; Tarrant County reports 3 new deaths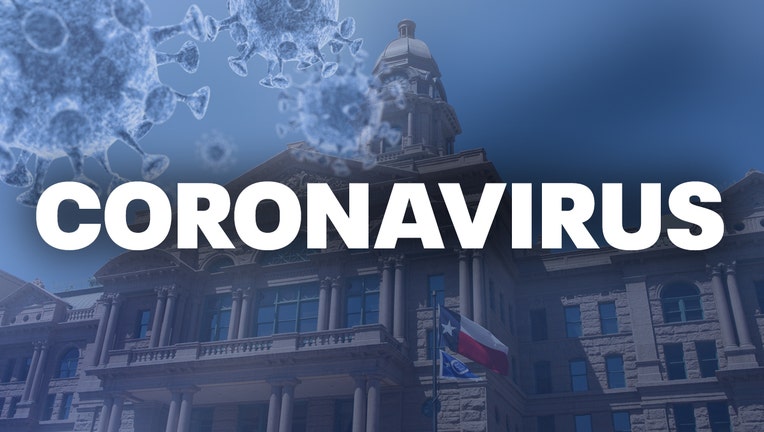 article
FORT WORTH, Texas - Three more people have died because of the coronavirus in Tarrant County, and Dallas County has reported 100 new COVID-19 cases for the second straight day, along with two more deaths.
Two of those people who died in Tarrant County lived in Forest Hill and one was from Fort Worth. The county didn't release any details about their age or prior health conditions.
The new cases in Dallas County bring the county's total to 831 cases and 17 deaths.
The two additional deaths in Dallas County were a woman in her 70s living at a long-term care facility and a woman in her 80s from Dallas. They had been critically ill in area hospitals.
RELATED: Coronavirus coverage
Dallas County
The concern continues to rise for senior living centers in Dallas County. The clusters of cases are growing larger.
Meanwhile, a local Hobby Lobby location was singled out by Judge Clay Jenkins Thursday evening.
The number cases at the reserve at Richardson Senior Living Facility is up from two to five cases.
The facility with the most cases in Dallas County remains Skyline in Oak Cliff, which is still at 17 cases.
It's where Norma Barrientos' 79-year-old mother lives.
 "It worries me because she doesn't know about sickness no more. She has dementia," Barrientos said. "So she worries about me not being there. But I can't go up to the window and tell her how much I love her. She's on the second floor, and she can't see."
Judge Jenkins says same-day tests are available for family members to pull loved ones out of facilities where someone has tested positive. If no one has tested positive, family members can go ahead and pull loved ones out if they're able to take care of them.
"This is one of the worst parts of the job is worrying about and trying to help people in those senior centers because we don't want to happen here what's happening on both coasts with the senior centers," he said.
Dallas County also announced there are two new cases at the Dallas County jail of one inmate and one detention officer. It brings the total cases there to 23.
Public health workers are also in the process are going to hotspots within the county to ensure essential businesses in certain areas are using tape and signs to encourage social distancing.      
"We have some community outreach people who are on the ground trying to put out educational materials," DCHHS Director Dr. Philip Huang.
Judge Jenkins also singled out Hobby Lobby, a company that's come under fire nationwide for defying coronavirus orders. Jenkins says a county sent the company a cease and desist letter to the North Dallas location near Preston and Beltline.
Just before 7 p.m., a FOX 4 crew saw customers leaving and workers closing up shop at the North Dallas location. That was just minutes after Jenkins called them out during his Thursday press conference.
"I just want to make it clear to Hobby Lobby and anyone foolish enough to follow in their footsteps that in Dallas County, 99.9 percent of the business community puts public health over profits. And in Dallas County, our law enforcement officers will ensure you abide by the control orders," he warned.
Hobby Lobby has not responded to a request for comment.
Jenkins says he's encouraging people to report non-essential businesses that are ignoring orders at dallascountycovid.org.
Dallas County residents can report concerns here: https://bit.ly/2UASAH4
Concerned employers can report businesses here: https://bit.ly/3bSFGdr
Tarrant County
Tarrant County now has a total of six confirmed COVID-19 deaths and at least 288 positive cases of the virus. Only 18 people in the county have recovered so far.
Tarrant County reported three additional deaths on Thursday. Two were residents of Forest Hill and one was a Fort Worth resident. All of them were senior citizens.
"I'm truly saddened by this loss," said Fort Worth Mayor Betsy Price. "And it is the harsh reality of this situation with this pandemic."
Price addressed the latest news before sitting down with Fort Worth ISD Superintendent Kent Scribner. He had updates for students who are now learning at home.
Fort Worth ISD has distributed 7,000 laptops and hotspots to students to provide access to online learning. Moving forward, teachers will grade on a pass or fail model.
"It's still an opportunity to give feedback, a lot of feedback," Scribner said. "But we shouldn't be grading kids on the stability of their home. There's lots of stress. There may be an illness."
The district has served 46,000 meals to students at 18 locations just this week.  In addition to launching their virtual classrooms, Scribner has asked his teachers to connect with their students and check on how they're doing emotionally. He says many of them have happily taken action.
All across the district, teachers and administrators have been holding car parades by driving through the neighborhoods, honking and waving at families.
"This is the time where leading with lessons is less important than leading with love," Scribner said.
Nolan Catholic High School Tennis Coach Chi Nguyen under quarantine with a positive COVID-19 diagnosis.
"Developed a fever that's going on day 11 now," he said. "Let me emphasize: COVID is no joke."
Nguyen expressed his gratitude for the community's support and hopes those of all ages heed his call to flatten the curve.
"Please do your part in helping prevent the spread of COVID," he said.
RELATED:
Track Texas coronavirus cases by county with this interactive map