Dallas County reports clusters of COVID-19 cases at nursing homes
DALLAS - Dallas County Judge Clay Jenkins said the county is starting to see clusters of COVID-19 cases at nursing homes.
There are three confirmed cases in residents at the Edgemere Senior Living Center in North Dallas and four at Skyline Nursing Home in West Oak Cliff. One employee at Edgemere also has the virus, Jenkins said Sunday.
All four of those who tested positive at Skyline are hospitalized at this time, while one of the residents from Edgemere has died, according to Dr. Phil Huang, the head of Dallas County Health and Human Services.
There's a positive case of COVID-19 at a third Dallas nursing home but that's not believed to be a cluster of cases at this time. The name of that facility has not yet been released.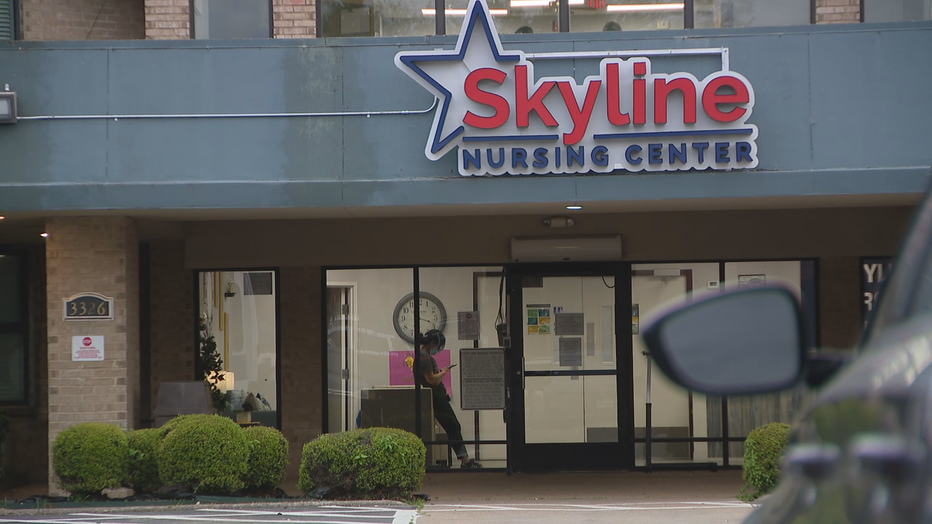 Jenkins has issued new orders to try to stop the virus from spreading.
All workers must have their temperature taken and wear masks during their shifts. Nursing homes must notify staff, residents and their families within six hours of finding out about a positive case of the coronavirus. The order also restricts nursing homes from taking in new residents.
Jenkins, who recently brought his mother home from an assisted living facility, believes the elderly are better off in their family's home than in a nursing home right now. He is encouraging families to bring their loved one home if possible.
"When these things get into the nursing homes they spread and they spread rapidly. We get into a situation where virtually everyone there has a chance of getting it," he said.
Those who do remove a loved one from a nursing home that has a positive case of COVID-19 will be under quarantine for 14 days. Jenkins said people should prepare first because those in quarantine cannot go to the grocery store or even outside for a walk in the neighborhood.
"This is a situation. You've got some decisions to make as a family. My decision may not be your decision," Jenkins said. "If you can take care of them, they are better off in your home. There will be protocol for transport, then when they come to your home, you are under quarantine for 14 days."
Edgemere posted a statement on its website saying it will continue to screen approved visitors and team members before they enter the community.
Skyline also said in a statement that it is aggressively monitoring staff and residents for signs and symptoms of the coronavirus, as well as following guidelines provided by the CDC.
RELATED: Coronavirus coverage
Dallas County reported its 10th COVID-19 death on Sunday, along with 48 new cases, bringing the county's number of total cases to 488.
The latest death was a woman in her 80s, who was living at a long-term care facility. Health officials said she had been hospitalized and had other high-risk chronic health conditions.
Tarrant County reported 11 new cases, bringing their total cases to 139. Denton County now has 165 confirmed COVID-19 cases after reporting 17 new cases. Collin County reported six new cases Sunday, bringing their total to 134 cases.
Dallas County leads the state with the highest number of confirmed COVID-19 cases and deaths.
Coronavirus health tips
While COVID-19 is a new respiratory virus, daily precautions recommended to prevent respiratory illnesses are the same:
•  Wash hands frequently with soap and water for at least 20 seconds. Use hand sanitizer when you can't wash your hands.
•  Avoid touching your eyes, nose, and mouth.
•  Cover your coughs and sneezes with a tissue and throw the tissue away. If you don't have a tissue, use the elbow of your sleeve. Don't use your hands to cover coughs and sneezes.
RELATED: Coronavirus FAQ: Here's what you need to know about the COVID-19 outbreak
•  Avoid close contact with people who are sick.
•  Stay home when you are sick and keep children home when they are sick.
•  Clean and disinfect frequently touched objects and surfaces.
•  Get a flu shot. (Although the flu shot does not protect against COVID-19, it is flu season.)
RELATED LINKS:
Shelter-at-home order issued for Dallas County
Shelter at home: What's considered essential?
Track Texas coronavirus cases by county with this interactive map