Dallas Cowboys fan goes into labor while attending Sunday's game
ARLINGTON, Texas - At last Sunday's Cowboys game, a North Texas couple went in as a house divided, but they came out with a game souvenir both can be proud of.
Haley and Tyler Waterman went the Cowboys vs. Patriots game at AT&T Stadium on Sunday as a family of two and came home with a new addition: Delaney.
There was already a lot of fanfare surrounding Sunday's match-up.
The Watermans are a house divided. Mom is a die-hard Cowboys fan, and dad, who was born and raised in Massachusetts, is a Patriots fan.
"It's a fun back and forth," Tyler said.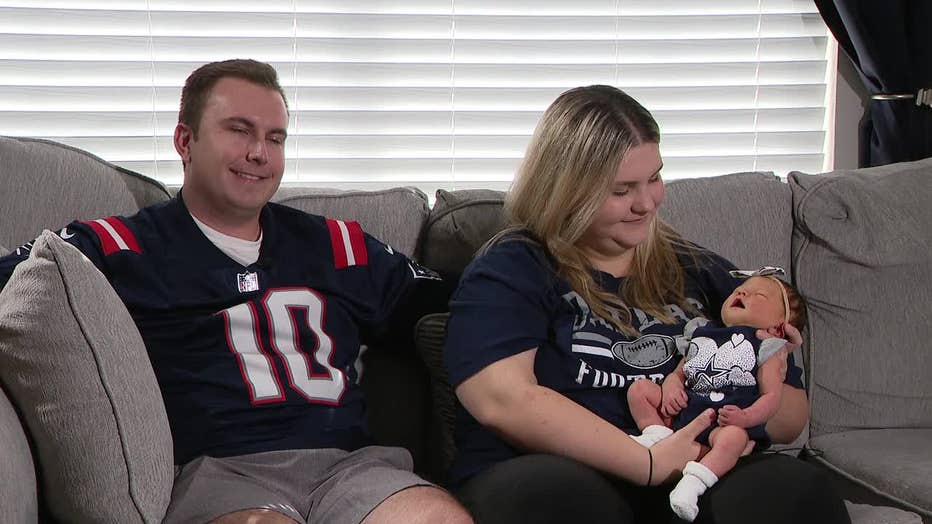 So picture this: it's the second quarter. The Watermans are in the stands with Tyler's dad and brother, who are also Patriots fans.
"I think it was right about the time that the Cowboys got their first offensive touchdown," Tyler recalled.
"And then I stand up, and my water broke. Everyone is staring at me," Haley recalled.
Haley says those stares quickly turned into cheers as spectators realized she was going into labor. She recalls a funny conversation she had with thee two paramedics who took her to the hospital.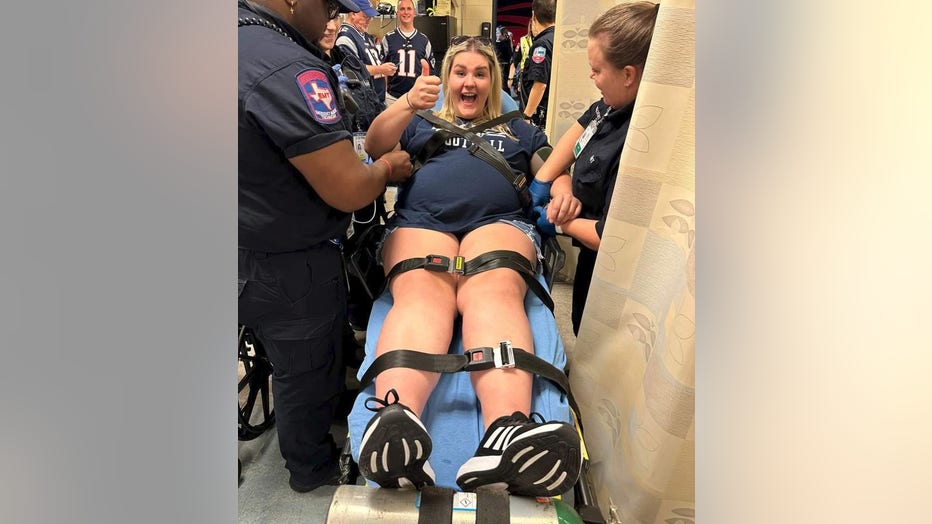 "They said they always just have drunk people that they needed to take care of. So I'm glad I was the first for them," she said.
Haley made it to the hospital as the Cowboys continued to clobber the Patriots in the second half.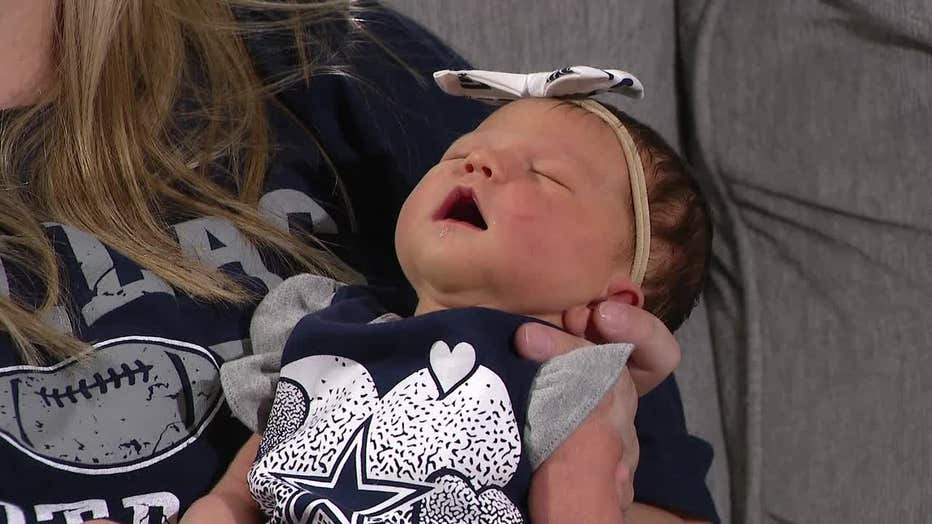 "I pulled out my phone and looked at the score and said I'm glad we ended up having to leave because it would have been hard to stay there and witness what happened on Sunday," Tyler said.
Delaney Waterman was born at 4:11 a.m. on Oct. 2. She was three weeks early but healthy.
The Watermans may root for different teams, but it was a win-win for them that fateful day. They know it won't always be that way, especially raising Delaney in a competitive home.
"I hope that she makes the right decision and becomes a Cowboys fan for life, but I will let her decide," Haley said.
"She's got onesies in both, so it's her decision," Tyler said.
The biggest challenge the Watermans face right now if getting any sleep. Thankfully, they have plenty of relatives here to help out, putting aside friendly rivalries for family.