Dallas serial wallet thief back in jail, facing a series of new charges
DALLAS - A Dallas woman who stole people's wallets from salons, offices, shops and more is back in the Dallas County Jail on new charges out of Austin and Oklahoma City.
Royse Session, 27, was booked into the Dallas County Jail on Oct. 7 for violating parole. She wasn't allowed to leave the state.
In Oklahoma, Session is facing 12 counts of taking credit or debit cards and obtaining property by trick or false representation.  She also faces charges for credit or debit card abuse in Austin.
According to court documents, Session used the cards to purchase $15,563.80 worth of items at Best Buy and $4,122.24 worth of items from Apple from May 23-June 8 in Oklahoma.
Police released photos of Session shortly after making the purchases at Best Buy.
(Source: Oklahoma City Police Department)
One of the most recent victims was Kelly Duncan from Oklahoma City.
"I went to the back to pull some files of some cases that were heard that day," she recalled. "I came back up to the front, and I couldn't find my wallet."
Tuesday, Duncan spoke to FOX 4 while at her job at an Oklahoma City law firm. It's the very spot she says her wallet was stolen from her purse. She says she even ran into Session and struck up a conversation. 
"I was in the lobby area, and this girl approached me and talked to me about my shoes and where I got them. And then I didn't think anything about it," she recalled. "About 30 minutes later, charges start coming through on my phone."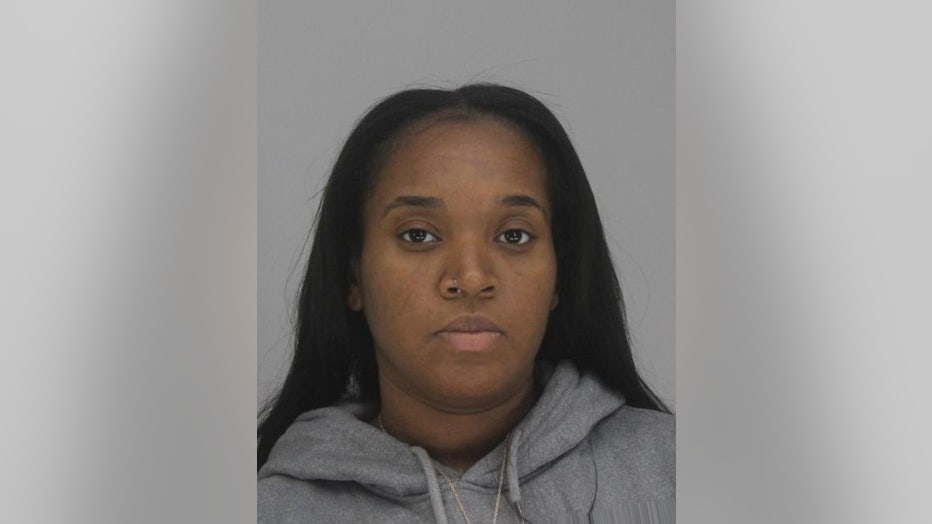 Oklahoma City police tell FOX 4 that Session stole wallets from seven different people in Oklahoma City and Tulsa during a two-week timeframe over the summer. 
Police say each time Session would then use the stolen cards at Best Buys and Apple Stores where she was caught on surveillance attempting to spend thousands of dollars. 
At one Best Buy, detectives say Session was seen getting into a white Hyundai with Texas tags. Detectives traced the vehicle back to her.
Once the charges were filed in September, Duncan did a quick online search, which led her to FOX 4's website. 
In 2021, FOX 4's Shaun Rabb followed Session for months after police say she stole wallets and cell phones at hair salons, spas, and other businesses in Dallas, Tarrant, Collin, and Ellis counties. 
Viewers turned over multiple surveillance videos and shared their testimonies.
Session took a plea deal in October 2021 for two years of community supervision. 
Records show Session has been arrested in Dallas County alone multiple times since 2013.
Duncan was in shock that it appears Session is still attempting to commit the same crimes.
"She is so bold," she said.
Oklahoma investigators say Session was positively identified in all seven incidents through surveillance video, photo line-ups and also Session's social media. 
RELATED:
FOX 4 found a collection of mugshots for Session dating back to 2013.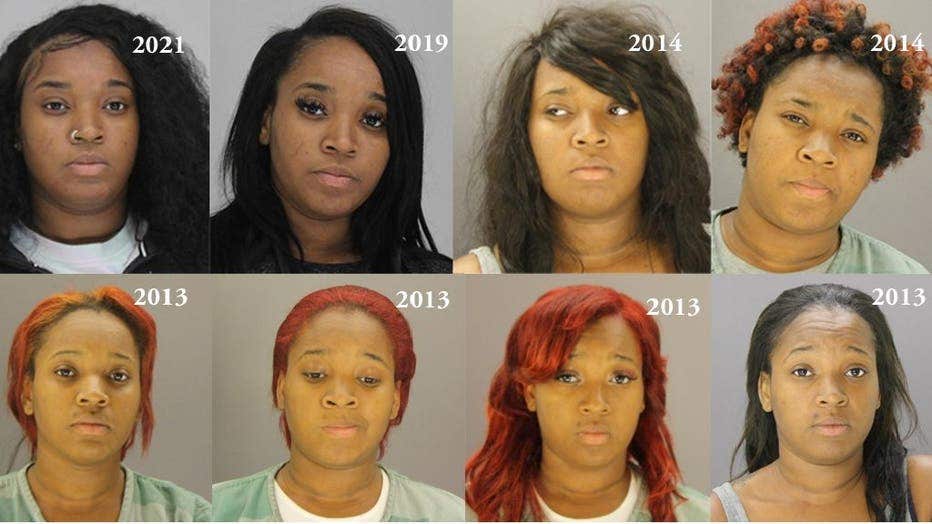 Session is currently being held on a $10,000 bond for her latest charges.