Driftwood sotol distillery Desert Door making hand sanitizer in response to coronavirus
DRIFTWOOD, Texas - Desert Door Distillery, a veteran-owned sotol distillery in Driftwood, is producing hand sanitizer in order to help others during the COVID-19 crisis.
Co-founders Ryan Campbell, Judson Kauffman and Brent Looby all served in the military and they say they wanted to aid in the fight against the coronavirus so they began production this week on making the sanitizer according to World Health Organization (WHO) and FDA standards.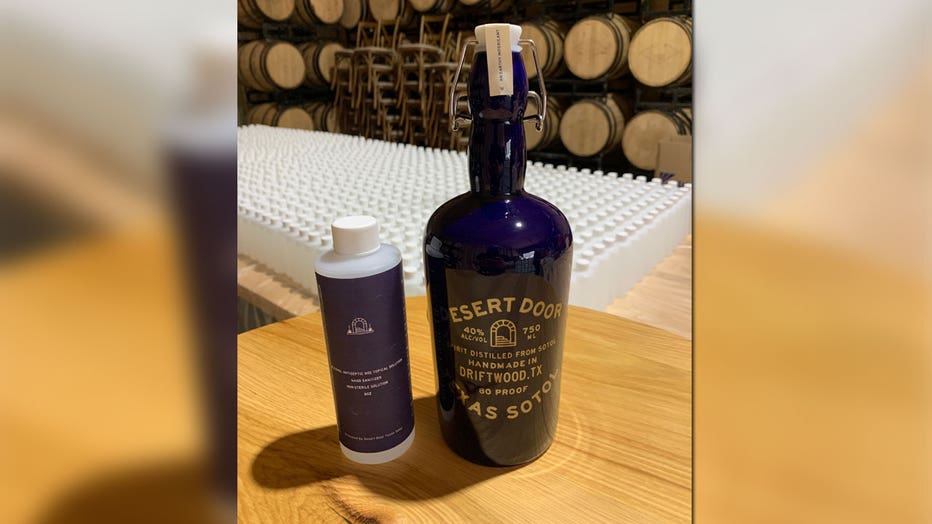 RELATED: CoronavirusNOW.com, FOX launches national hub for COVID-19 news and updates
The hand sanitizer is made with 80% alcohol as its active ingredient and Desert Door says it expects it will have more than 20,000 bottles.
Campbell says in a news release, "We will be providing 8 oz bottles free of charge to the public and will continue to do so as long as necessary. It is our social and moral responsibility to do so."
RELATED: Texas declares public health disaster, closes restaurant dining rooms and schools
The distillery got its TTB license amended so it could produce the sanitizer and its co-founders are hoping other distillers will join them in doing the same. It's asking those interested in doing so to email info@desertdoor.com so they can share the production process and details.
Desert Door is expecting to make its first contributions to the community today (3/20). It's planning to donate directly to organizations including the San Antonio Police Department, area nursing homes and area shelters. It also plans to help the Austin bar and restaurant community by giving sanitizer to distribute with to-go orders.
CLICK HERE FOR THE LATEST INFO ON THE CORONAVIRUS OUTBREAK
"The three of us have never watched from the sidelines in our lives, and we are not going to start now. Desert Door has resources and capabilities that can be helpful during this time," says Campbell.
Desert Door is expected to make 750 gallons of sanitizer this week with the goal of making an additional 1,000 gallons per week as long as needed.
RELATED: Local restaurants offer delivery, curbside & takeout service after city shuts down restaurants and bars
You can get more details about what Desert Door is doing on its Facebook page and its website.
FOX 7 Austin is working to keep you up to date with coronavirus, with both local and national developments. Every weekday we're live at 1 p.m. with a special show reporting the latest news, prevention tips and treatment information.
You can watch live in your FOX 7 Austin app or on the FOX 7 Austin Facebook page.You can also get the latest COVID-19 news from around the country at coronavirusnow.com.