Easter events and specials from across Central Texas
AUSTIN, Texas - Easter is just around the corner, and restaurants and businesses all over Central Texas are gearing up with celebrations for adults and kids alike.
From egg hunts to Easter bunny sightings to brunch offerings and specialty menus, here's a look at some of the exciting Easter events going on that you can take part in if you're still looking for something to do!
_____________
Fairmont Austin is celebrating Easter downtown with a host of events for the whole family.
The hotel will be offering Easter Brunch featuring a spread of chilled seafood selections, oak-smoked prime rib, and more on April 9 at 10 a.m. or 1:30 p.m.
There will also be two egg hunts for younger attendees, Tiny Tails petting zoo onsite, and a special appearance from the Easter Bunny.
Reservations can be made here.
Easter Tea at The Driskill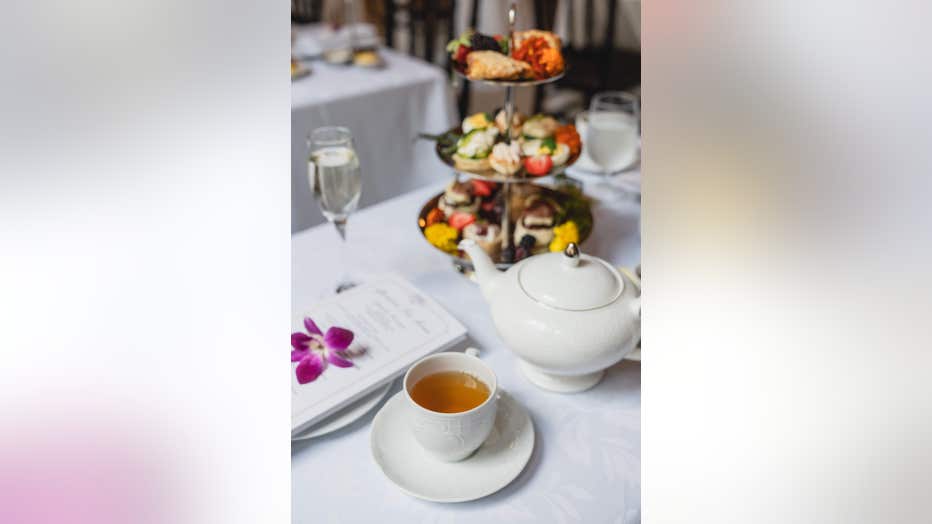 Easter Tea at The Driskill Hotel. (Jane Yun)
Continuing their long-standing Afternoon Tea tradition, the historic Driskill Hotel will be hosting an Easter Tea from 4 p.m. to 6 p.m. on Easter Sunday.
The Tea will feature light bites including French pastries, petit fours, and finger sandwiches, all accompanied by premium loose-leaf teas and sparkling wine.
Tickets are $90 for adults and $45 for children; reservations can be made here.
Second Annual Easter Egg-stravaganza at Fareground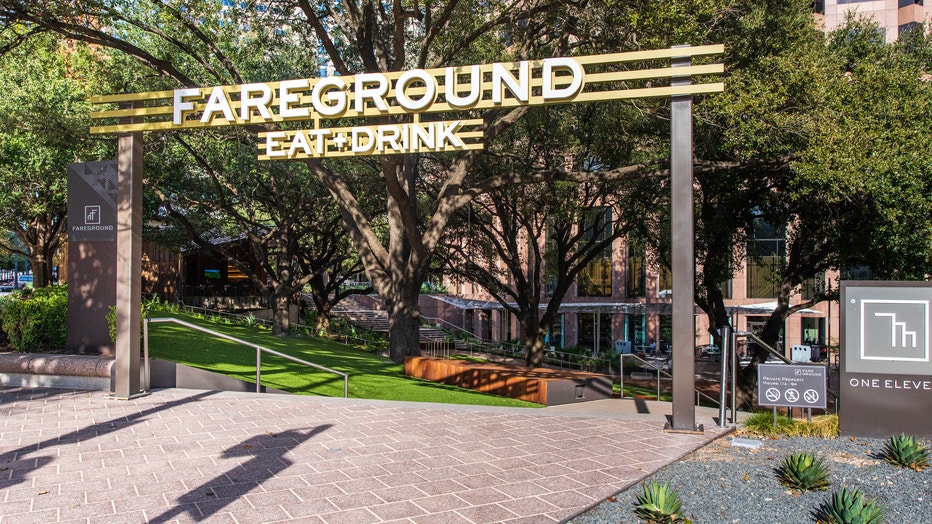 Austinites can visit the downtown food hall on Saturday, April 8 for family-friendly activities, delicious brunch specials and an Easter egg hunt for kids of all ages.
Guests can enjoy mouth-watering dishes, sweet treats and face painting from 12 p.m. to 3 p.m.
The event will feature three different egg hunts for three different age groups, ensuring everyone gets a chance to participate, all on the Fareground's beautiful outdoor patio and lawn area.
Learn more and RSVP to the event here.
Easter Photo Ops at Domain Northside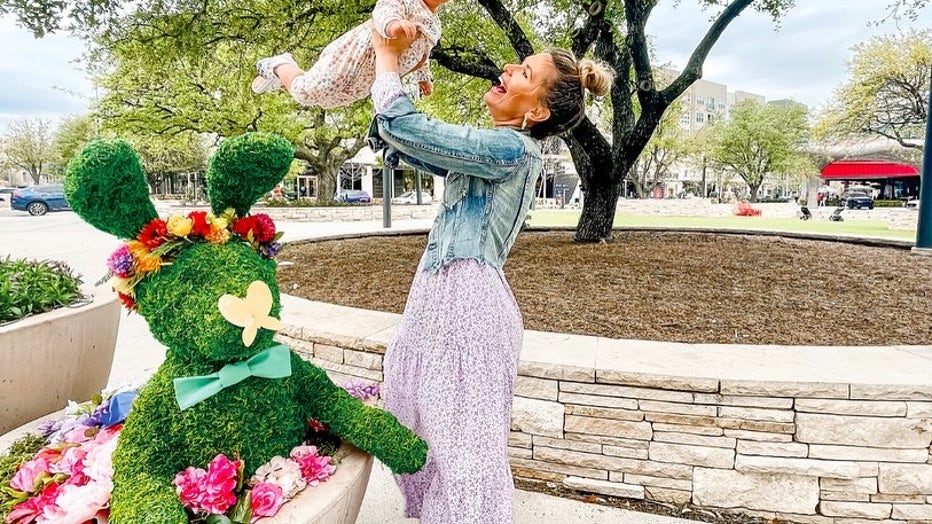 It's springtime, and Domain Northside in North Austin invites guests to hop through for a hip photo experience with blossoming Austin-inspired bunny topiaries sprouting throughout the center.
Guests who share their photos to Instagram will be entered to win a $500 shopping spree at the store of their choice.
Click here for a digital map of bunny locations.
Easter Brunch and Dinner
No Easter is complete without deviled eggs, lamb chops and delicious spring-inspired specials. Here are some of the delicious Easter offerings from across Central Texas.
Brunch Specials at Aba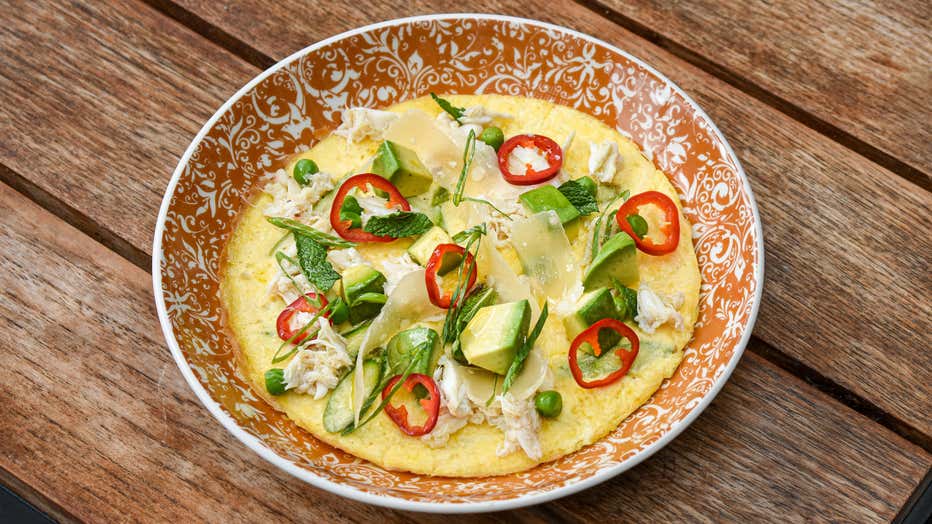 The Mediterranean restaurant will be serving a light spring frittata with lump crab for dine-in brunch on Easter Sunday.
Reservations are encouraged and can be made here.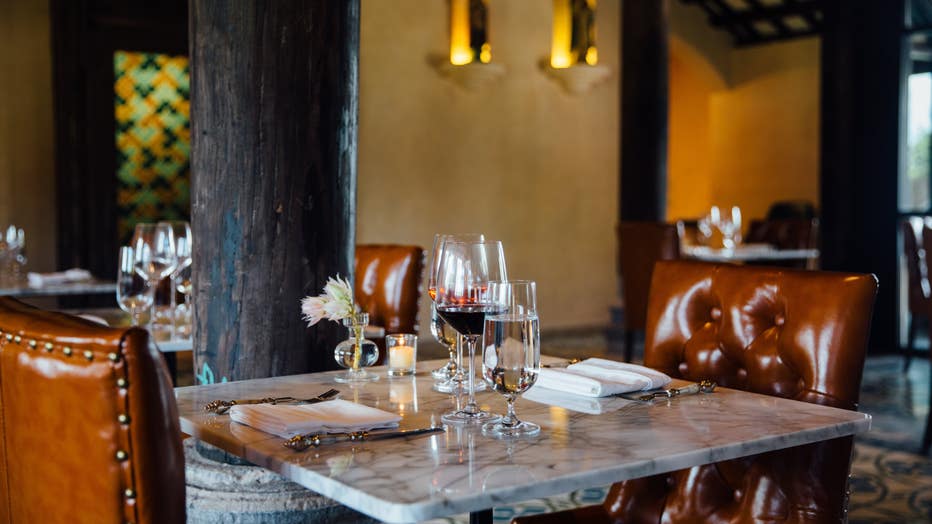 Tillie's at Camp Lucy. (Camp Lucy)
Those looking to explore the Hill Country can celebrate Easter with Tillie's at Camp Lucy, a 289-care ranch resort in Dripping Springs.
Tillie's will be offering a 3-course choice of menu dinner curated by Executive Chef Andy Knudson during regular dinner service from 5 p.m. to 9 p.m. on Easter Sunday.
Menu options include carrot salad, smoked prime rib, oyster mushroom and English pea risotto, and strawberry shortcake.
Dinner is $85 per person; reservations are encouraged and can be made here.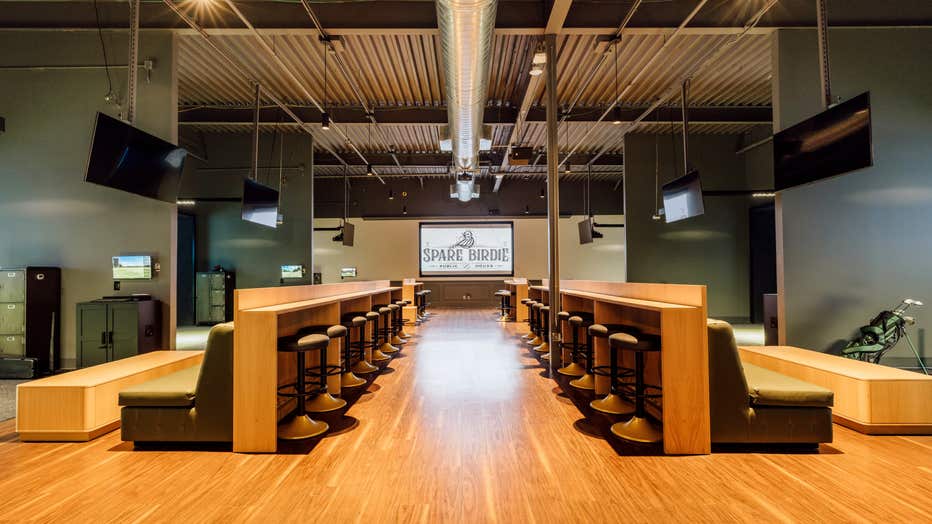 Spare Birdie Public House. (Rick Cortez)
Spare Birdie, the Cedar Park public house known for its fully immersive entertainment and lively atmosphere, is excited to announce their Easter dining specials available 11 a.m. to 3 p.m. Easter Sunday.
Special menu items include seared tuna toast, crab cake Benedict, and a hangover burger made with Akaushi Wagyu beef.
The Silly Rabbit cocktail, made with a delicious blend of rum, carrot, pineapple and mango, will also be available.
Dine-In Specials at Goodfolks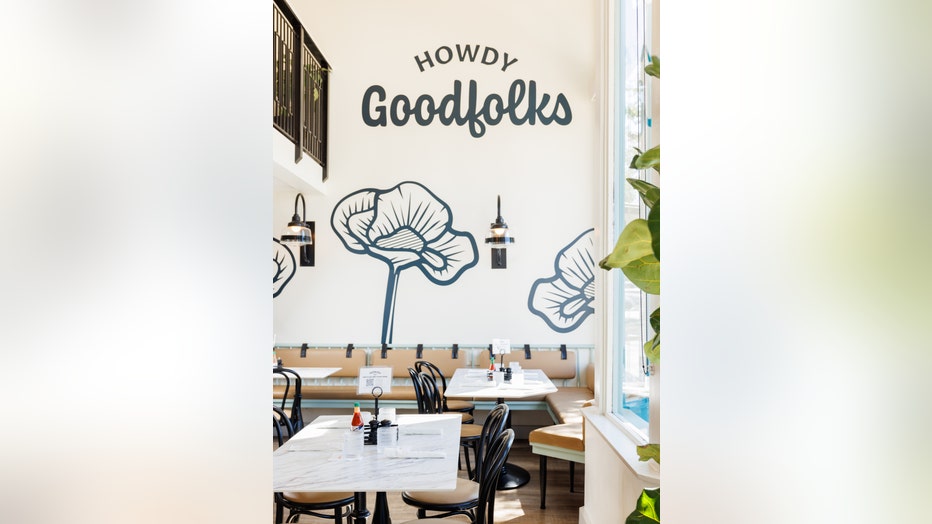 Goodfolks in Georgetown will feature two dine-in specials and a specialty cocktail for Easter Sunday.
The loaded pimento cheese poppers, made with roasted jalapeños, applewood bacon, white pimento cheese, panko and signature Goodfolks Ranch, are sure to delight anyone who loves a good blend of spicy and creamy flavors.
The herb crusted rack of lamb features a succulent lamb rack coated in a flavorful herb crust served with sweet potato purée.
The Berrylicious cocktail, a refreshing concoction made with gin, blackberry, strawberry, vanilla, honey and cream, is perfect for anyone looking for a fruity yet sophisticated drink.
Easter Brunch at TLC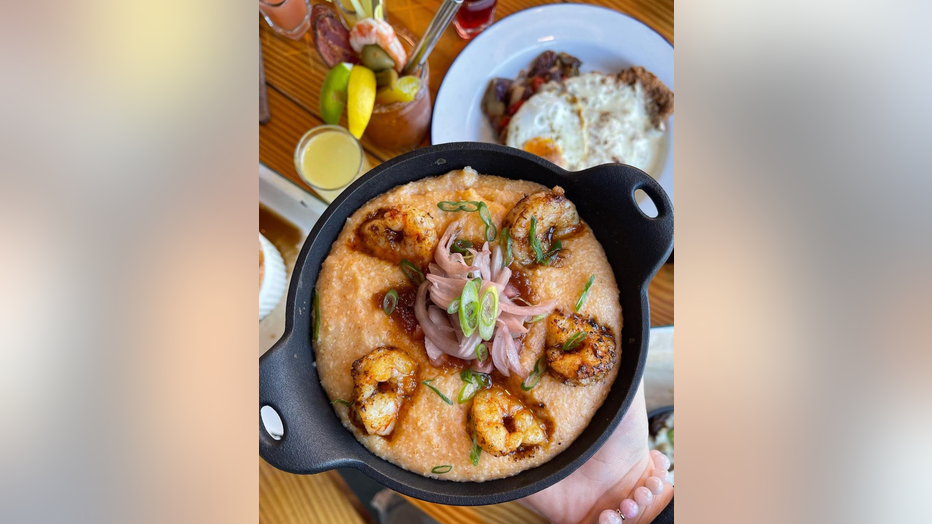 Shrimp and Grits at TLC. (TLC)
Bring the whole family to TLC in South Austin for Easter brunch with their spacious group dining atmosphere and dog-friendly patio.
TLC is offering $5 Frose and half-off all bottles of champagne.
Menu features include french toast bread pudding and the southern comfort staples chicken fried steak and eggs and shrimp and grits.
Brunch will be offered April 8 and 9 of Easter weekend from 11 a.m. to 3 p.m. for walk-in service only.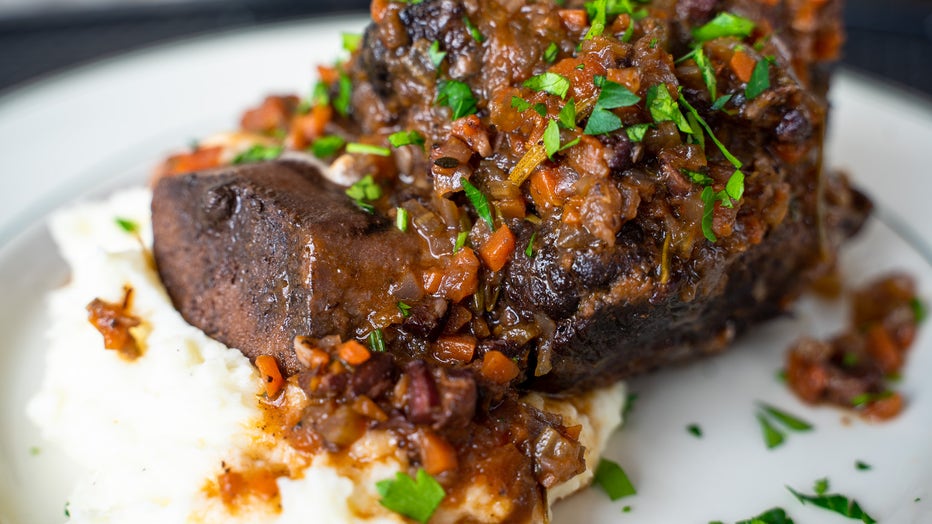 Braised Beef Short Rib. (Trattoria Lisina)
The upscale Tuscan Italian restaurant and event venue in Driftwood will be offering special menu items Easter weekend, Friday, April 7 through Sunday, April 9.
The Easter weekend celebration will feature expanded restaurant hours and special menu features in addition to the regular menu, as well as mimosa and champagne specials.
Specialty items include bone-in braided beef short rib, key lime pie and a Peeps marshmallow gelato; the gelato special will be available throughout the entire month of April.
Reservations for in-restaurant dining are now open and can be made by calling 512-894-3111 or visiting here.
Five-Course Easter Brunch at Luminaire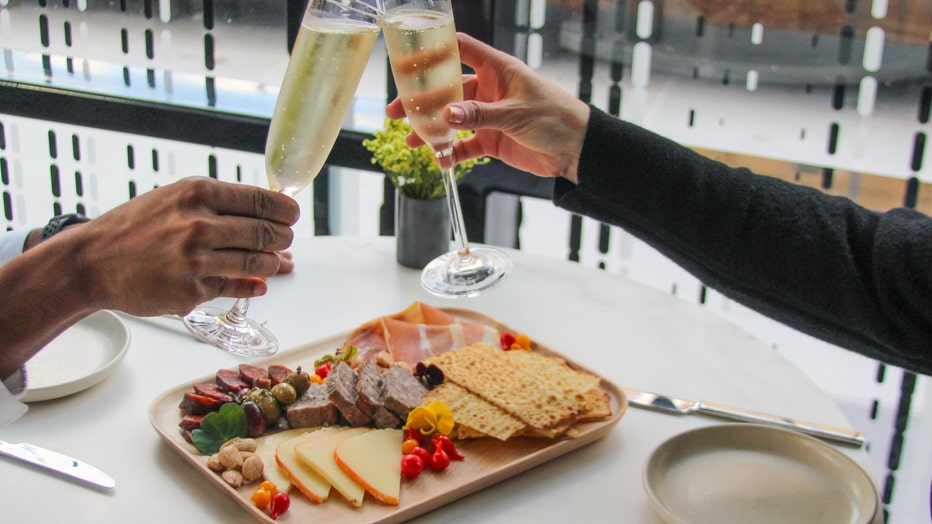 Located on the first floor of Hyatt Centric Congress Avenue Austin downtown, Luminaire will be offering a special five-course Easter brunch menu on Saturday, April 8 and Sunday, April 9 from 8 a.m. to 3 p.m.
The special Easter meal includes preserved lemon magdelenas; strawberry, tomato and avocado salad; crabmeat empanada; delgada Benedict; and leche frita.
The five-course meal is $90 per person; special Easter libations, including mimosa and sangria selections, are $10 per person.
Reservations can be made online.
AKB Austin at the Archer Hotel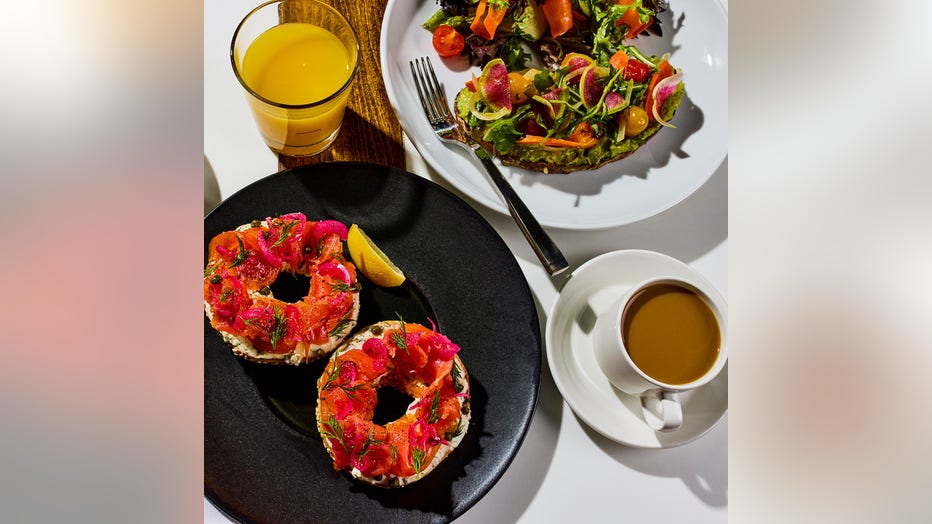 AKB Austin, located in the Archer Hotel at Domain Northside, will offer an Easter brunch with a special menu on April 9 from 10 a.m. to 3 p.m.
Enjoy specials including breakfast pizza, bagel and lox, deviled eggs, Texas waffles, eggs benedict, slow-roasted leg of lamb and more.
For reservations, visit here.
Easter Brunch at Culinary Dropout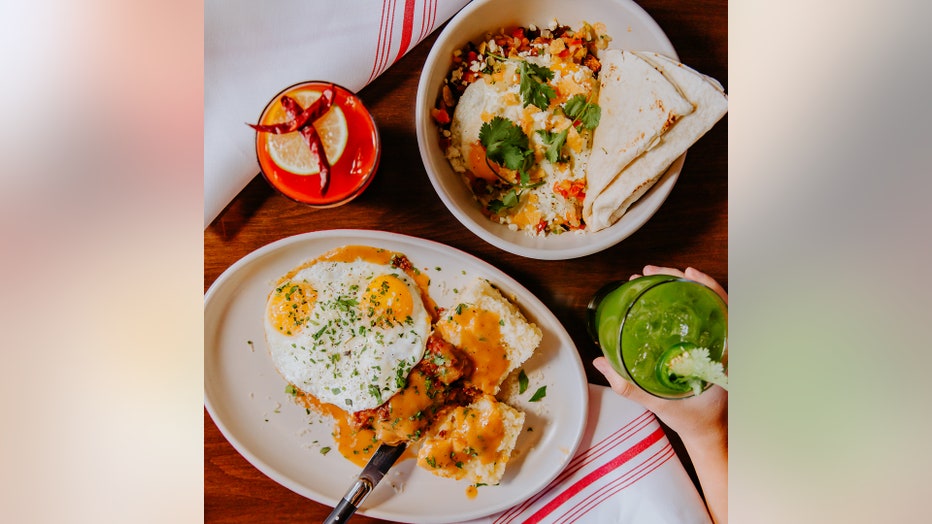 The Domain Northside restaurant will be serving all of their favorites alongside a special menu item, the European Seabass with grilled asparagus, slow roasted tomato, fregola and black truffle emulsion.
Reservations are encouraged and can be made through the Culinary Dropout website or by calling 512-777-3394.
Paul Martin's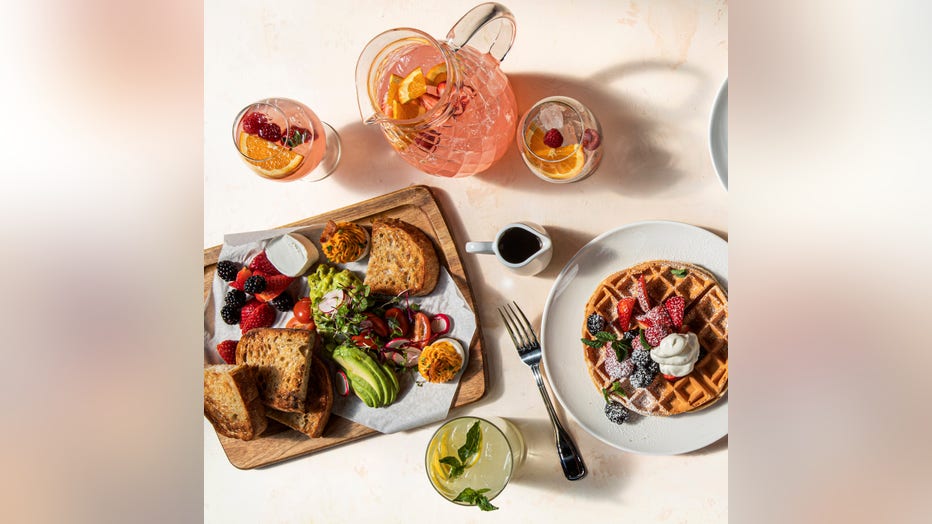 Paul Martin's at Domain Northside will be celebrating Easter with an à la carte brunch menu featuring sharable cocktail pitchers and favorites like the Grill Benedict and DIY Avocado Toast.
Also available will be a 2-course Prime Rib Special.
Brunch will be available from 10 a.m. to 2 p.m. Reservations can be made online.
Perry's Steakhouse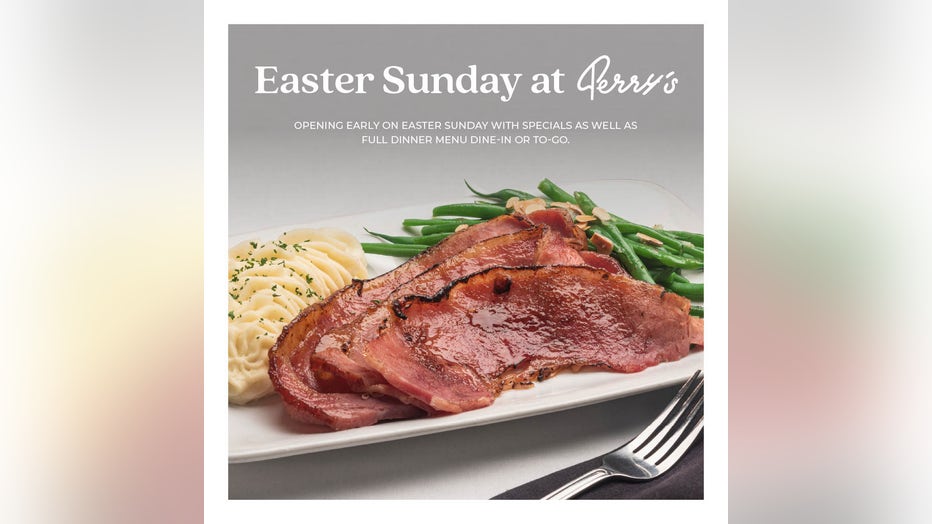 Doors open early at 11 a.m. on Easter Sunday with specials as well as the full dinner menu for dine-in or to-go.
The Easter Sunday Special for dining in includes a starter (choice of Perry's Pear Salad or Carrot Ginger Soup) and entree (choice of Perry's Double Smoked Triple Glazed Ham or Carmelized Rib) with sides. 
An individual serving of White Chocolate Cheesecake is also available, as well as brunch cocktails until 4 p.m.
More information can be found on the Perry's Steakhouse website.
Valencia's Tex Mex Garage
Drink til you HOP with Valencia's Tex Mex Garage's famous Penny Mimosa refills on Easter Sunday until 3 p.m.
Valencia's is also offering Fiesta Paks to-go.
For more information, visit their website.
Special Easter Offers
Business across Austin and beyond will be offering special Easter items of all kinds.
Available through April 9, Cookie Rich will be offering a new Easter 12 pack of their signature bite-sized treats.
New Easter flavors include Peep Peep (a purple sugar cookie rolled in crystal sugar and filled with almond buttercream and a dollop of marshmallow fluff), key lime pie, banana pudding and more.
Order online here.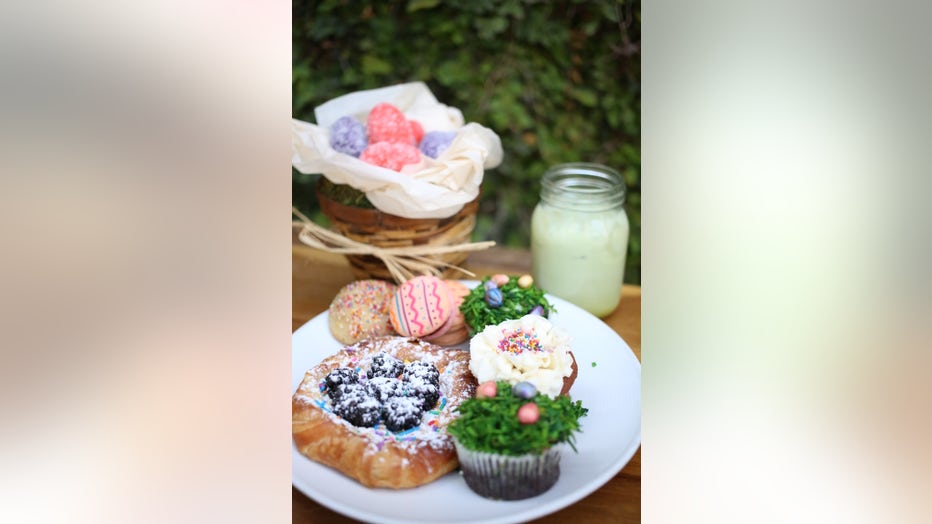 Easter Goodies. (Walton's Fancy & Staple)
Walton's is your one-stop shop for all things Easter.
Austinites can stop in for florals, limited-time Golden Easter Eggs, seasonal macaroons, pastries and their famous brunch staples like avocado toast and shrimp & grits.