Emergency crews gearing up ahead of potential ice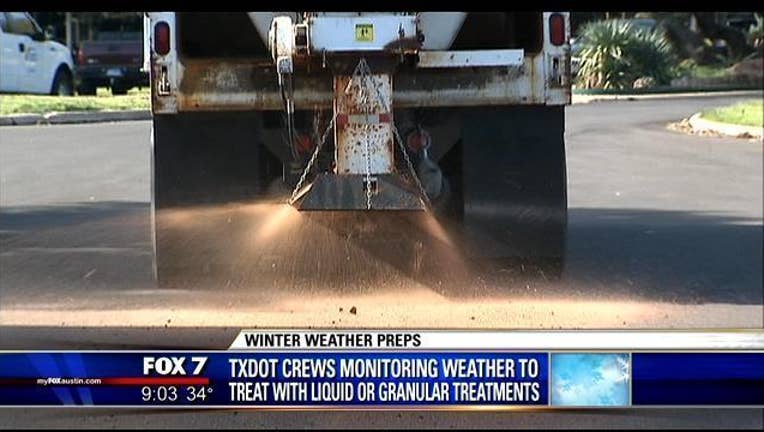 article
AUSTIN, Texas - Since the weather service accelerated their winter weather outlook, local emergency crews are getting into gear a little bit earlier than previously thought.
TXDOT road crews were called in Thursday evening to be on standby in case road conditions deteriorate.
TXDOT says they don't always pre-treat roads with their liquid treatment but if they do that Thursday night or Friday night, they'll do it when precipitation is actually falling.
Of course, if there's already ice on roadways like the MoPac-183 flyover which is a trouble spot typically, that's when they'll make regular rounds with their granular treatment that breaks up any ice that's forming.
The city's Public Works department will do the same sort of thing with their roads.
In the meantime, it is just plain cold.
We spoke with the Austin Office of Homeland Security and Emergency Management.
They want to remind folks not to heat their home with their oven. That's dangerous.
And space heaters...need space. They say to put at least 3 feet of distance between heaters and flammable things like blankets and curtains.
The Austin-Travis County EOC says they did activate last year during ice storms but at the moment, they're waiting to see what the weather ends up doing overnight.
"Across the city, and also with our local public safety partners and academic partners, we'll be monitoring conditions, sharing information, communicating. And if conditions deteriorate, we'll all be working together to make sure we put our best foot forward to respond," said Jacob Dirr with the Austin Office of Homeland Security and Emergency Management.
TXDOT says if drivers absolutely have to be on the roads during tonight's potential ice or tomorrow night's, remember to slow down...put a lot of space between you and the next car...be extra careful on bridges, ramps and overpasses...keep your distance from TXDOT vehicles treating roadways.
They say if you do start to slide, ease off of the gas pedal or brakes and steer into the direction of the skid.