Emmy wins for Viola Davis, Jon Hamm 'Transparent,' 'Veep'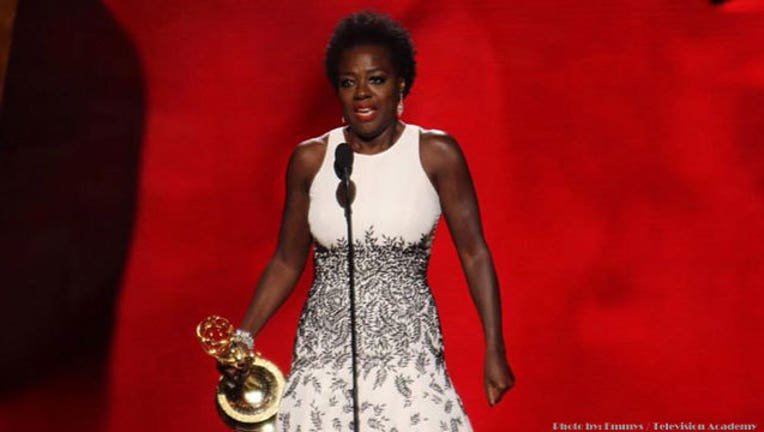 article
LOS ANGELES (AP) — "Mad Men" star Jon Hamm finally won the best drama actor Emmy Award that eluded him seven times before, an overdue honor that was eclipsed Sunday by "How to Get Away with Murder" star Viola Davis' lead actress trophy that ended a whites-only reign.
"The only thing that separates women of color from anyone else is opportunity," an emotional Davis said. "You cannot win Emmys with roles that are simply not there."
Hamm bypassed the steps to the Emmy stage, scrambling onto it on his stomach. "There has been a terrible mistake clearly," Hamm said.
Jon Stewart is gone from "The Daily Show" but not forgotten by Emmy voters, who gave the late-night show the best variety talk series award Sunday over another host who's moved on, Stephen Colbert.
Stewart, who left the "Daily Show" earlier this year, warned the theater audience that the perils of leaving TV include no applause or free food.
"To everybody on television, I just want to tell you, cling to it as long as you can," joked Stewart, who's turning over "Daily Show" to Trevor Noah.
Besides Colbert, who left his Comedy Central show to become host of CBS' late-night show, the tough competition included another channel alum, John Oliver.
"Transparent" emerged as an early winner at Sunday's Emmy Awards, capturing a best comedy actor trophy for Jeffrey Tambor and a directing award for its creator, and giving both winners a chance to pay tribute to the show's trangender themes.
"I'd like to dedicate my performance and this award to the transgender community. ... Thanks for letting us be part of the change," said Tambor, who plays a man journeying toward womanhood.
Jill Soloway, who based the series on the life of her own "moppa," as she calls her parent, used her directing trophy acceptance speech to ask for equal rights for transgender individuals.
"It is legal in the majority of U.S. states to refuse to rent to trans people," she said, saying the country has a civil rights problem that must be addressed.
Peter Dinklage nabbed the best supporting drama actor award for "Game of Thrones," which also won writing and directing trophies.
Host Andy Samberg noted that the 67th Emmys coincided with the 67th birthday for George R.R. Martin, whose novels are the basis for "Game of Thrones." A smiling Martin was in the theater audience to accept the congratulations.
Uzo Aduba won the supporting actress in a drama trophy for "Orange is the New Black," which was switched under academy rules this year from comedy competition. Aduba won a guest actress award last year for her portrayal of "Crazy Eyes" in the series.
Emmys voters didn't give up their fondness for choosing the familiar over the groundbreaking in other categories as well.
Julia Louis-Dreyfus was honored as best lead comedy actress for "Veep" for the fourth time. Allison Janney of "Mom" and Tony Hale of "Veep" were repeat winners for supporting comedy acting honors.
Janney, who plays a dysfunctional parent, thanked series producer Chuck Lorre for creating a deeply flawed character and "thinking of me to play her."
"This is nuts," said Tony Hale, thanking his show's writers and lauding his fellow nominees: "You make me laugh hard."
"Olive Kitteridge," based on the Pulitzer Prize-winning novel by Elizabeth Strout, nearly swept the limited series categories, with six trophies including the top award and lead acting honors for Frances McDormand and Richard Jenkins and a supporting award for Bill Murray.
Regina King of "American Crime" won supporting actress honors for a limited series. "Inside Amy Schumer" won for best variety sketch series.
"The Voice" won a best reality series trophy, breaking the hold that "The Amazing Race" long had on the category and snaring an award that always eluded "American Idol."
Samberg kicked off the ceremony with a video in which he made elaborate fun of the overload of TV programs available.
"So many shows, so little," he sang, before entering a "TV viewing bunker" to binge-view on all the nominated shows. A bearded, shaggy-haired Samberg emerged to boast to contenders Jon Hamm and Kerry Washington that he had them and everyone else covered.
Appearing on stage, groomed, Samberg touched briefly on the political scene.
"Sure, Donald Trump seems racist," he said. "What else?"
He also took note of what he called the most diverse group of nominees in Emmy history. They include Viola Davis and Taraji P. Henson, who could become the first non-white winner in the best drama series actress category.
"So congratulations, Hollywood, you did it. Racism is over! Don't fact-check that," Samberg said.
"Game of Thrones," this year's top nominee overall, could make a notable showing with a best drama victory: It would become the second fantasy or sci-fi show to get the award, following "Lost" in 2005.
___
Online: http://www.emmys.com