Fayette County K-9 Lobos sniffs out $6 million worth of meth in gas tank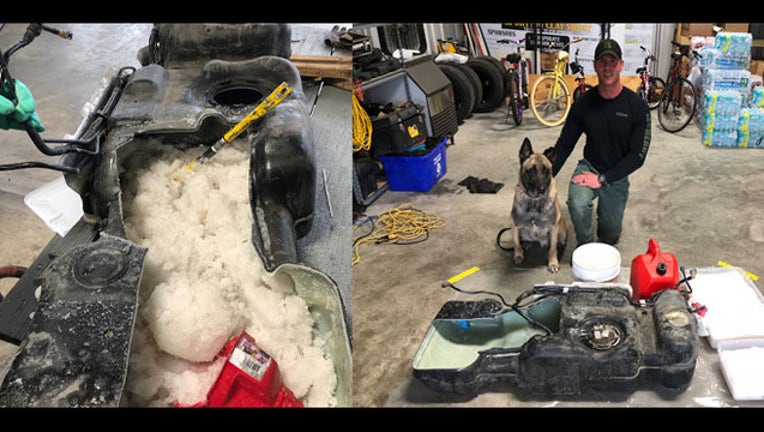 article
FAYETTE COUNTY, Texas - The Fayette County Sheriff's arrested two men after discovering $6 million worth of meth during a traffic stop. 
On Monday around 2 p.m.  Sgt. Randy Thumann and K-9 partner Lobos initiated a routine traffic stop on IH-10 near 658-mile marker on a 2007 Tahoe Chevrolet.
According to Sgt. Thumann the driver and his passengers story didn't add up, prompting Sgt.Thumann to ask for consent to do a vehicle search.
During the search Sgt.Thumann deployed his K-9 Lobos who immediately detected narcotics in the Tahoe. 
After conducting a thorough investigation of the Tahoe Sgt. Thumann said the gas tank on the Tahoe dropped revealing a false compartment built inside which contained around 60 kilos of liquid meth oil with an estimated street value of $6 million. 
Authorities identified the two men inside the Tahoe as 35-year-old Miguel Angel Lozano Alvarez and 24-year-old Alma Rosario Nieto Villarreal. 
According to Fayette County Sheriff's both men were from Mexico, and were charged with Possession of a Controlled Substance.
Bond was set for Alvarez at $50,000 and for Villarreal at $10,000 and were both booked into the Dan R. Beck Justice Center.