Final design revealed for proposed Butler Trail bridge at Longhorn Dam
AUSTIN, Texas - A steady rain Tuesday morning made for a cold and soggy run for those dedicated enough to venture out. Regardless of the weather conditions, this popular pathway on Longhorn Dam is always a difficult one to cross.
"The facility now is not acceptable," said Christopher Stanton.
The bridge work is important to Stanton because he manages a cycling nonprofit geared toward children and seniors.
"When we ride with kids on it, we have to have them walk their bikes, if you are coming across the dam, you can't have two-way traffic, if you are ADA, it's a large grade change," said Stanton.
This is the proposed design for a new Butler Trail bridge at Longhorn Dam. It's located near the dam, not connected to it, extending into Lady Bird Lake. The bridge would also be lower, about 11 feet above the water, which Stanton likes.
"So keeping things at the lake level, where you are not next to 45 miles per hour traffic, is not just for safety it's for comfort and enjoyment, do you want to stand next to cars flying by you or do you want to be next to the lake where there are ducks and stuff," said Stanton.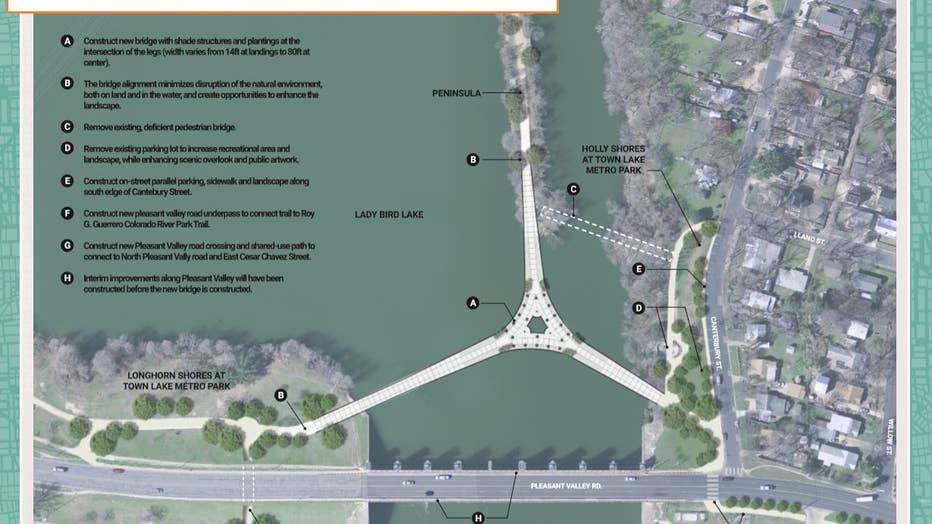 With a central crossing point over the lake, the bridge is being called Wishbone. The name and the look didn't originate from a high-priced architectural firm. It came from community feedback, according to Nathan Wilkes, street planner with the Austin Transportation Department.
"This Wishbone alignment, which was a write-in, in the first public meeting, we asked people to just sketch their dream bridge on a map, and there were about 8 people on paper that sketched this particular alignment and we looked at it and we were like, yeah, we should add that and we should develop it as a concept," Wilkes said.
As part of the project, the entrance to the trail next to the Canterbury Street parking area will be moved closer to the dam. As a result of that, there will be no need for a smaller footbridge near the dam, which will be torn down.
In comparison, the Wishbone Bridge will not be as ornate as the Pfluger Pedestrian Bridge located next to Lamar. It will cost about the same, $12 million and it will be about the same width.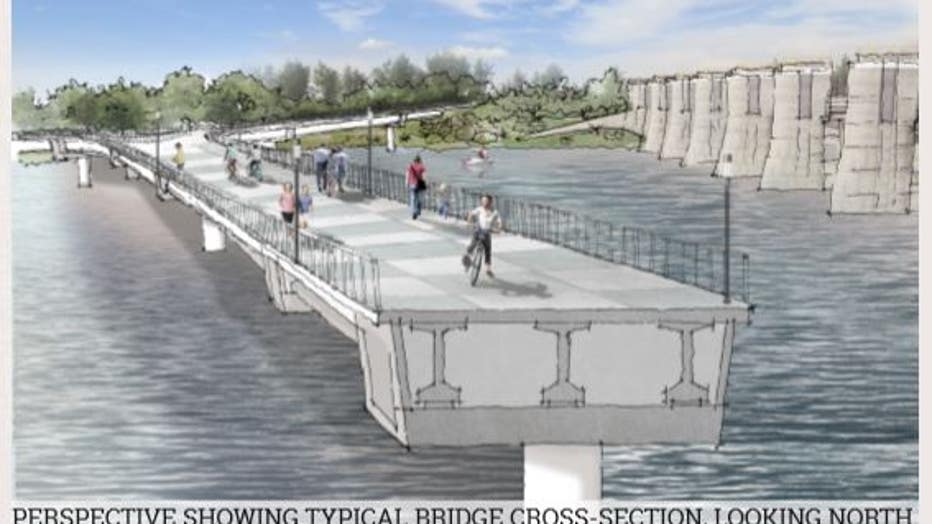 If approved by the city council, permitting and construction could take five years. With that in mind, some quick fixes would be done, like narrowing the roadway to widen sidewalks and raising curbs so heavy guardrails can be removed
          
"So after all that, instead of two 4-foot sidewalks, we think we can get a 6-foot sidewalk on the downstream side, the east side, and an 8-foot shared-use path on the side that's the Butler Trail Loop," said Wilkes.
The quick fix project would be fast-tracked starting in 2020 and taking only a few months to complete.