For Georgia escapees, end of road is a driveway in Tennessee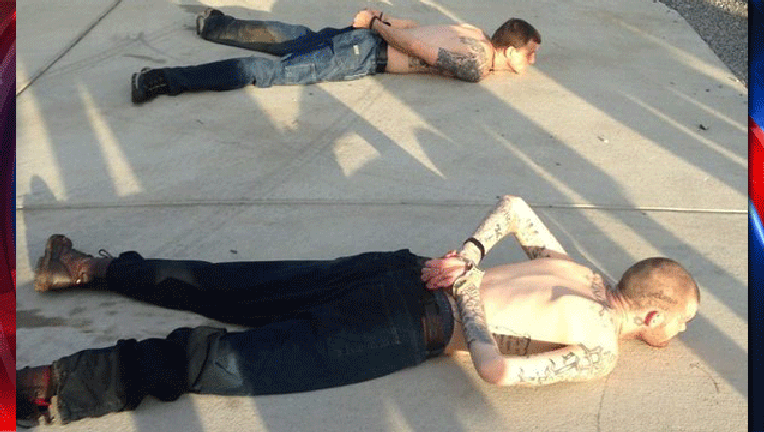 article
SHELBYVILLE, Tenn. (AP) - The end of the road for two inmates sought in the killings of their guards on a Georgia prison bus turned out to be a driveway in rural Tennessee where a homeowner held them at gunpoint until reinforcements arrived.
The focus of the manhunt for Donnie Rowe and Ricky Dubose suddenly shifted north of the Georgia line Thursday evening after the fugitives invaded a home in Shelbyville and held a couple hostage for several hours.
The man and woman "are lucky they're alive," Bedford County Sheriff Austin Swing said. "They told them that they would probably be dead in 24 hours and they didn't have anything to lose."
The fugitives tied them up, and when the man tried to break free, they tied him up tighter, putting socks on his hands so he couldn't loosen his bonds, Swing said. They also ate a beef stew the woman had been preparing, took valuables and clothing, and ordered them to concoct a story that would conceal their identities.
"They threatened them that they would be back if they didn't," Swing said.
By about 5 p.m. they were on the run again, in the couple's Jeep. Within 15 minutes, the couple managed to call for help.
"We've had an armed home invasion," the man said. "It's the two people from Georgia, escapees. They're in a black Jeep Cherokee Trailblazer. We need help out here quick ... hurry!"
His wife can be heard sobbing as he tries to reassure her, saying: "It's all right. You've survived. You've survived. You did it. You did a good job. Come here and let me hold you."
Deputies soon spotted the car and began a 20-mile (32 kilometer) high-speed chase down Interstate 24 southeast of Nashville, Tennessee Highway Patrol spokesman Lt. Bill Miller said.
Rutherford County Sheriff Michael Fitzhugh said the suspects fired shots, striking several cruisers, but his deputies weren't hit and didn't return fire to avoid endangering other motorists.
The chase ended with a crash near the community of Christiana, Tennessee. With deputies in hot pursuit, the suspects fled so quickly that they left their guns in the couple's wrecked car, running through trees to a nearby home, where they tried to steal another car, authorities said.
"At that point in time the homeowner stepped out and held the people there by gunpoint until another neighbor came to assist him," Miller said. Deputies then arrived to arrest the fugitives.
"True bravery is what's caused us to stand before you tonight to talk about a successful capture instead of a tragic incident," TBI Director Mark Gwyn said at a news conference. "So I'm totally grateful to everyone involved."
Rowe and Dubose were finally taken alive. Investigators shared an image of them spread-eagled and shirtless, face-down and handcuffed on a concrete slab, before taking them to the Rutherford County jail.
"They will be brought to justice swiftly for their heinous crime against our officers," Georgia Department of Corrections Commissioner Greg Dozier said in a news release. He also expressed gratitude to all of the law enforcement officers who provided support and assistance in the search.
The two men had been on the run since early Tuesday, when authorities said they somehow got through a door that should have been locked separating the guards from the inmates on the prison bus.
Sgt. Christopher Monica and Sgt. Curtis Billue were overpowered and disarmed, then shot to death. The fugitives locked up 31 other inmates and jumped out with the guards' 9 mm Glock pistols, carjacking a driver who happened to pull up behind them.
It was the first of four cars they stole while trying to elude capture, authorities said. The fugitives ditched the Honda Civic and their prison uniforms, ransacked a home and then stole a Ford pickup truck in Madison, Georgia, later Tuesday. They ultimately left the truck in Tennessee and stole a white sedan, which they abandoned near the hostages' home, Swing said.
Before their capture, the FBI announced a tip line and said pictures of the men and information about a $130,000 reward would appear on billboards in multiple states. TBI's Gwyn wasn't immediately sure who would collect the reward.
Both escapees were in prison for armed robbery and other crimes. Georgia's Department of Corrections said Rowe, 43, had been serving life without parole since 2002, and Dubose, 24, began a 20-year sentence in 2015.
Monica and Billue were transfer sergeants at Baldwin State Prison. Monica had been with the Georgia Department of Corrections since October 2009 and Billue since July 2007.
Georgia Gov. Nathan Deal applauded the "tireless efforts" of law enforcement but also turned his thoughts to the families of the two officers, saying their pain remains.
"We will do everything in our power to support their loved ones, and we will not forget their sacrifice and service," Deal said.
___
Kate Brumback reported from Madison and Atlanta. Associated Press writers Russ Bynum in Savannah, Georgia, and Adrian Sainz in Memphis, Tennessee, contributed to this report.