Former President Jimmy Carter meets with fans in Austin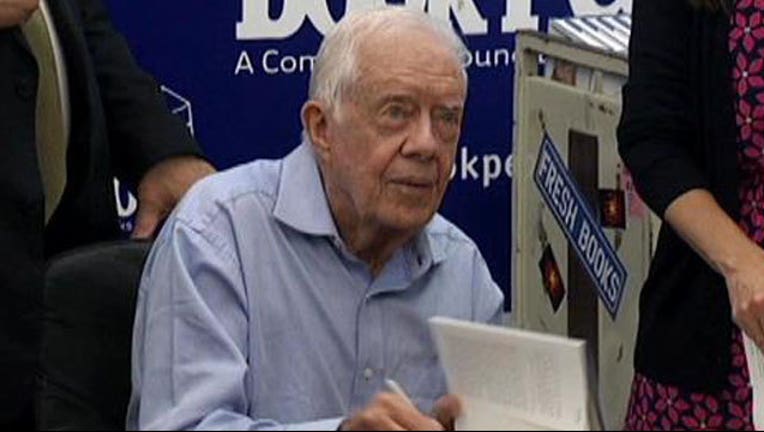 article
Saturday, former U.S. President Jimmy Carter made a stop in Austin to promote his new memoir "A Full Life: Reflections at Ninety."
Hundreds of fans in Austin waited in line at Bookpeople to meet the man behind the pen.
"I admire him for all the things he's done since he got out of his presidency, a lot of the humanitarian things he's done, I think he's raised the bar really high," said Timothy Abbott.  
The book is a collection of Carter's memories from childhood in Georgia to the White House and beyond. Saturday, the former President signed his name to hundreds of copies wearing a smile the entire time.
 "He's a very fast signer at 90, too, I'm amazed at his energy," Abbott said.  
 "I will treasure this forever," Becky Chambers said holding the autographed book.  
Carter was the 39th President of the United States, serving one term from 1977 to 1981. He is the second oldest living U.S. President after George H.W. Bush.
"He's got a great smile and I can't wait to read this book. I mean 90 years on this planet. And we were saying on the way in, 'I'd be proud if I were part of one of his accomplishments he's had,' and he's done so much, and he doesn't seem to be slowing down, it's utterly amazing," said Chambers
Carter's supporters said after his presidency ended, he wrote the book on humanitarian efforts. They hope today's politicians take a page out of it.
"I think he's a hero and I really respect that he's done a lot to change the lives of those most people forget. With what he's done with guinea worms, he's really changed the world, and I admire him as a President, but I admire him as a humanitarian as well," said Chambers.  
Since leaving the White House, Carter started the Carter Center, a nonprofit advancing human rights, disease prevention and mental health care.
"Just really an honor regardless of what you think of his politics. Just so much he's done for humanity and so it's really great I had the opportunity," said Lon Breitenvich
The 90-year-old former President isn't done making waves. Just this week on a radio show, he said presidential nominations and elections were decided mostly by political bribery.
    
"And I think people from both parties can hear that message and resonate with it," said Abbott.
The American public is on the same page. A recent Gallup poll shows Americans have less confidence in the government than ever before.
People tell FOX 7 they hope the 2016 presidential frontrunner will change that.