Fort Hood shooting victims finally receive Purple Hearts in moving ceremony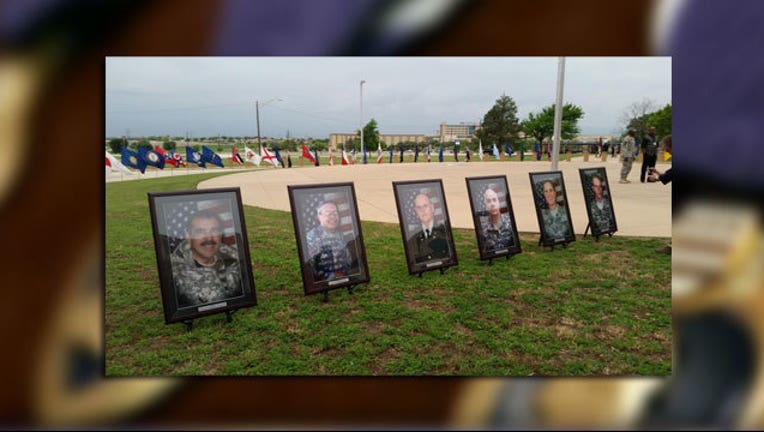 article
KILLEEN, Texas - In the midst of the cannons and the 21-gun-salute were tears and hugs...remembering the tragedy that took place more than 5 years before just a couple of miles away.
"I'm not even thinking about the 2 miles [away] the site that this took place. It's all about healing and all of us coming together as one," said CW3 Christopher Royal after receiving his Purple Heart.
On November 5th 2009 Army psychiatrist Nidal Hassan walked into a medical readiness center at the post, shouted "god is great" in Arabic and opened fire killing 12 soldiers, a civilian and an unborn child...dozens others injured.
At first the shooting was classified as workplace violence. Victims couldn't receive Purple Hearts.
"You wonder 'Where's the respect?' Where's the recognition? Where is the support for what you've gone through and what you're continuously going through," said SSG Eric Jackson.
Recently the incident was re-classified as terrorism. So Friday morning 44 medals...Purple Hearts and Defense of Freedom were handed to victims and their families. Some were there to accept the medals. Others never made it home that day in 2009.
Among the lawmakers in attendance -- Governor Gregg Abbott.
"It's a shame that we have military men and women who fight for our freedoms overseas against terrorism only to come home and be the victims of terrorism on their own bases," Abbott said.
Senator Ted Cruz, standing with other lawmakers, said the fight isn't over. The Purple Heart recipients are not yet getting the full benefits they deserve.
"Full benefits. Every benefit to which they are entitled. On this question the congressional delegation is united and we have received personal assurances from the secretary of the army that the benefits question will be resolved," Cruz said.
This morning large framed photos of those who lost their lives that day watched over the very moving ceremony. Sgt. Alonzo Lunsford felt their presence.
"Yesterday I went to the SRP site. And there was a calmness that was there. Today in overcast weather, the 14 that we lost...they are here. They are here," Lunsford said.
Major Nidal Hassan was found guilty on 13 counts of premeditated murder and 32 counts of attempted premeditated murder. He's still awaiting execution.