Winter Weather Advisory for Central Texas, freezing rain possible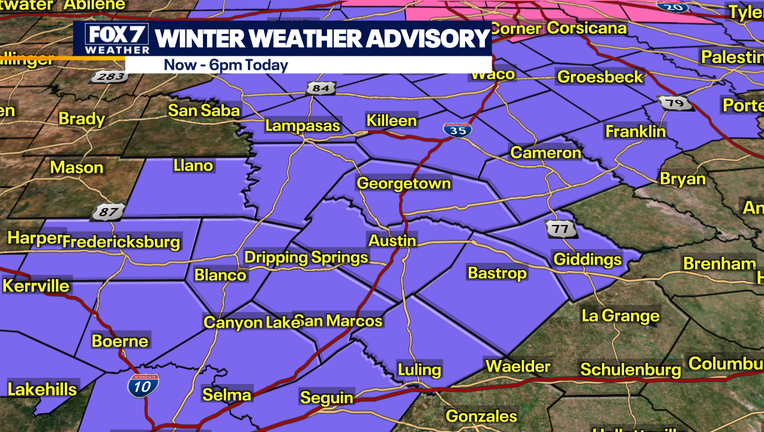 article
AUSTIN, Texas - Much of Central Texas is under a Winter Weather Advisory until 6 p.m. on February 24, including the Austin metro area. Light freezing rain becoming more likely tonight and could lead to slippery spots on elevated roads. The rain is a result of a cold front that arrived on Tuesday. 
Today we will experience the biggest 24-hour temperature drop ever. Temperatures were in the 80s yesterday and have dropped significantly, at least 54 degrees colder. The much colder temperatures increased the chances of freezing rain and it's prompted TxDOT to get roads ready. 
Crews began treating Austin roads Tuesday morning. They focused mainly on elevated surfaces and major roadways including I-35. Areas in the Hill Country have also been advised to begin treating their roads. 
What may save us from a big ice event will be the warmth we got the last few days. The road temperatures are still around 60 to 70 degrees. So with that said, if we do have slippery spots they will happen on elevated roads like bridges, overpasses and flyovers mainly north and west of Austin where those areas could be freezing through tomorrow morning. 
Since the precipitation will be light, the ground still warm, and temps not as cold as the last winter storm, the icing threat won't be as widespread as the storm earlier in the month.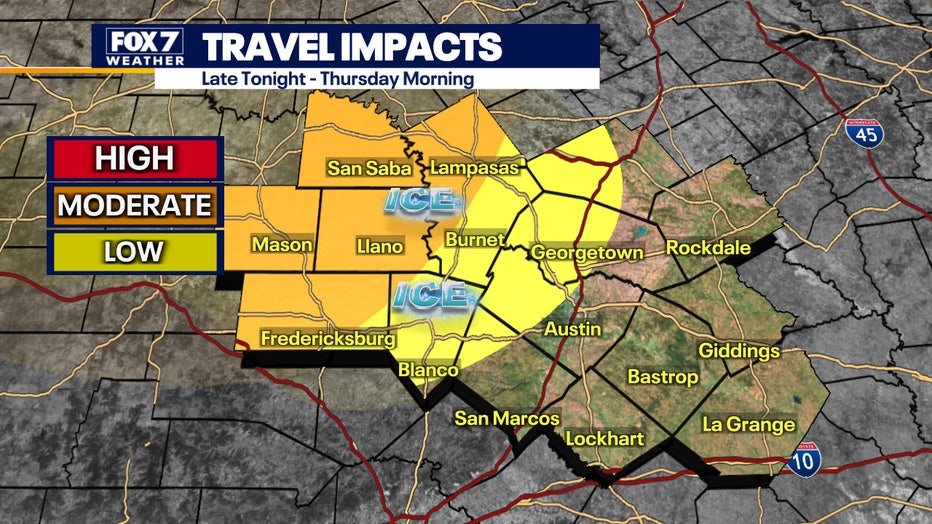 Drivetexas.org is a website where you can check road conditions in your area and this includes crashes and shut down roadways. Some other tips for people if the roads to get icy.
Avoid elevated roads, such as overpasses and bridges if possible.
Plan additional time for travel. Go slowly and carefully.
Avoid sudden braking or accelerating to maintain traction.
If traveling, pack emergency supplies in your vehicle such as blankets, jumper cables, emergency lights, and a cell phone charger in case of emergency.
Residents who need to report traffic light outages, road damage or any other weather-related concerns, may do so by contacting Austin 3-1-1 via phone (dial 3-1-1 or 512-974-2000) or the Austin 311 mobile app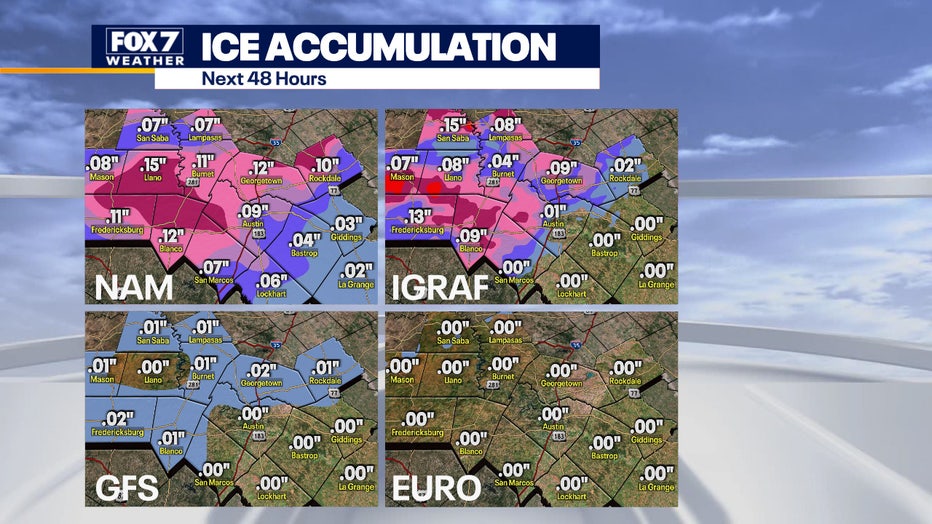 Wind chills will be in the teens and 20s and temperatures will be in the 20s and 30s. Drizzle is expected to fall until around 5 p.m. and then turn to freezing rain until 6 a.m. Future rain totals are expected to be about .25 to .50" in the next five days. Ice totals are expected to be .01" to .05" and that will mostly be in the Hill Country.
FOX 7 Austin Meteorologists update the forecast on-air, online, and on social media. You can also receive updates by downloading the FOX 7 Austin WAPP.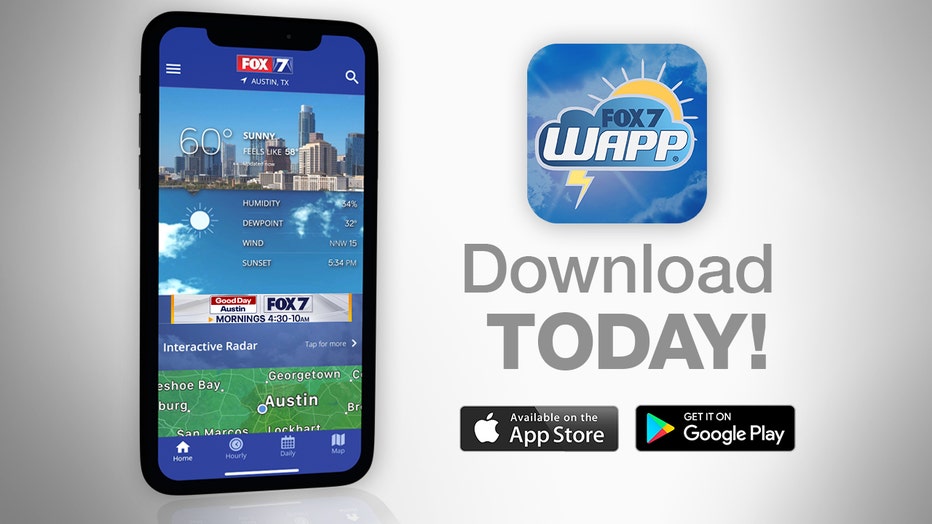 ___
DOWNLOAD: FOX 7 AUSTIN NEWS APP
SUBSCRIBE: Daily Newsletter | YouTube
FOLLOW: Facebook | Instagram | Twitter