French President-elect Macron gears up for challenges ahead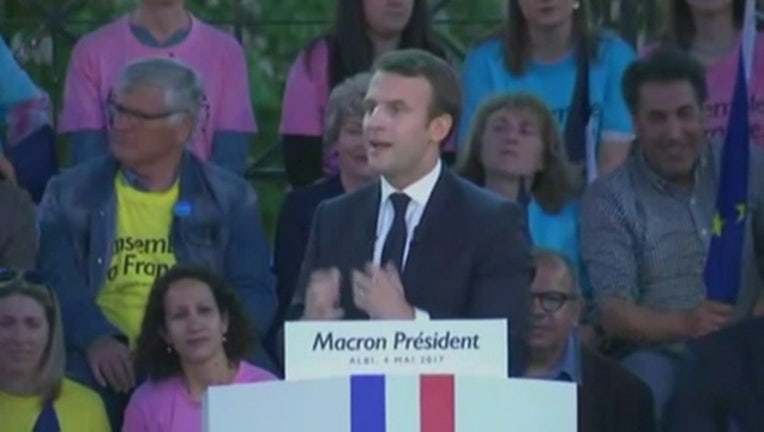 PARIS (AP) - French President-elect Emmanuel Macron laid the groundwork Monday for his transition to power, announcing a visit to Germany and a name change for his political movement and appearing with his predecessor at a solemn World War II commemoration.
Macron handily defeated far-right National Front leader Marine Le Pen in Sunday's presidential runoff, and now must pull together a majority of lawmakers for his year-old political movement to run in the mid-June legislative election.
Leaders in Germany and Britain praised Macron's victory but viewed it through their own electoral challenges.
Macron's party is changing its name to La Republique En Marche (Republic on the Move) as it prepares a list of candidates. Macron has promised that half of those candidates will be new to elected politics, as he was before his victory on Sunday.
Macron won the presidency with 66 percent of votes cast for a candidate but the vote saw a high number of blank or spoiled votes and unusually low turnout.
Le Pen says she will lead the opposition to Macron.
On Monday, a French national holiday, Macron joined President Francois Hollande in a commemoration of the formal German defeat in World War II.
It was the first time the men had appeared in public together since Macron resigned in August 2016 as Hollande's economy minister to run for president - a decision that was received coldly by the French leader at the time.
On Monday, though, Hollande gripped Macron's arm before the two men walked side by side and then announced the transfer of power would take place on Sunday.
Monday also marked decades of peace in Western Europe, something Macron made a cornerstone of his campaign against Le Pen's brand of nationalist populism. Le Pen had called for France to leave the 28-nation European Union and drop the shared euro currency in favor of reinstating the French franc.
Sylvie Goulard, a French deputy to the European Parliament, said Macron would make Berlin his first official visit, with perhaps a stop to see French troops stationed abroad as well.
The National Front also geared up for a name change - if not a makeover of its ideas - after Le Pen's decisive loss. In interviews Monday, National Front officials said the party founded by her father would get a new name to try and draw in a broader spectrum of supporters.
"The National Front is a tool that will evolve to be more efficient, bring even more people together after the number of voters we reached last night. And so we have an immense responsibility vis-a-vis the French people, who trust us," said Nicolas Bay, the party's secretary-general.
German Chancellor Angela Merkel, whom Le Pen derisively said last week would be France's de facto leader under a Macron presidency, welcomed his win but appeared cautious about proposals to support his economic plans either by relaxing European spending rules or with a dedicated stimulus fund.
"German support can't replace French policies," she said.
In Britain, Prime Minister Theresa May said Macron's win makes it even more important for British voters to back her Conservatives and strengthen Britain's hand in EU exit talks. May has called an early election for June 8, arguing that her Conservatives need a bigger majority in order to stand firm against - and strike deals with - the EU.
May says Macron "was elected with a strong mandate, which he can take with him as a strong position in the (Brexit) negotiations."
On the financial front, European stock markets edged down in early trading as investors had been widely expecting Macron's victory.
Though Macron's victory is considered positive for the region's economy and the euro currency, stocks had risen strongly in the previous two weeks on expectations of his win.
France's CAC 40 index, which last week touched the highest level since early 2008, slipped 1 percent on Monday. The euro, which had risen Sunday night to a six-month high against the dollar, edged back down 0.5 percent to $1.0946.
___
Helena Alves in Paris and Carlo Piovano in London contributed.