Funeral held for unarmed man shot by Tulsa officer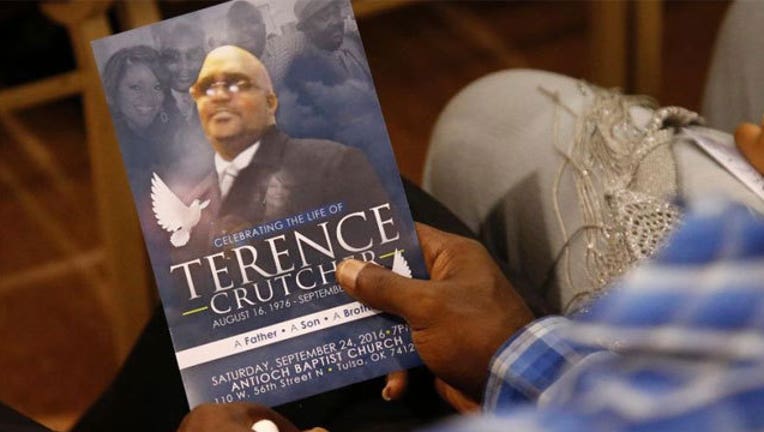 article
TULSA, Okla. (AP) — Hundreds of mourners packed a church for a funeral honoring an unarmed black man who was fatally shot by a white Tulsa, Oklahoma, police officer.
Terence Crutcher was remembered Saturday evening at Antioch Baptist Church. The 40-year-old Crutcher was fatally shot Sept. 16 by Officer Betty Jo Shelby.
Shelby has been charged with first degree manslaughter and turned herself in Friday. She was released after posting bond.
Crutcher's fatal shooting was captured on video taken from a police helicopter and a dashboard camera. The killing prompted several rallies and protests throughout the city in the past week, all of them peaceful.
One of the speakers at the funeral was Crutcher family attorney Damario Solomon-Simmons. He told that crowd that "it could have been me," before reciting the names of black residents who died after police encounters nationwide in recent years.
"Just like Terence, I'm 40; just like Terence, I'm bald; just like Terence, some think I'm a bad dude," Simmons said.
Tulsa Mayor Dewey Bartlett also spoke at the service.
"Too many young people have died in this community, way too many," the mayor told attendees. "We must stand up and say no more."
Others who attended Saturday said they hoped the service could help draw attention to future incidents involving police officers and black men. Tulsa resident Wanda Armstrong, 69, said she hopes Crutcher's killing will bring better scrutiny after similar incidents across the country.
"I say that this was the shot that was heard around the world," Armstrong said.