Funeral services held for woman killed by Fort Worth officer
DALLAS - Family and friends gathered Thursday morning to remember an innocent woman who was shot to death in her home by a Fort Worth police officer.
Several Fort Worth PD officers attended the service for Atatiana Jefferson that was held at Concord Church in Dallas.
Jefferson was shot and killed in the early morning hours of October 12 by now former Fort Worth officer Aaron Dean.
He was arrested on a murder charge and he's currently out on bond.
Hundreds of people attended Jefferson's funeral, which came after her family settled an argument over arrangements.
The original plans for a service at The Potter's House in Dallas Saturday were canceled because her father claimed that other family members moved forward with planning the funeral without him.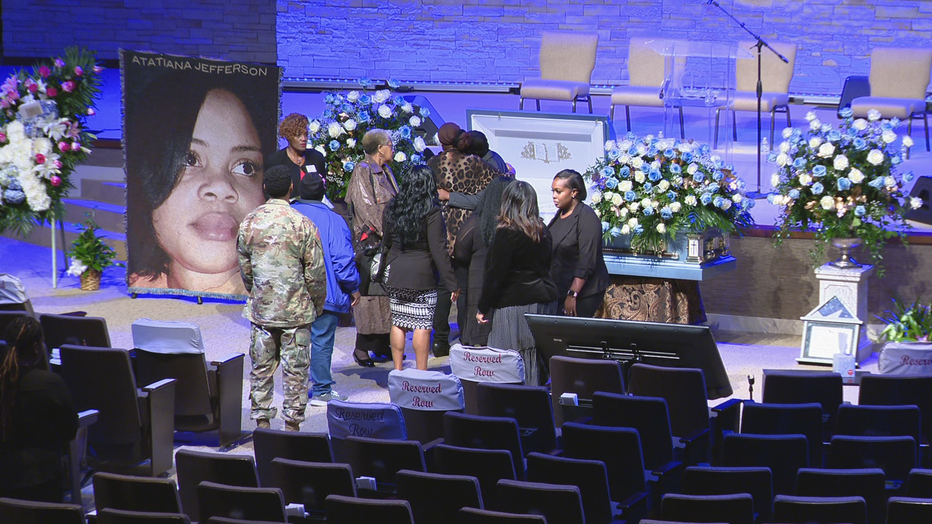 Marquis Jefferson got a temporary restraining order to put a stop to the funeral that several notable figures were scheduled to speak at including The Rev. Al Sharpton and Bishop T.D. Jakes.
"They don't want her death to be a spectacle or a platform for 'propheteering' for those who wait for the moment to get on the speaker and talk about nothing that's going to make this family feel better or about the person that got murdered or died in this case," said Bruce Carter, a spokesman for Jefferson's father's side of the family.
After coming to an agreement about the funeral arrangements, Jefferson's family invited Fort Worth's mayor, interim police chief and all members of the community hoping to pay their respects.
Thursday's funeral was a celebration of Jefferson's life, but also an acknowledgement that there must be accountability for her death.
The family requested no cameras be inside to record the service.
As mourners arrived for the service, some were visibly shaken as they took a final viewing of Jefferson's body.
Fort Worth Mayor Betsy Price was at the funeral, along with a van carrying other city leaders.
There were also several patrol cars, as interim Police Chief Ed Kraus and more than a dozen others with the department came to pay their respects.
Their presence was acknowledged following multiple public apologies for the shooting that claimed Jefferson's life at the hands of a former officer.
"I'm glad the police were there as an acknowledgement that this was an injustice," said Jaime Kawlessar, with the City Temple Seventh-Day Adventist Church. "Their presence shows that they recognize this is a problem. What I'm praying and hoping for is that we go beyond talking and that we get to action. That we see some changes made immediately because we can't afford to wait."
During the eulogy, Pastor Bryan Carter made reference to the shooting and the call for justice, and offered encouragement to Jefferson's family, pointing out that "it's shaken an entire community. It feels like a bad dream and you just want to wake up... These are times when your faith has to kick in."
Those words resonated as Jefferson's casket, draped in teal blue roses - her favorite color - left the church, carried in a white antique sedan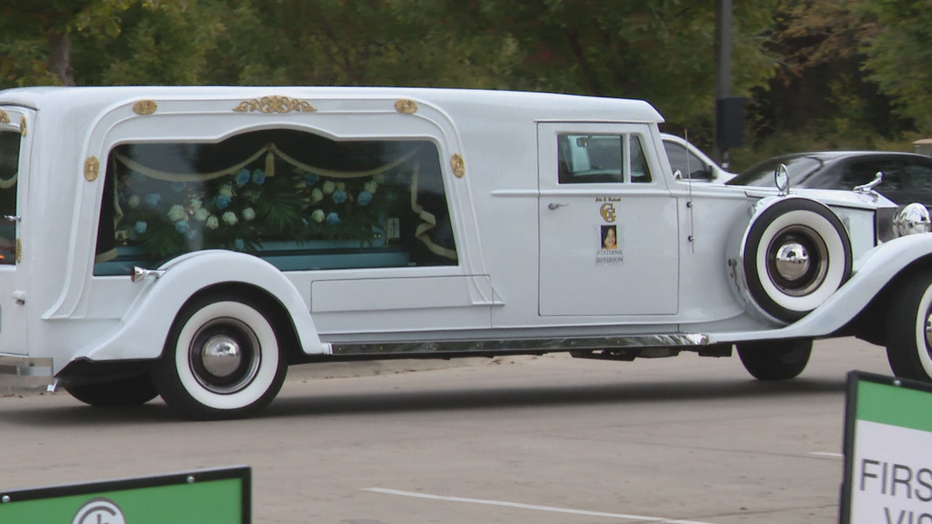 "The message was to unify everybody who was in the congregation, in the service. We're here to focus on Atatiana Jefferson, but we don't want to forget this was an untimely death. This was a death that did not need to happen," Kawlessar added.
Jefferson's mother, who is in poor health, was unable to attend the service, but she wrote a letter to her late daughter, which a family member read aloud.