George Santos screaming tirade on Capitol Hill ends with man in handcuffs
WASHINGTON - Amidst the efforts on Capitol Hill to nominate a new speaker of the House, embattled Rep. George Santos attracted attention with a profanity-laced tirade directed at a man he called a "terrorist sympathizer" who was later arrested.
Video of the altercation, which happened Friday afternoon, showed Santos screaming in a Longworth House Office Building hallway outside of the GOP conference meeting to select a new speaker. 
"The gentleman back there is a terrorist sympathizer who has no business in this building," Santos shouted hysterically as reporters rushed up. "What is happening in Israel is abhorrent. What is happening to the people of Israel should not be defended."
The footage does not show the initial moments of the confrontation, but the man who drew Santos' ire later told FOX News crews that he had confronted Santos about the violence in Gaza.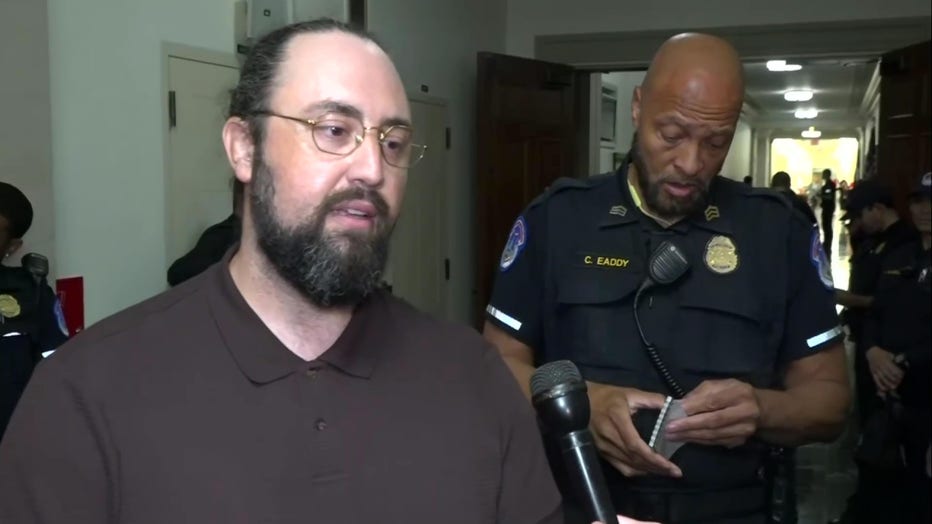 Shabd Singh describes his encounter with Rep. Santos.
"He accused me of being in his personal space so I took a step back. He was holding a child in his arms and saying that it was inappropriate of me to ask him questions in that scenario. I continued to ask him those questions; he refused to respond," Shabd Singh explained. "He then found me in this hallway and accosted me, began yelling at me. Essentially framing what I am saying as some sort of anti-Semitic trope."
Singh was later seen in handcuffs as U.S. Capitol Police officers investigated. According to FOX 5 DC, the 36-year-old has been charged with simple assault "after an officer witnessed him have physical contact with a Congressional staffer." 
Friday was dubbed a "day of rage" by Palestinian supporters hoping to draw attention to the situation in Gaza as Israel prepares for an invasion following last weekend's deadly terror attacks by Hamas. Rallies were being held across the U.S. but there was no word of any violence.
Santos has falsely claimed to be Jewish in the past. The Long Island congressman was indicted on 23 new charges this week, accusing him of stealing the identities of his campaign donors and using their credit cards to ring up thousands of dollars in unauthorized charges.
RELATED: NY Republicans introduce resolution to expel Santos from House
When asked amid his Friday tirade whether he was going to jail, Santos angrily responded, "Absolutely not!"