Georgetown officials say new public safety center will increase efficiency with 911 calls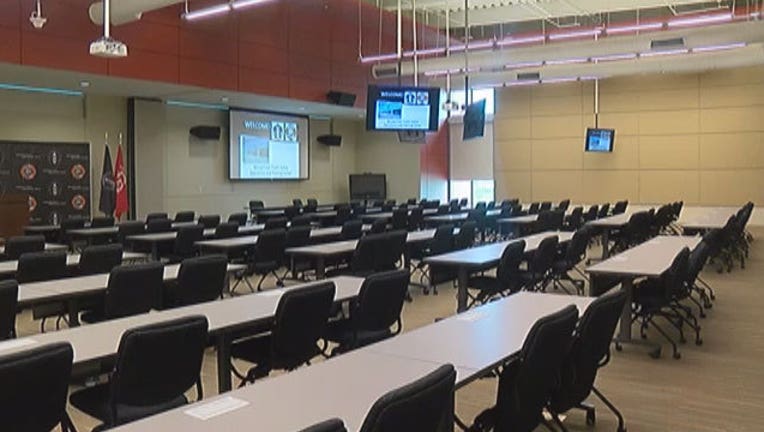 article
Georgetown is keeping up with the region's growth when it comes to public safety. They gave us an inside look at their brand new multi-million dollar training facility.
It's a place where Georgetown police officers and firefighters are coming together for one purpose, to save lives. The police and fire departments each their small to spaces to operate in, but they say none of those will compare to their brand new facility.
"The building we left was over 100-years-old, and when you have an opportunity to build it you know you're only going to get one chance to do it right," said Chief Wayne Nero, Georgetown Police Department.
The 76,000 square foot building houses all police department and fire administration employees. The 911 call center is also there.
"This building itself speaks volumes to the interoperability and the expectations that police, fire, and medical all work together," said Chief John Sullivan, Georgetown Fire Department.
"The space that we had come from was not conducive for police operations, it was never designed to be a police department, so you have a tendency to make due," said Nero.
What the departments are most excited about is the new 17,000 square foot tactical building. This is where police officers and firefighters' skills are put to the test. Georgetown puts their officers in situations like this with furniture, dummies, and even real-life actors to make the situation as real as possible.
"Competency has a price. We have to train officers to be able to do their jobs, sometimes that training has to go beyond the classroom," said Nero.
The entire facility cost $29.3 million to build. GPD says citizens will be happy about where their tax money is going. It's a small price to pay for safety
"When someone calls 911 they don't expect an individual to show up who relies on hope and confidence, you expect competence, and in order to build competence you have the resources," said Nero.
"They don't care what the shirt says or what the truck says, they just want somebody to be there to help," said Sullivan.
They tell me they hope to set the standard for police departments across Texas and the United States. They will host a ribbon cutting Friday at 2:30 p.m. and an open house Saturday. The public is invited.