Give me shelter: About 50K seek refuge as Irma nears Florida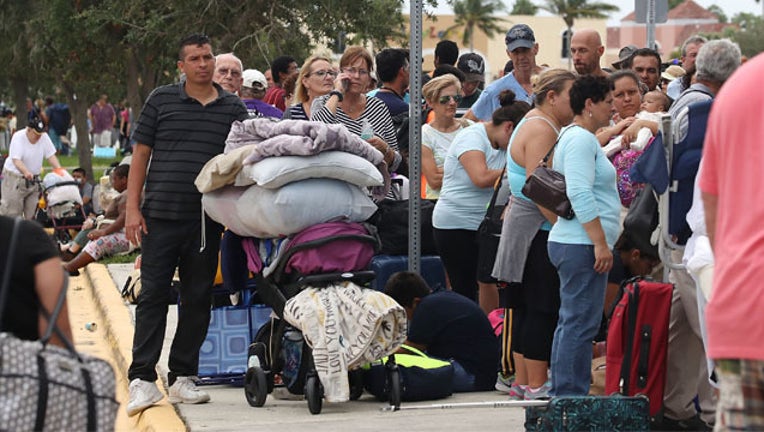 article
PALM BEACH GARDENS, Fla. (AP) - Inside Palm Beach Gardens High School's basketball gym, mattresses and sleeping bags were spread out on the floor Saturday for more than 3,000 people.
They dragged suitcases and garbage bags filled with clothes across the parking lot under graying skies. Some pushed babies in strollers. People slept, talked, read or played with their cellphones. A group of American Red Cross volunteers sang "Happy Birthday" to Fran, an elderly woman who raised her arms and laughed.
Scenes like this played out throughout Florida as about 50,000 people sought refuge at over 300 shelters, mostly schools, community centers and churches.
"Everybody has been very nice, very calm," said Shaharazade DeCorday, who left her West Palm Beach cottage along the Atlantic coast. "I just wish they had a TV."
The number in shelters was just a fraction of more than 6 million residents who were warned to evacuate in Florida.
Steve Bayer, the Red Cross's shelter coordinator in Palm Beach County, said most people are "grateful and happy." Often those with nowhere to turn head to their local shelters.
"They know we are all volunteers who have taken time away from our families to come work with them," Bayer said.
Gov. Rick Scott said the state needed 1,000 nurses to volunteer at the shelters, particularly at sites that handle people with special needs.
DeCorday said she picked the high school because it's about 4 miles inland and has a three-story building in case flooding gets bad. Even with Irma's core apparently now headed toward the Florida Keys and the state's Gulf coast, DeCorday said she intended to stay.
About 150 miles north, Judith and Steve Smith arrived at Odyssey Middle School in Orlando. They fled their manufactured home after seeing on TV that Irma was getting closer. Judith's 89-year-old mother lives alone next door and they didn't want to risk being trapped.
The couple, both 69, called every hotel in town, and found no rooms. With their fuel tank emptying and the service stations closed, they decided to join hundreds filtering into Odyssey on Saturday morning. It was particularly tough for Judith's mother.
"She misses her home but she's got to be safe," Judith Smith said.
Inside, a Venezuelan folk band strummed a bass guitar and two guitar-like instruments - a cuatro and a mandola - amid piles of blankets and bags of clothes. The shelter's guests snapped photos and clapped along.
"We will entertain if people need entertainment to keep their minds away from danger," said Alejandro Mendoza, the band's manager. "Upbeat music, relaxing music. Maybe salsa, at night. We didn't bring drums, but we can find something."
___
Galofaro reported from Orlando.