Gov. Youngkin criticizes Democratic opponents over abortion rhetoric as polls open in Virginia
LOUDOUN COUNTY, Va. - Virginia's Gov. Glenn Youngkin made the rounds Tuesday morning as voters headed to the polls to decide the fate of the state legislature.
"The number one issue we hear across the Commonwealth is the concerns about Biden's inflation," he said to reporters outside a polling place in Loudoun County just after the polls opened at 6 a.m. "And that it's stealing their hard-earned money."
Republicans hope to gain full control and clear a path for Youngkin to enact his proposals on abortion, education, taxes and other key policy priorities. Democrats seek to maintain control of at least one chamber and possibly flip the other to continue to serve as a check against Youngkin's agenda.
READ MORE: Gov. Glenn Youngkin rallies Republican voters in Leesburg ahead of pivotal Election Day
"I also hear real concerns about school and education and parents and standing up for excellence," Youngkin continued. "Our intensive tutoring program, I think, has been really important to help third through eighth graders catch up from learning loss caused by terrible decisions made by the previous administration and school boards."
In 2021, Republicans won a narrow 52-48 majority in the House of Delegates and swept every statewide constitutional office. Meanwhile, Democrats hold a slim 22-17 majority in the state Senate.
An additional state Senate seat most recently held by a Republican is vacant.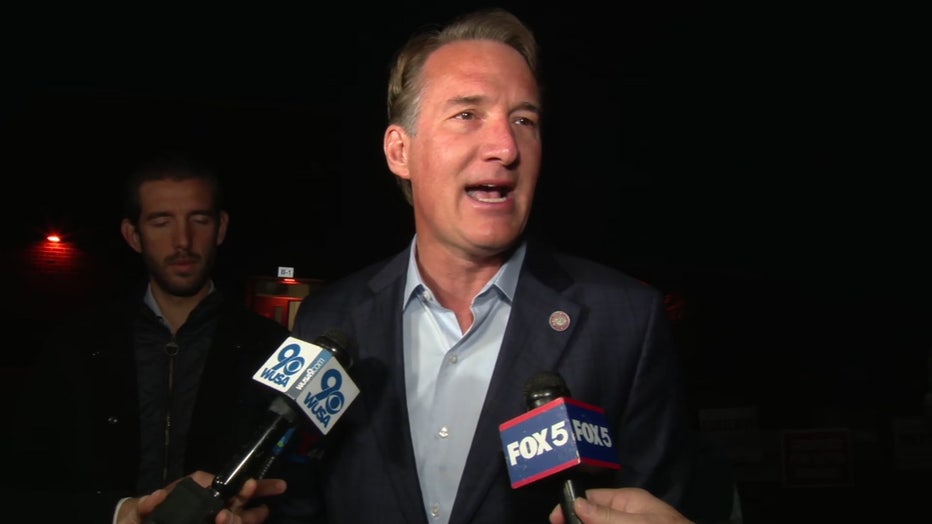 Virginia's Gov. Glenn Youngkin
"Folks are worried about public safety, and we've seen a massive increase in drug related overdose and gang violence," Youngkin continued. "Just here in Loudoun County there were nine students that had fentanyl overdoses in a 20-day period."
He also criticized the rhetoric being used by Democratic opponents in abortion-focused messaging ahead of the legislative elections.
Republicans are largely campaigning on his proposed ban on abortions after 15 weeks with exceptions for rape, incest and the life of the mother.
READ MORE: Virginia Elections: How to vote and what to expect
"What the other side has been saying is simply not true. We're very clear," he said. "I will support one bill, one bill that will protect life at 15 weeks, a bill that will have exceptions for rape and incest, and when the life of the mother is at risk, that's the bill."
"Anything anybody else says is an absolute lie."
The Associated Press contributed to this report