Group rallies against same sex marriage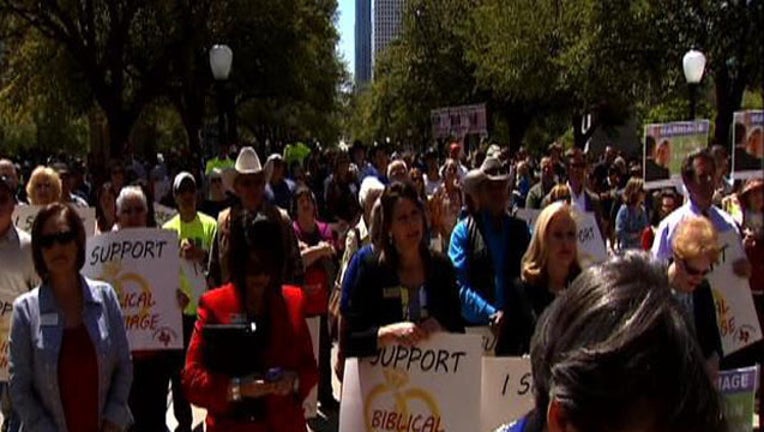 article
AUSTIN, Texas - Conservative state leaders and their supporters rallied defending the state's constitutional ban against gay marriage.
Holding signs with wedding rings and the words biblical marriage around 250 people gathered.
"We welcome you to the Defense of Texas Marriage Amendment Rally," said Dr. Steve Hotze with the Conservative Republicans of Texas. Hotze serves as president of the group which hosted the rally.
"It's not about being anti-anyone but being for marriage between a man and a woman," said Lt. Governor Dan Patrick.
"I'm a judge and normally judges don't speak out but if I should hold back my opinions I would consider myself guilty of treason toward my country," said Alabama Supreme Court Chief Justice Roy Moore.
Moore traveled to Texas to headline the event. He's opposed to gay marriage and recently instructed Alabama's state probate judges not to issue gay marriage licenses despite a federal court's ruling. He maintains that the states, including Texas, need to stand up to the federal government.
"No court has the authority to redefine what God proposed in Genesis," said Moore who argues nothing in the constitution gives federal courts precedent over domestic policy on family and marriage.
Moore and Rev. Bill Owens are calling for Justices Ruth Bader Ginsburg and Elena Kagan to recuse themselves from the upcoming decision the U.S. Supreme court will make on gay marriage.
Meanwhile inside the Capitol Equality Texas lobbied lawmakers on issues surrounding gay rights. Monday marked family advocacy day for the organization.
"This is an active session in terms of positive and negative legislation," said Chuck Smith with Equality Texas.
"We think this is going to happen and we will have full equality at some point in our life time and I'm not sure we always thought that," said Andy Miller. Miller and his partner Brian Stephens brought their son Clark, 8, who they have raised together since birth. "We feel this is the last gasp of prejudice and bigotry. It never goes away completely but we feel the momentum is on the side of equality," added Miller.
Miller and Smith will continue to push for gay-friendly bills at the legislature while they await a decision from the Supreme Court.
Decisions, pending the outcome, Texas Attorney General Ken Paxton say he'll continue to fight. "My office will continue to fight and thank you for what you're doing," said Paxton who asked for prayers.