Help needed identifying deceased woman found in Falls County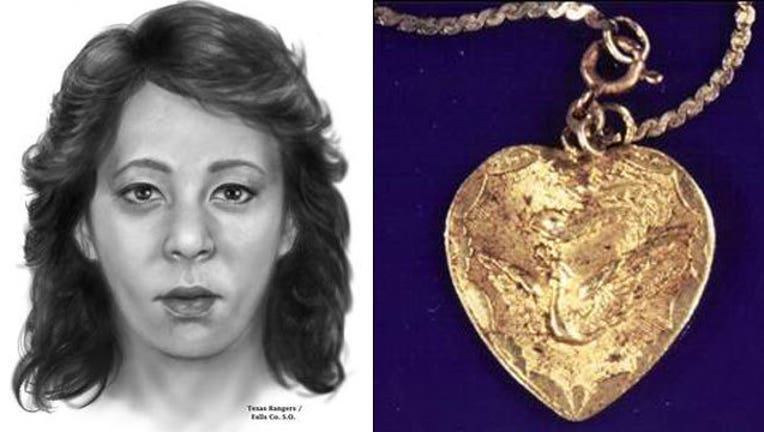 article
The Texas Department of Public Safety is asking the public for help in identifying a woman whose remains were discovered in 2000. Investigators believed, based on multiple forensic analyses, that she died in the mid-1980's to early 1990's. Foul play is suspected.
Officials say that fishermen found a skull at the edge of a pond on County Road 451about five miles from I-35 in Falls County just south of Waco on April 9, 2000. Additional remains were found with clothing and other person items.
A DPS Texas Rangers forensic artist was able to develop a facial reconstruction from the skull. The above image represents the victim's probable appearance in the mid-1980s. The victim is believed to be of Hispanic and/or Asian descent, age 25 – 45, and between 4 feet 7 inches and 5 feet 3 inches tall.
A DNA profile has been developed from the bones recovered; however no matches have been made to any known missing person case. It is possible this woman was never officially reported missing.
Among the items found with the remains was a gold pendant, featuring a fire-breathing dragon on one side and a bird on the other side. According to research done by investigators, the images on the necklace may be a depiction of the dragon and phoenix myth, common in Asian culture.
Anyone with information about any missing person matching her description should contact the Texas Rangers' Offices in Waco at: (254) 754-2303, or the Texas Department of Public Safety, Missing Persons Clearinghouse at (512) 424-5074 or (800) 346-3243.
For more information related to this case or to see additional photos of items found with the remains you can head to the DPS website here.
DPS encourages anyone with a missing relative from any time period to submit a familial reference sample of DNA by contacting the agency that investigated the disappearance. The process is simple and free, usually consisting of a simple cheek-swabbing, but must be done via a law enforcement agency.