Here's what locals should know before SXSW 2018 starts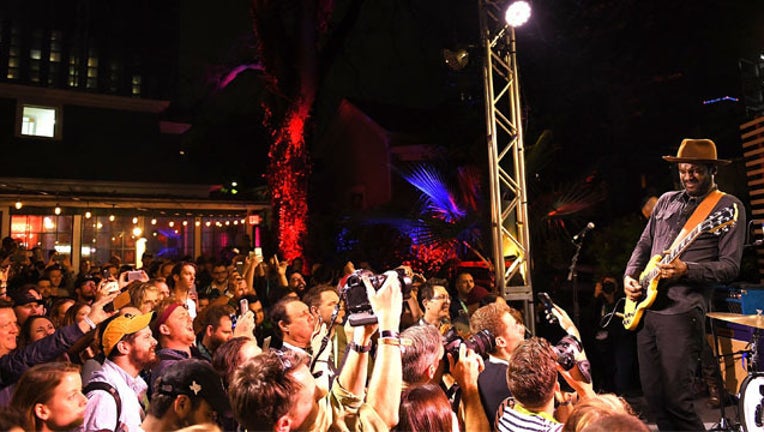 %INLINE%South by Southwest Conference & Festivals has become synonymous with Austin; the 2017 Zandan poll revealed that it is one of two events most closely tied to the city's identity, according to the Austin respondents surveyed. SXSW tied with Austin City Limits Music Festival and topped out the Trail of Lights and The University of Texas football games, according to the poll.
But Austin residents will comprise just a portion of the conference's 70,000 attendees. The official SXSW begins March 9 and continues through March 18. Here is what locals should know about changes at Austin-Bergstrom International Airport, ride-share options, local hotel tax revenue and the economic effect of the event.
Changes to know at the airport
There has been a shakeup in Austin-Bergstrom International Airport's popular concessions. The east food court—which included such vendors as Hoover's, Hill's Cafe and Wok & Roll and was located near gates 7-8—is closed for renovations.
Italian restaurant I Vini opened near gates 20-23, and The Salt Lick opened after renovations were completed last winter. Annie's Cafe & Bar reopened after some remodeling; clothing store Tyler's opened a stand across from Gate 10, and Austin Article, a news and gift shop, reopened after remodeling. The nine-gate expansion of the Barbara Jordan Terminal is underway and will cause no interruptions at the gates.
Ride-hailing giants back after missing SXSW 2017
Uber and Lyft are back. After the ride-hailing companies left the city in May 2016, the state Legislature passed a law pre-empting local regulations, such as Austin's
mandatory fingerprint-based background checks for drivers.
According to Uber, the company saw a huge spike in rides during the 2015 iteration of SXSW. The demand for rides during that time was nearly double that of any other period that year. Fingerprinting for drivers was not yet required in the city, and the company reported more than 250,000 trips during SXSW 2015.
A 2018 economic impact report from Lyft states passengers of the ride-share company spent $15 million at Austin businesses after using the ride-hailing app. Forty-six percent of passengers report spending more at local businesses, and 76 percent of Lyft passengers in Austin used the service to go to restaurants and entertainment venues.
SXSW pitched in $348 million to local economy in 2017, according to report
Adding direct, indirect and induced effects, SXSW contributed a total of $348.6 million to the Austin economy. Direct effects include money directly spent by SXSW, official sponsors, event attendees and exhibitors. Indirect effects includes sales, income and jobs created because of SXSW-related expenditures. Spending by individuals who earn more money because of the festival and conference signifies induced effects.
Hotels revenue rises, room rates climb
The two talking points on Austin accommodations with regard to SXSW are the number of heads who are finding local beds and the cost for that lodging.
Direct hotel bookings by SXSW totaled 11,605 in individual reservations for an overall 50,000 room nights, meaning the number of hotel rooms booked multiplied by the number of nights in those rooms. Those bookings alone generated nearly $1.8 million in hotel occupancy tax revenue for the city of Austin.