Immigrants find sanctuary in growing Austin church network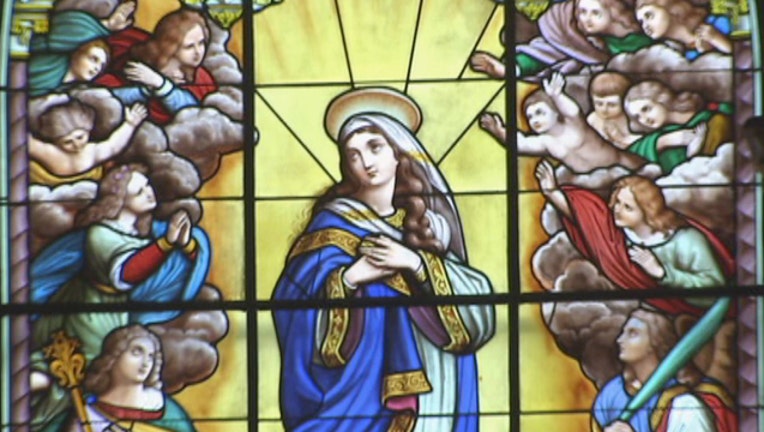 article
AUSTIN, Texas (AP) - Senior Minister Meg Barnhouse knows she'll need beds, a dresser, chairs and a mirror to make the classroom at the First Unitarian Universalist Church of Austin feel more like a home for a mother and her young daughter who are still deciding whether they will become the latest immigrants seeking sanctuary from deportation by moving into a church.
It would be the second time Barnhouse's congregation had offered sanctuary. She was hesitant in 2015 because of the unknown legal and insurance risks, but this time she agreed immediately.
There is growing fear in the city's immigrant community as President Donald Trump's immigration and executive orders go into effect. And as more than 50 Austin area residents were detained in U.S. Immigration and Customs Enforcement deportation raids last month, a growing number of churches in the Austin Sanctuary Network are volunteering to offer physical shelter or support to churches that do.
The Austin Sanctuary Network has broadened in the last year from a handful of churches and advocates to more than two dozen congregations and religious groups, three labor unions, several nonprofit groups and dozens of individual volunteers. This mirrors the loosely organized national sanctuary movement that has grown to more than 800 churches and congregations, with a good portion of those joining since Trump was elected.
"It's bewildering for people at this point. It's like trying to repair furniture when the house is on fire," said Pastor Jim Rigby, whose congregation at St. Andrew's Presbyterian Church in Austin has provided sanctuary to Guatemalan immigrant Hilda Ramirez and her 10-year-old son, Ivan, for more than a year . "Opening our arms to our neighbors goes without question."
Pastor Laura Walter's small Presbyterian congregation in Bee Cave, 12 miles west of Austin, hopes her church can expand the network to reach immigrant communities outside city limits. They are still discussing whether the small church has room to offer shelter or whether they could get a permit to build a temporary shower.
"Our faith calls us to live this out," Walters said. "In the near future we'll be at the very least helping support refugees and asylum seekers."
The churches are relying on a 2011 ICE policy directive telling agents to avoid "sensitive areas" such as churches, hospitals and schools when conducting deportation actions under most circumstances. Federal immigration officials said that policy is still in effect, but recent immigration arrests around the U.S., including inside courthouses, are increasing fears.
Austin, a liberal enclave in a conservative state, has had a strong base of immigration activists for years in opposition to a previous sheriff, who cooperated with ICE requests to hold inmates for possible deportation. During the city's involvement in the Secure Communities Program 7/87/8- a federal-local partnership on deportation ended in 2014 by the Obama administration - an average of 19 people were deported from Travis County each week. Trump has revived the program.
Sheriff Sally Hernandez, who took office in January, has decreased cooperation with immigration officials by not automatically granting requests to hold immigrants for possible deportation. Texas Republican Gov. Greg Abbott has withheld nearly $1.5 million in state grant funds from Travis County in response.
A Department of Homeland Security report this week singled out Travis County and a handful of other counties for denying immigrant detention requests, although local officials pushed back against some of the information in the report.
Many of the pastors say they are teaching civil disobedience when necessary, but because the immigrants are openly declaring sanctuary and letting immigration officials know where they are, they don't believe they are violating the law. U.S. Department of Homeland Security officials declined to discuss the legality of sanctuary, but pointed to the sensitive areas policy.
The increased membership in the Austin network has meant more resources for outreach, including seminars on preparing deportation defense packets that designate who should take custody of children if a parent is detained for deportation proceedings.
The network has also partnered with local and national activists to teach more than 250 volunteers tactics called Sanctuary in the Streets designed to bring a church service to areas where deportation raids are happening to create a barrier between agents and immigrants. The volunteers also go with immigrants fearing deportation to court visits or immigration appointments.
Volunteers often go with Ramirez to appointments as she makes her case for asylum. For eight months, she never left the church grounds. The congregation built a green plastic barrier around a small outdoor space so she and Ivan could go outside without worrying about immigration officials.
Ramirez was granted a deportation deferment through October, meaning she can go to the store or do her own laundry, but she told pastors that with the aggressive immigration enforcement actions in recent months, she wants to stay.
The pastors have said the pair is welcome for as long as they want. At the Unitarian Church, Barnhouse and her congregation are also prepared to offer sanctuary for as long as the mother and daughter may need. Network volunteers declined to offer details about the mother until she makes her decision.
"It's very grounding and exciting for a church to be able to live out its mission this tangibly," Barnhouse said. "We gather in community to nourish souls, transform lives and do justice. That is our mission. ... This feels like all of it."
___
For a related video go to: https://www.youtube.com/watch?v=w5LCtjK2Tbg