International Women's Day: Movies made by women, streaming (for free!) on Tubi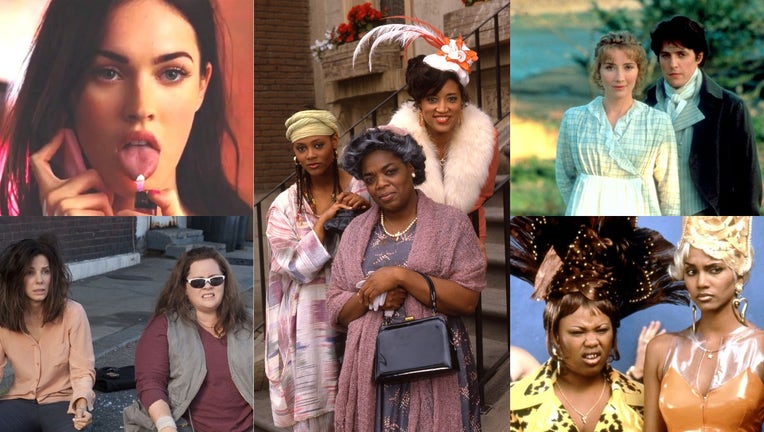 article
Chicago - Tuesday, Mar. 8 is International Women's Day, a "global day celebrating the social, economic, cultural, and political achievements of women."
But it's also a day intended to call out inequity. And despite some recent highly visible (and rightly lauded) exceptions, there's no shortage of inequity in Hollywood. 
So we've put together a list of some of the best films that not only star women but were made by them too — either as writers, directors or both. Some of these films were celebrated in their time, while others were maligned or misunderstood but have since been recognized and reclaimed as cinematic touchstones. 
Even better: This diverse lineup of intimate dramas, sharp satires, cult classics, Oscar winners and horror movies is just the tip of the iceberg for women-led movies that are currently steaming for free on Tubi. 
So read on to find a new favorite or dig into Tubi's Women's History Month collection for even more gems. 
It turns out there's more to Wonder Woman's (real world) origin story than we knew. This thoughtful, sexy biographical drama looks at the psychologist and comic book writer who first created the Wonder Woman character, and the two women who helped him do it. Rated R. 108 minutes. Writer/director: Angela Robinson. Featuring: Luke Evans, Rebecca Hall, Bella Heathcote, Connie Britton, Oliver Platt.
Other than William Shakespeare, there's no one more influential on the modern day romantic comedy genre than Jane Austen. And the early 19th century novelist gets one of her best-ever adaptations in this winning romance from director Ang Lee and writer/star Emma Thompson. With its classic story of polar opposite sisters — the reserved, responsible Elinor (Thompson) and the expressive, emotional Marianne (Kate Winslet) — "Sense and Sensibility" basically delivers two rom-com storylines in one. So whether your dream is to hit it off with a charmingly humble Hugh Grant or get stuck in a dramatic love triangle with Greg Wise and Alan Rickman, there's something for everyone here. Rated PG-13. 136 minutes. Dir: Ang Lee. Screenplay: Emma Thompson. 
This cult classic comedy from screenwriter and actress Troy Byer stars Halle Berry and Natalie Desselle as two friends who dream of opening the world's first hair salon/soul food restaurant combo. The leads' lively, charming performances are perfectly complemented in memorability by the film's iconic costuming, hairstyling, makeup and production design. One-of-a-kind. Rated PG-13. 92 minutes. Dir: Robert Townsend. Screenplay: Troy Byer. Also featuring Martin Landau, Ian Richardson, Troy Byer, Bernie Mac. 
Mary Elizabeth Winstead stars in this excellent 2018 drama about a troubled standup comedian whose life is upended, for good and for ill, when she moves to Los Angeles and finds herself falling in love. (A quick content note: "All About Nina" contains extended discussions about sexual assault.) Rated R. 100 minutes. Writer/director: Eva Vives. Also featuring Common, Chace Crawford, Camryn Manheim, Jay Mohr, Clea DuVall, Beau Bridges, Mindy Sterling.
This achingly romantic period drama from director Todd Haynes stars Cate Blanchett as the titular Carol, a glamorous woman who catches the eye of Therese (Rooney Mara), a young aspiring photographer working in a department store. Carol forgets her gloves (or does she?) and the sparks that fly across the counter catch fire when introduced to the oxygen of the outside world. Haynes' unapologetically queer film, heavily inspired by photography of the 1950s, is swoon-worthy and stylish. Mara and Blanchett are almost as good at wearing incredible costumes as they are at acting, and they're very, very good at acting. One of the most celebrated and moving dramas of the century so far. Rated R. 118 minutes. Dir: Todd Haynes. Screenplay: Phyllis Nagy. Also featuring Sarah Paulson, Jake Lacy, Kyle Chandler.
Wrongly maligned in its time, Karyn Kusama's inspired horror-comedy has undergone a bit of a cultural re-evaluation in recent years — or, put more plainly, everyone seems to finally be catching onto the fact that "Jennifer's Body" rules. Megan Fox plays Jennifer, a cheerleader who finds herself in a classic high-school pickle: She's possessed by a demon and fueled by a drive to feast upon her classmates' flesh. Amanda Seyfried is her best friend Needy (yes, Needy) who senses that something's not quite right. It's a riot. Rated R. 102 minutes. Dir: Karyn Kusama. Screenplay: Diablo Cody. Also featuring Adam Brody, Johnny Simmons, Chris Pratt, J.K. Simmons, Amy Sedaris.
An adaptation of Gloria Naylor's novel of the same name, the acclaimed miniseries "The Women of Brewster Place" is much more than just an early Oprah vehicle. Breaking ground for Black women and queer women on television in one fell swoop, it's a deeply-felt contemporary ensemble drama from writer Karen Hall and director Donna Deitch — another trailblazing figure in cinema. And the cast! In addition to Oprah (who we forget is a terrific actress only at our peril), look for standout performances from Robin Givens, Jackée Harry, Lynn Whitfield, Paul Winfield, Olivia Cole, Moses Gunnand the legendary Cicely Tyson. Essential viewing for anyone with an interest in TV history, great storytelling or both. (And its success led to a sadly short-lived TV series, which is also on Tubi.) Rated TV-14. Two episodes. Dir: Donna Deitch. Also featuring Larenz Tate. 
Katie Dippold is a screenwriter to watch. Not only did she pen several of the most memorable episodes of "Parks and Recreation" and the winning Melissa McCarthy caper "Spy," she's also the woman behind the top-tier buddy cop action vehicle, "The Heat," starring McCarthy and Sandra "Sandy B." Bullock. And she's just getting started! But even if "The Heat" were Dippold's only flick, she'd still be responsible for what is without a doubt the funniest tracheotomy in the history of cinema, and that should be celebrated — just like the rest of the movie. Rated R. 116 minutes. Dir: Paul Feig. Screenplay: Katie Dippold. Also featuring: Marlon Wayans. 
About the writer: Allison Shoemaker is a Chicago-based pop-culture critic and journalist. She is the author of "How TV Can Make You Smarter," and a member of the Television Critics Association and the Chicago Film Critics Association. She is also a producer and co-host for the Podlander Presents network of podcasts. Find her on Twitter and Instagram at @allisonshoe. Allison is a Tomatometer-approved Top Critic on Rotten Tomatoes.
About the writer: Caroline Siede is a film and TV critic in Chicago, where the cold never bothers her anyway. A member of the Chicago Film Critics Association, she lovingly dissects the romantic comedy genre one film at a time in her ongoing column When Romance Met Comedy at The A.V. Club. She also co-hosts the movie podcast, Role Calling, and shares her pop culture opinions on Twitter (@carolinesiede).
About Tubi: Tubi has more than 35,000 movies and television series from over 250 content partners, including every major studio, in addition to the largest offering of free live local and national news channels in streaming. The platform gives fans of entertainment, news and sports an easy way to discover new content that is available completely free.
Tubi is available on Android and iOS mobile devices, Amazon Echo Show, Google Nest Hub Max, Comcast Xfinity X1, Cox Contour, and on OTT devices such as Amazon Fire TV, Vizio TVs, Sony TVs, Samsung TVs, Roku, Apple TV, Chromecast, Android TV, PlayStation 5, Xbox Series X | S, and soon on Hisense TVs globally. Consumers can also watch Tubi content on the web at http://www.tubi.tv/.
Tubi and this television station are both owned by the FOX Corporation.