Investigative update regarding the deadly attack on Dallas police officers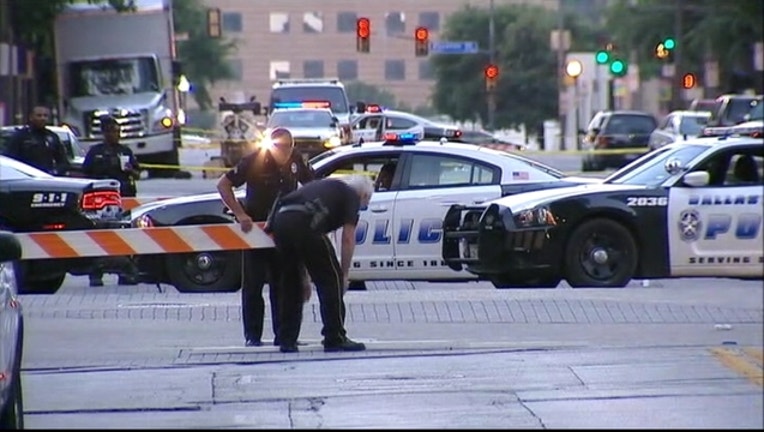 article
The following is an update on the progress of the investigation:
At this time, detectives have interviewed over 200 officers and it appears at least twelve officers discharged their duty weapons.
Resources from various federal, state, county and local law enforcement agencies such as the Bureau of  Alcohol, Tobacco, Firearms, and Explosives, Federal Bureau of Investigation, U.S. Marshals, Homeland Security Investigations, Drug Enforcement Administration, Department of Public Safety, Texas Rangers, Dallas Area Rapid Transit,  Dallas County District Attorney's Office,  and the Dallas County Sheriff's Department are all assisting with the investigation and the processing of evidence and crime scene locations.
Portions of the crime scene locations in the downtown area will remain closed to the public until Wednesday.
The deceased suspect has been identified as Micah Johnson, a 25-year-old black male. The suspect has no criminal history. Information provided through the course of the investigation, indicates that the suspect was an Army veteran and others have identified him as a loner. The suspect's Facebook account included the following names and information: Fahed Hassen, Richard GRIFFIN aka Professor Griff, GRIFFIN embraces a radical form of Afrocentrism, and GRIFFIN wrote a book A Warriors Tapestry.
During the search of the suspect's home, detectives found bomb making materials, ballistic vests, rifles, ammunition, and a personal journal of combat tactics.  Detectives are in the processing of analyzing the information contained in the journal.
In addition, Brandon Waller, a 25-year-old black male, was arrested for unrelated weapons charges at the scene on July 7, 2016.
This is an ongoing investigation. If anyone has information regarding the shootings, please call 214-671-3584.
We are so thankful for the overwhelming prayers, support, love, and donations from everyone. Please continue to keep the families of the officers in your thoughts and prayers. Out of respect for the families of the fallen and injured officers, the Dallas Police Department is waiting to officially release their names pending approval from the family members.