Iraqi police apprehend boy would-be suicide bomber in Kirkuk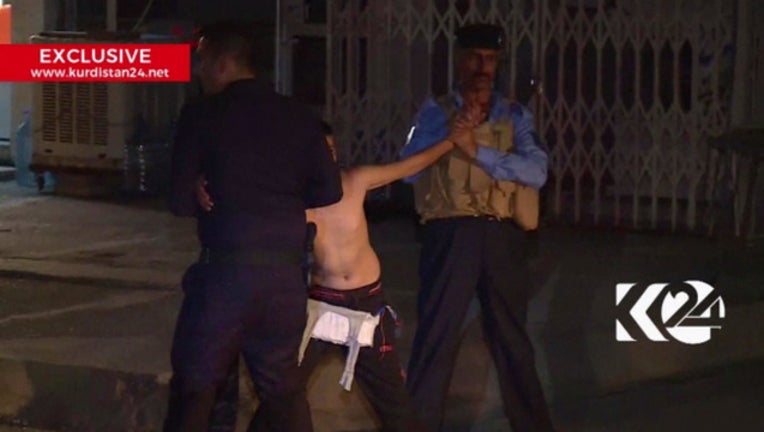 article
IRBIL, Iraq (AP) — A boy would-be suicide bomber was apprehended in the northern Iraqi city of Kirkuk before he was able to detonate his explosives belt, Iraqi police said Monday.
Local television footage aired on Kurdistan 24 TV shows a group of police officers holding the young boy while two men are seen cutting off a belt of explosives. After they remove the belt, the boy is seen being rushed into a police truck and driven away.
The boy was apprehended on Sunday night, less than an hour after a suicide bomb attack on a Shiite mosque in the city, Kirkuk police department spokesman Col. Avrasiya Kamil Wais told The Associated Press. In the mosque attack, only the bomber died and two people were wounded.
"The boy claimed during interrogation that he had been kidnapped by masked men who put the explosives on him and sent him to the area," said Kirkuk intelligence official Brig. Chato Fadhil Humadi.
The boy, Humadi added, was displaced from Islamic State-held city of Mosul, Iraq's second-largest city, by recent military operations in the area. He arrived in Kirkuk a week ago, Humadi said. The boy's name is known to the police. The AP does not identify minors who may be victims of abuse or suspected in violent crimes.
Islamic State group's media arm, the Aamaq news agency, on Monday claimed responsibility for the mosque bombing, but made no statement about the boy.
Kirkuk, an oil rich city in Iraq's north is claimed by both Iraq's central government and the country's Kurdish region.
Kirkuk has seen a rise in ethnic tensions following the Islamic State group's blitz across northern and western Iraq in 2014. Iraqi security forces largely withdrew from Kirkuk and Kurdish forces known as the peshmerga took control of the city. Since then, Shiite militia fighters have also massed around the city.
The area is home to Arabs, Kurds and Turkmen who all have competing claims to the area. The Kurds have long wanted to incorporate the city into their semi-autonomous region, but Iraq's central government opposes this.
___
Associated Press writers Salar Salim in Irbil, Iraq, and Maamoun Youssef in Cairo contributed to this report.