Jimmy Carter gently jabs Donald Trump at Liberty commencement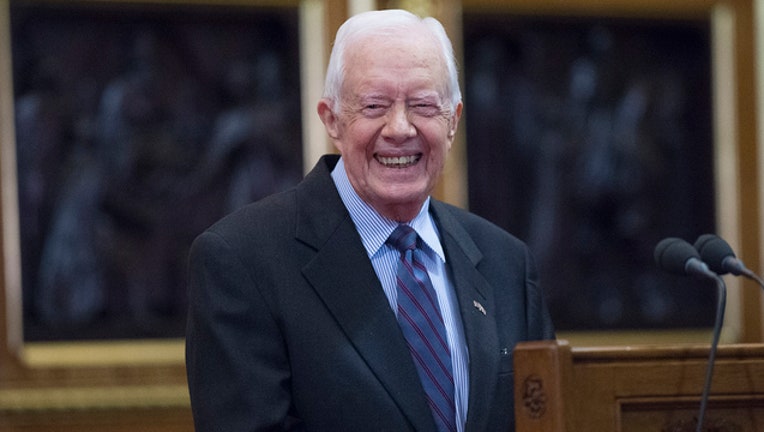 article
LYNCHBURG, Va. (AP) - Former President Jimmy Carter took a gentle poke at President Donald Trump at the start of a commencement address to graduates of Liberty University in Virginia.
Taking the podium Saturday to a standing ovation a year after Trump spoke to Liberty graduates, Carter took note of the large crowd at the university stadium. He said Liberty President Jerry Falwell Jr. "told me before we came here that it's even bigger - I hate to say this - than it was last year."
"I don't know if President Trump would admit that or not," Carter said, drawing laughter. The remark harkened back to controversies over Trump's claim of a massive inauguration crowd exceeding 1 million, despite photographic evidence suggesting otherwise.
Carter is the third U.S. president, and the first Democrat, Liberty has hosted for commencement. George H.W. Bush gave the keynote in 1990. The university is a hub for conservative politics, often frequented by candidates courting evangelical voters. Carter is an evangelical as well, but with more progressive views.
The bulk of Carter's speech emphasized broad themes of human rights and equality. He said he now believes the greatest challenge in the world is "discrimination against women and girls in the world." He noted the killings of newborn girls around the world where families have preference for boys, as well as global sex trafficking networks.
He called on Christians in general, and Baptists in particular, to emphasize their commonalities as opposed to their differences. Both Carter and Falwell are Baptists.
He alluded to nuclear tension over North Korea and Iran. The example of Jesus Christ, he said, shows we need to learn "to get along with our potential enemies, instead of how we can prevail in combat."
"We don't need enemies to fight, nor do we need inferior peoples whom we can dominate," Carter said.