Juneteenth 2023: How to celebrate in and around Austin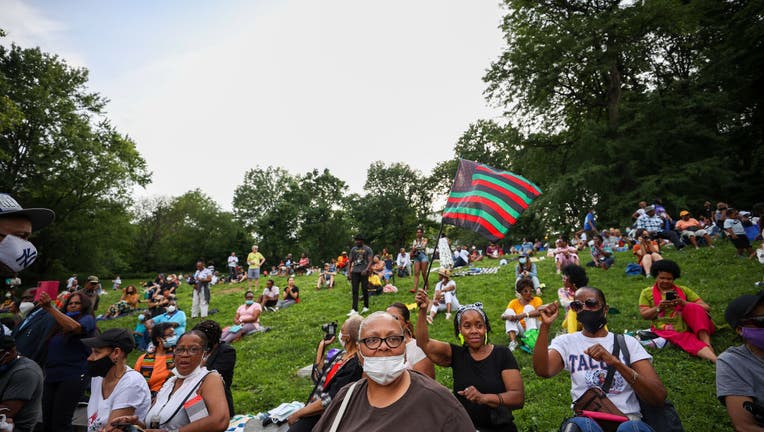 article
AUSTIN, Texas - Juneteenth was first recognized as a federal holiday in 2021, but this celebration of freedom has existed in Texas for centuries. 
The holiday marks the arrival of freedom for enslaved people in the Lone Star State - while the Emancipation Proclamation was put into effect in 1863, freedom wouldn't come to Texas until Union troops brought the news on June 19th, 1865. Juneteenth has been celebrated ever since, becoming an official state holiday in Texas in 1980.
Juneteenth celebrations will be held across the Austin area throughout the week. Check out some of these upcoming events:
The George Washington Carver Museum will hold its fourth annual Stay Black and Live (SB&L) Juneteenth Festival, celebrating this year's theme of Austin Family Reunion. The festival will include a week of activities and events -  from conversations with authors and community leaders to a community cookout and music festival on Saturday, June 17, celebration and community will be abounding! Check out a full festival schedule here or sign up to get involved!
Celebrate Juneteenth and Pride month with a fun afternoon at this block party and market! The event will feature local, handmade and vintage vendors, and DJ music will be featured. Check out more information here!
Pack your weekend with live music, vendors, food trucks and more at the annual Juneteenth Celebration Market at Rosewood Park in East Austin! The market will be open from 9 a.m. to 4 p.m., and the parade will last from 9:30 a.m. until noon!
All ages are invited to celebrate Juneteenth at this free event from Carver Branch Library! Activities such as arts and crafts, storytelling and food will center around this year's theme of freedom communities. The event will be held from 11:30 a.m. to 4:30 p.m., and registration is available here.
Museum attendees are invited to experience a day of celebration at the Neill-Cochran House Museum in downtown Austin! All ages are invited to participate in dominoes, lawn games and painting, and attendees can explore Austin's Black history with the Black West Austin Driving Tour! All activities are free with museum admission, and more information is available here!
Cyclists can celebrate Juneteenth with this annual social bike ride through Austin! Cyclists will meet at the Capitol at 6 p.m., and attendees are advised to bring a helmet and lights. Hosted by Black History Bike Ride, the ride is free and open to all! Registration is available here.
Experience an immersive Juneteenth art experience at Art Noir. This evening celebration will feature cocktails, DJ Lauren Light and works from local Black visual artists! Free reservations are available here!
Join the Wells Branch MUD Recreation Department in celebrating Juneteenth with an evening of music and picnics at the park! The concert will be held from 6-8 p.m., and more information will be available here!
Not in Austin? No problem!
Juneteenth events will be celebrated across the Hill Country! Pflugerville residents can attend a Pflugerville Pfamily Reunion on June 18th, and Round Rock will celebrate with a festival on June 17th. Those in Elgin can attend a parade and activities on June 10th, while Bastrop will celebrate with a festival and parade on June 17th. Taylor will also celebrate with a festival on June 17th, and Leander will also celebrate on the 17th with a Juneteenth Block Party!