Justice Dept. group honors transgender teen in bathroom case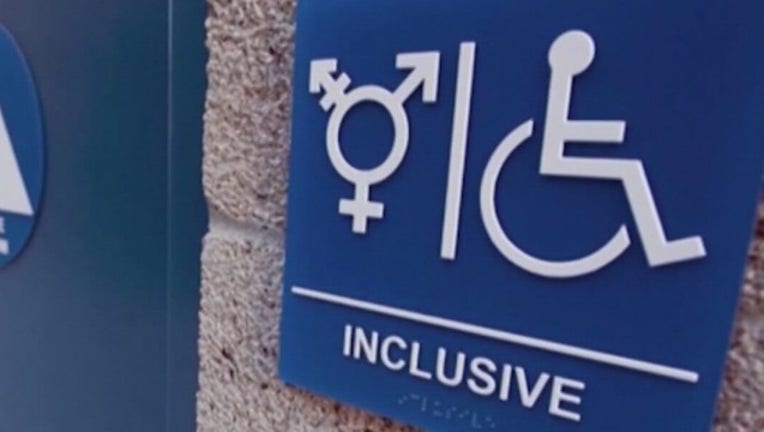 article
WASHINGTON (AP) - A transgender teen who sued to be able to use the boys' bathroom was honored Wednesday by a LGBT organization at the Justice Department.
DOJ Pride, an organization of LGBT Justice Department employees, recognized Gavin Grimm's "outstanding contributions to the LGBT community" during a ceremony in the building's Great Hall, where department attorneys and employees lined up to hug him and offer congratulations and thanks.
Grimm sued the board of his eastern Virginia high school for the right to use the boy's bathroom in a case that seemed destined for the Supreme Court. But the high court decided not to hear it after the Trump administration in February abandoned a directive from former President Barack Obama's administration telling schools to allow students to use bathrooms and locker rooms of their chosen gender. Attorney General Jeff Sessions said at the time that the transgender bathroom access issue is best left for states to decide.
"Given that today's administration is largely hostile to LGBT people and especially dangerous to LGBT youth, the gravity of receiving an award from DOJ itself, specifically the pride alliance within it, is not lost on me at all," Grimm told The Associated Press after the ceremony, which reporters were forced to leave. "It's beautifully symbolic of the fact that there are still people working for equality in every corner of the world, and they will continue to do so no matter what happens."
Activists have long viewed Sessions as someone who has not been supportive of advances in LGBT rights.
He was absent from Wednesday's event. Remarks were given by Dana Boente, acting head of the department's National Security Division, who praised the organization's "very important work on behalf of DOJ employees." A department spokeswoman said Sessions had a scheduling conflict but noted that he and other top Justice Department officials would be present at a Thursday gathering on hate crimes.
Sessions acknowledged the ceremony, which was first reported by BuzzFeed News, when questioned by a Justice Department intern last week. The interaction was videotaped and shared on Twitter.
"We will protect and defend and celebrate that, and protect the rights of all transgender persons," Sessions said, noting that he had directed the Civil Rights Division to review some cases in which transgender people were killed. "We are not going to allow persons in this country to be discriminated against or attacked in any way because of their sexual orientation."
Also honored Wednesday were Civil Rights Division lawyers who worked on the Justice Department's lawsuit against North Carolina over a bathroom bill the government at the time said discriminated against transgender people. The Trump administration dropped that lawsuit in April after the state agreed to replace the bill with another measure.
"There are good people in the DOJ, they've always been here, and always will be here, no matter what kind of administration comes above them," Grimm said.