"Justice for Jackson" rally held in downtown Austin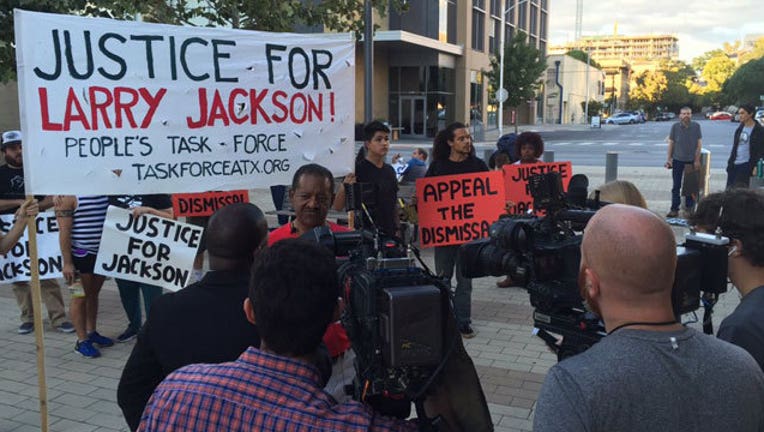 article
AUSTIN, Texas-- People took to the streets of downtown Austin to rally against the decision of a federal judge who dismissed manslaughter charges against former Austin Police Detective Charles Kleinert in the death of Larry Jackson, Jr.

The rally was put on by the "Peoples Task Force" near the U.S. District Court, Sunday evening.

The group is demanding that the district attorney appeal the ruling and continue to pursue a trial. They said they won't stop until the now former officer is behind bars.
Larry Jackson's father, Larry Mercer spoke out at the protest. "I am hoping that it will send a message that there is no justice here in this state. They seem like they kind of condone ignorance, and to me, it's just total blatant ignorance."
Kleinert, in July of 2013, was investigating a bank robbery in central Austin, when Jackson was allegedly trying to cash a stolen check. Kleinert confronted him, and Jackson ran away. After a chase, the officer and Jackson ended up in a struggle, where Jackson was shot in the back of the head. Kleinert has always said the shooting was accidental. He retired from the force, and was later indicted for manslaughter.

After two years of legal wrangling, a federal judge dismissed the charges last week, saying Kleinert has immunity.
Randy Leavitt is the attorney for Kleinert. He said all along they felt charges should be dismissed. 

"We think the court was 100 percent correct in this ruling. We felt that way all along, we didn't think that this case should have ever been indicted."
Travis County District Attorney Rosemary Lehmberg can still appeal the decision, which Mercer hopes she does.

"I just hope that she'll do the right thing and goes as far as she can with it," he said at Sunday's protest. Jackson's family said if Lehmberg doesn't appeal, they will continue to fight this with everything they've got. "We will get relief when Kleinert is somewhere locked up, where he should be, that's when we will get relief, when the judicial system will go ahead and be honest, which is something they seem to not know anything about is honesty."
The City of Austin already settled with the three children of Larry Jackson Jr. They were given more than a million-dollars.