K9 killed by gunfire from suspect near San Antonio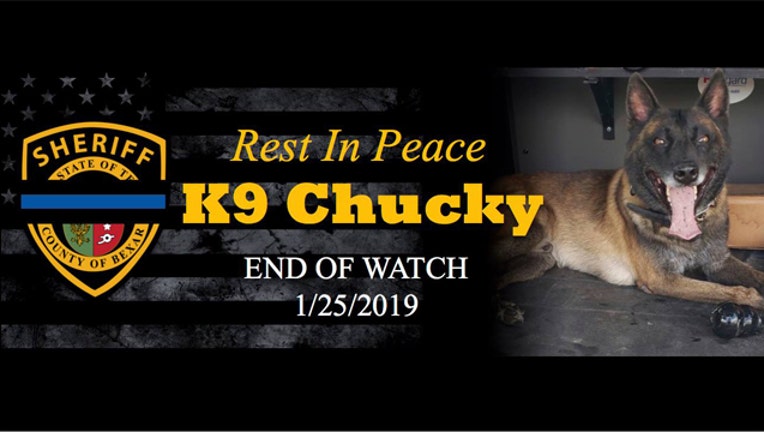 article
KARNES CITY, Texas (FOX 7 Austin) - The Bexar County Sheriff's Office is mourning after one of their own was killed after being struck by gunfire from a suspect. Five-year-old Belgian Malinois K9 Chucky passed away on Friday, January 25. "We are deeply saddened by the loss of K9 Chucky and our hearts are with his handler and his family at this time," the Texas sheriff's office said in a Facebook post. 
According to Sheriff Javier Salazar, officers with the Karnes City Police Department attempted to stop a suspect with several outstanding warrants and a pursuit ensued. Troopers joined police officers in the pursuit as the suspect continued towards San Antonio. 
Throughout the pursuit, the suspect was shooting at officers and deputies. 
The suspect left his vehicle in drive on Loop 1604 and began to evade officers on foot, according to the Bexar County Sheriff's Office. As police officers continued to follow the suspect, he began to alternately point his weapon at deputies, himself, and the chopper.
K9 Chucky was deployed to attempt to stop the suspect.
He bit the suspect who then shot and killed Chucky, according to Sheriff Javier Salazar. Deputies were able to fire several shots and take the suspect down. He is facing a variety of charges.
The Bexar County Sheriff's Office is in the process of making funeral arrangements for Chucky. The office is planning full honors, in accordance with the ultimate wishes of Chucky's handler and family.